06 Sep

In The Studio
Midnight Bouquet | A gold wedding headpiece with wild roses and dogwood flowers
An exquisite piece to indulge your whimsical side, the ROSALIE gold wedding headpiece is the perfect finishing touch for lovers of wild roses and overflowing florals. Delicate and detailed, this floral comb makes a bold statement of opulence and effortless elegance. A decidedly carefree piece that offers a touch of antique elegance with a modern day twist.
We love the romantic colour palette of silver tones set among ivory and gold. A refined and romantic piece with a touch of bohemian whimsy.
Delicate and luxurious materials were harmoniously woven and intertwined to bring this creation to life. A labour of love and an expression of everything we love about nature. Characteristic to this piece is the new dogwood flower and wild roses in various sizes.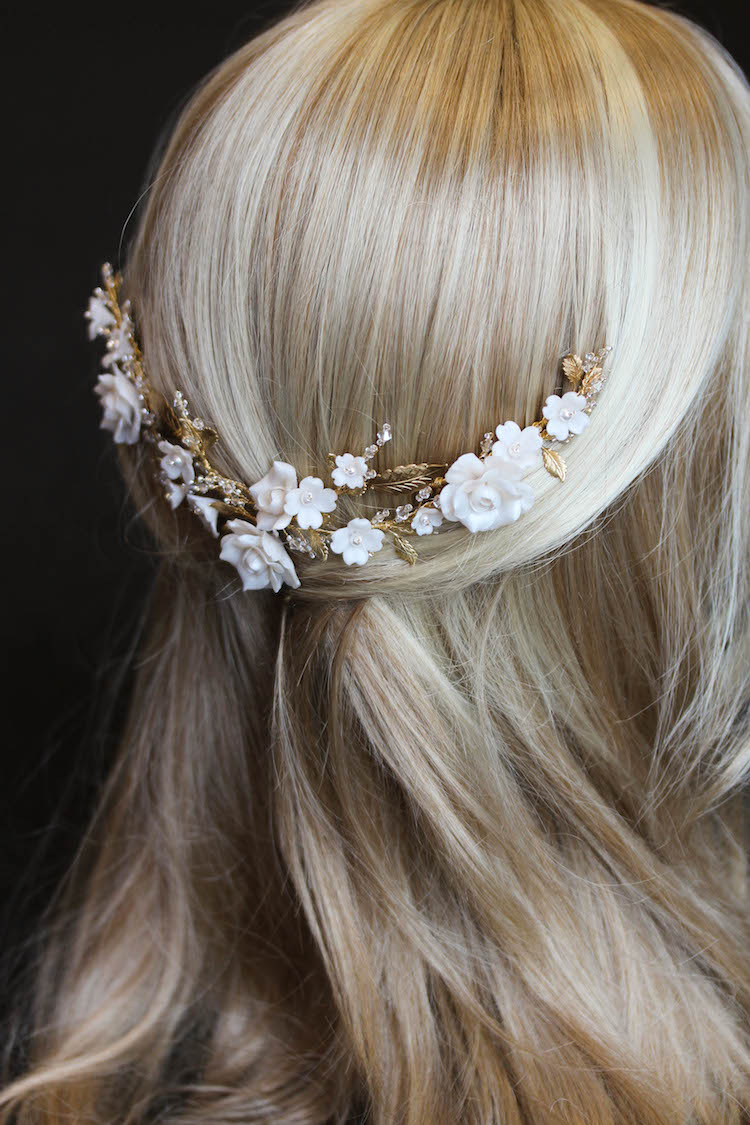 The inspiration
In designing this piece, we were inspired by an enchanted forest of dogwood flowers, cascading wild roses and the soft luminescence of moonlight falling on leaves.
We love the way nature is perfectly imperfect, intertwining and overlapping. Various floral and foliage can co-exist in harmony and create a thing of beauty in the most effortless and natural way.
How to style this gold wedding headpiece with roses
We love to style the ROSALIE headpiece with long flowy wedding gowns and lace dresses. The whimsical nature of this headpiece suits similarly bohemian or alternative laces, unstructured gowns and modern sheath silhouettes.
If you want to wear your hair down, we love to style the ROSALIE in loose untamed tresses or half up curls. It also suits loose romantic updos with whispy tendrils around the face and neck.