18 Aug

Hair & Inspiration
Top 5 hairstyles for a one shoulder wedding dress
A one shoulder wedding dress is more than a seasonal trend. We've all seen this neckline on bridesmaids, runway shows and wedding aisles for many decades. We won't be the first to admit it's been exciting to see it rise in popularity this wedding season.
This dramatic and distinctive neckline might seem daunting to style at first, but when done right, it's simply breathtaking.  You'll want to find a wedding hairstyle that accentuates the neckline and showcases the vibe of your dress and bridal look.
We've pulled together our top hairstyles for a one shoulder wedding dress to help inspire your bridal look.
Photo credit: Anna Campbell
Which accessories are best?
What's the key to accessorising a one shoulder dress? Find accessories that accentuate the asymmetrical neckline and the mood of your dress. Often this means less is more.  Let the distinctive diagonal neckline be the focus of your bridal look.
For optimal elegance, we love to accessorise with:
Statement earrings to elongate the neck.
Layered bracelets or a cuff on the exposed arm.
A small hair comb positioned above the ear on the exposed side.
Small hair pins scattered to the side of a low set updo.
A choker or a short necklace that sits just above the diagonal line (i.e. on the collar bone).
Hairstyles for one shoulder wedding dresses
Whether your one shoulder dress features a dramatic flounced ruffle or a fine spaghetti strap, picking a hairstyle is important to ensure your overall look feels balanced and proportional. You can play on the asymmetry or you can even stay neutral with loose hair flowing behind your shoulders.
Scroll below to see 5 of our favourite hairstyles for one shoulder wedding dresses.
Related posts
1. Loose hair gently swept to one side
A side swept hairstyle with a one shoulder dress will always look classic and chic.  You can pin back one side with a small comb above the ear or a subtle braid will offer boho luxe appeal.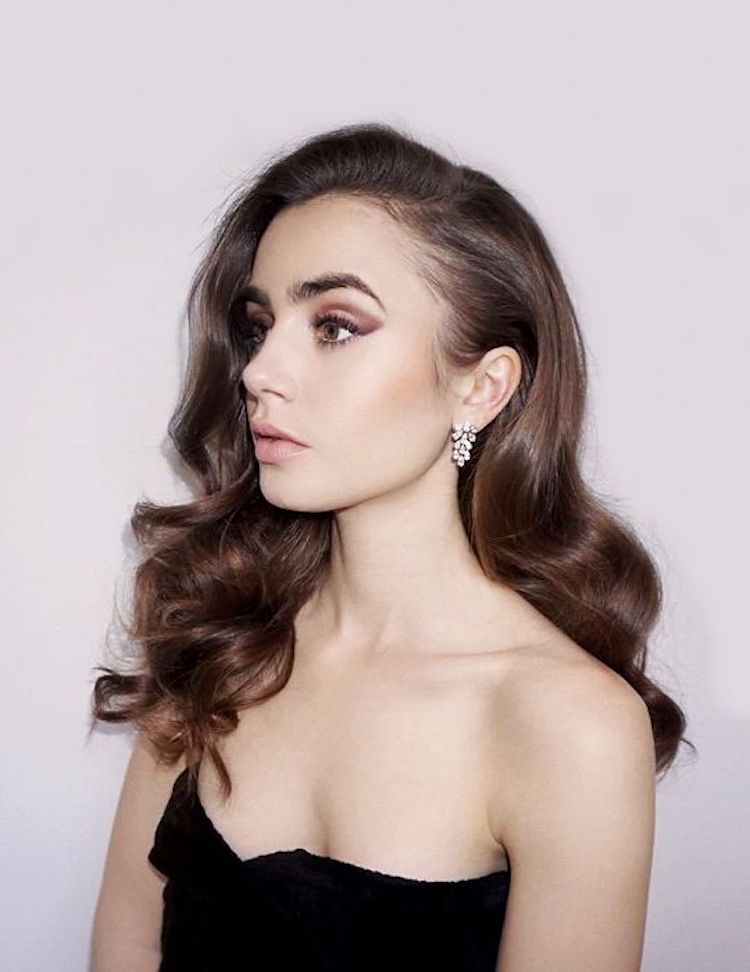 Photo credits: 1. Lily Collins | 2. Pinterest | 3. Hooray Mag | 4. Teen Vogue | 5. Farrah via Bride To Be Couture | 6. Pinterest
2. A low set updo
We love a one shoulder neckline because it beautifully frames the face and jaw line.  If you're looking for a polished and contemporary silhouette, a simple low set updo is the perfect hairstyle to achieve this look. A simple bun can complement the simplicity of one shoulder and accentuate the dramatic lines.
The size and type of your updo will depend a lot on the vibe and style of your wedding dress and venue.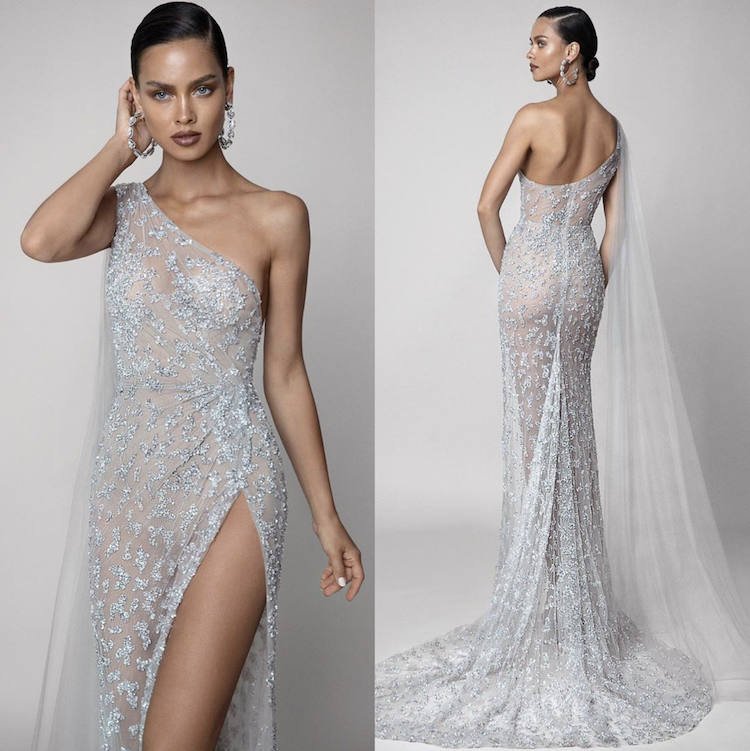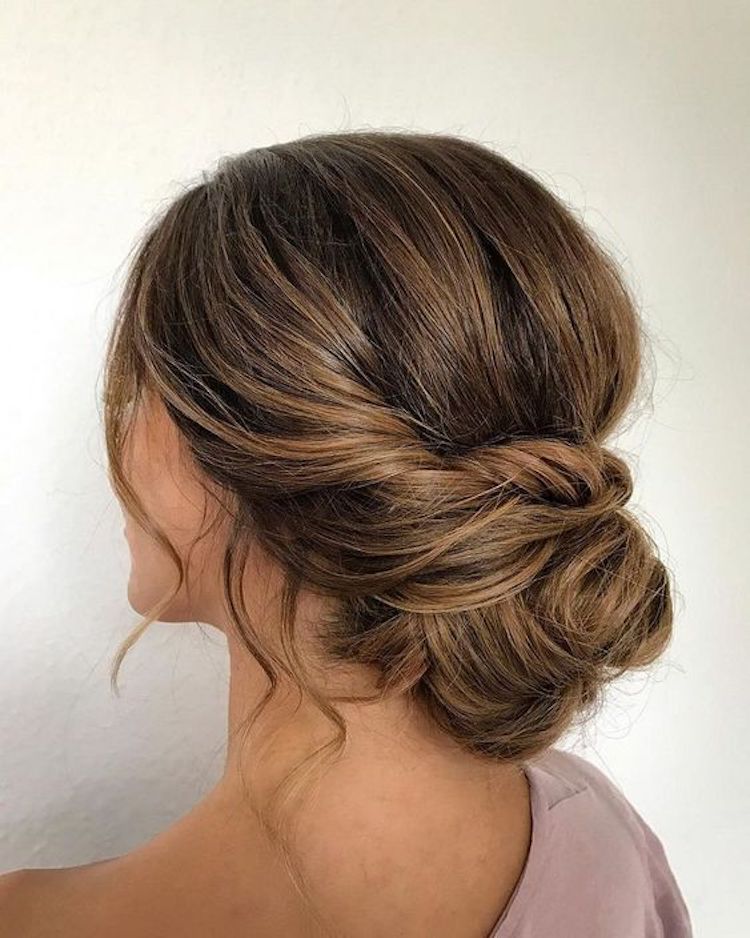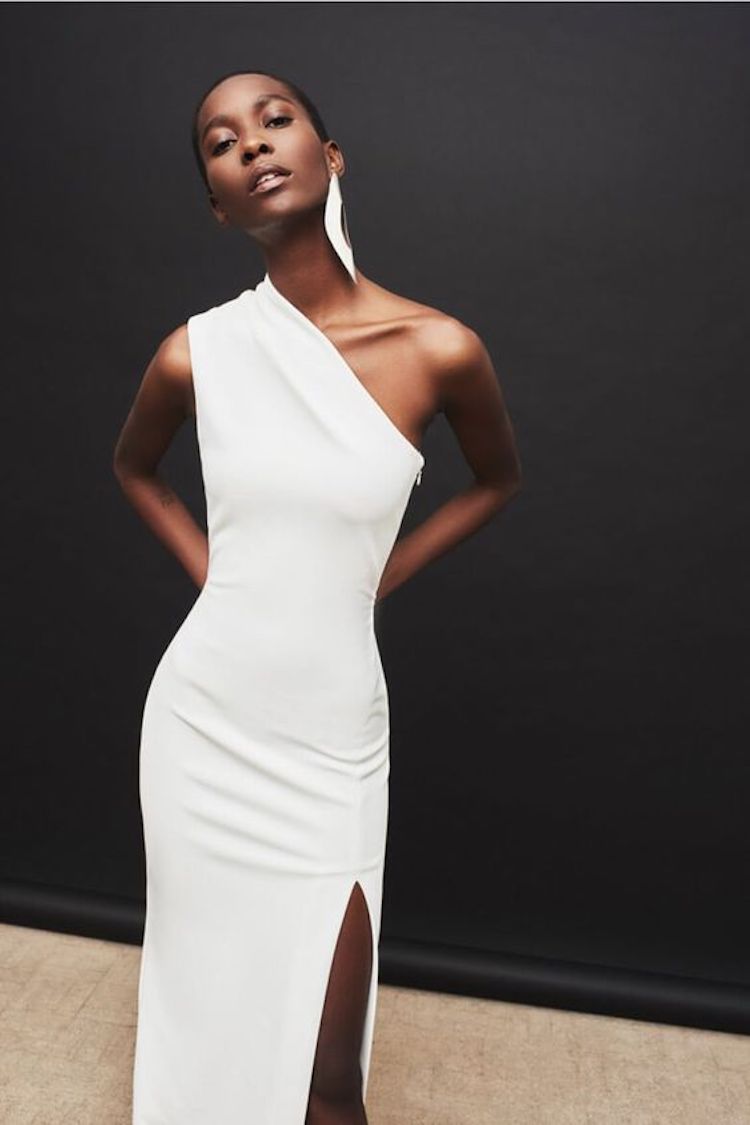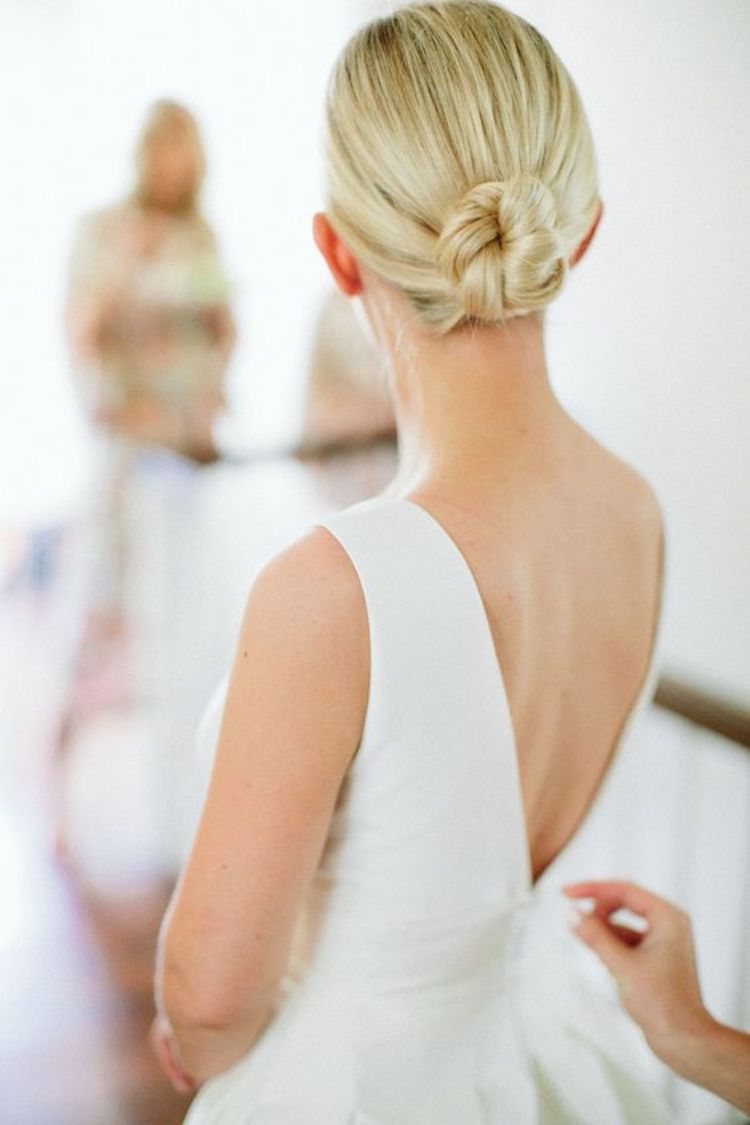 Photo credits: 1. Cheyenne Shultz | 2. Pinterest | 3. Gaby J Photography | 4. Berta Bridal | 5. Pinterest | 6. Pinterest | 7. Paige Jones | 8. Pinterest
3. Pinned or pulled back hair
For a look that feels minimal yet high style, pull back polished locks and pin them into place behind the ears. This is a beautiful choice if your dress features a dramatic ruffle or sculptural element that you'd like to highlight.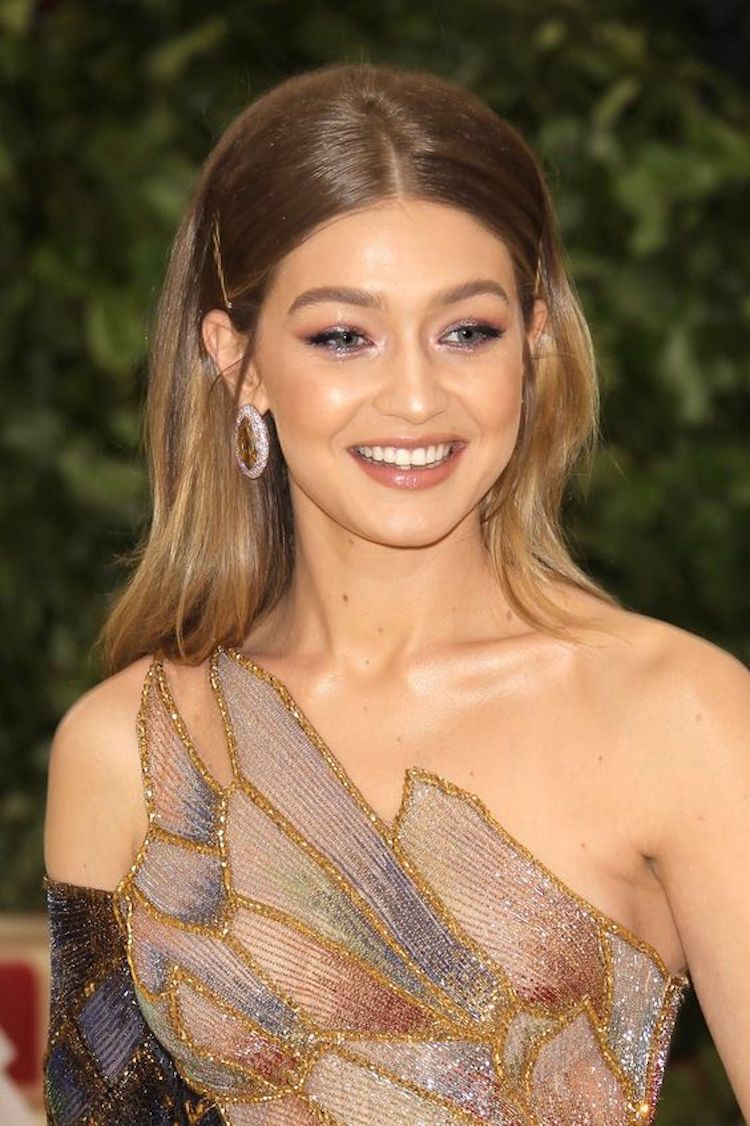 Photo credits: 1. Jessica Bennett | 2. Elie Saab | 3. Pinterest| 4. Pinterest
4. Bridal ponytail
For a contemporary and sleek look, you can't go past a ponytail.  Whether it's low and sleek or positioned high and voluminous, a bridal ponytail screams #hairgoals.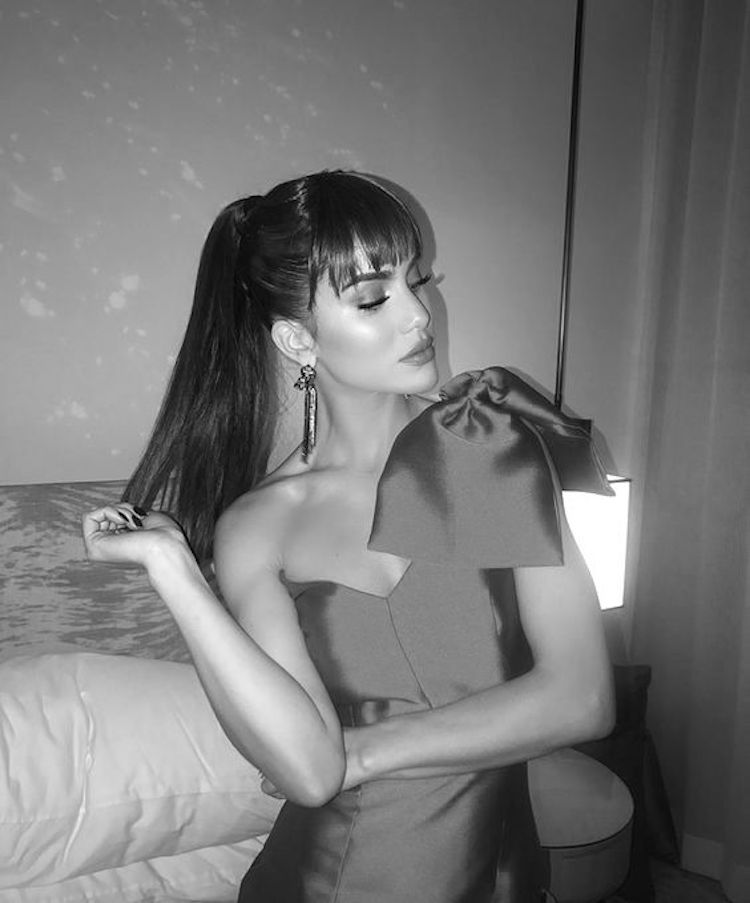 Photo credits:  1. Dvir Tvik | 2. Carlos Hernandez | 3. Anna Campbell | 4. Camila Coelho
5. Relaxed loose hair
An asymmetrical neckline doesn't necessarily just call for a side swept hairstyle or a low set ponytail pulled to one side. In fact, relaxed loose waves tousled gently behind your shoulders feels neutral and lets your dress take centre stage.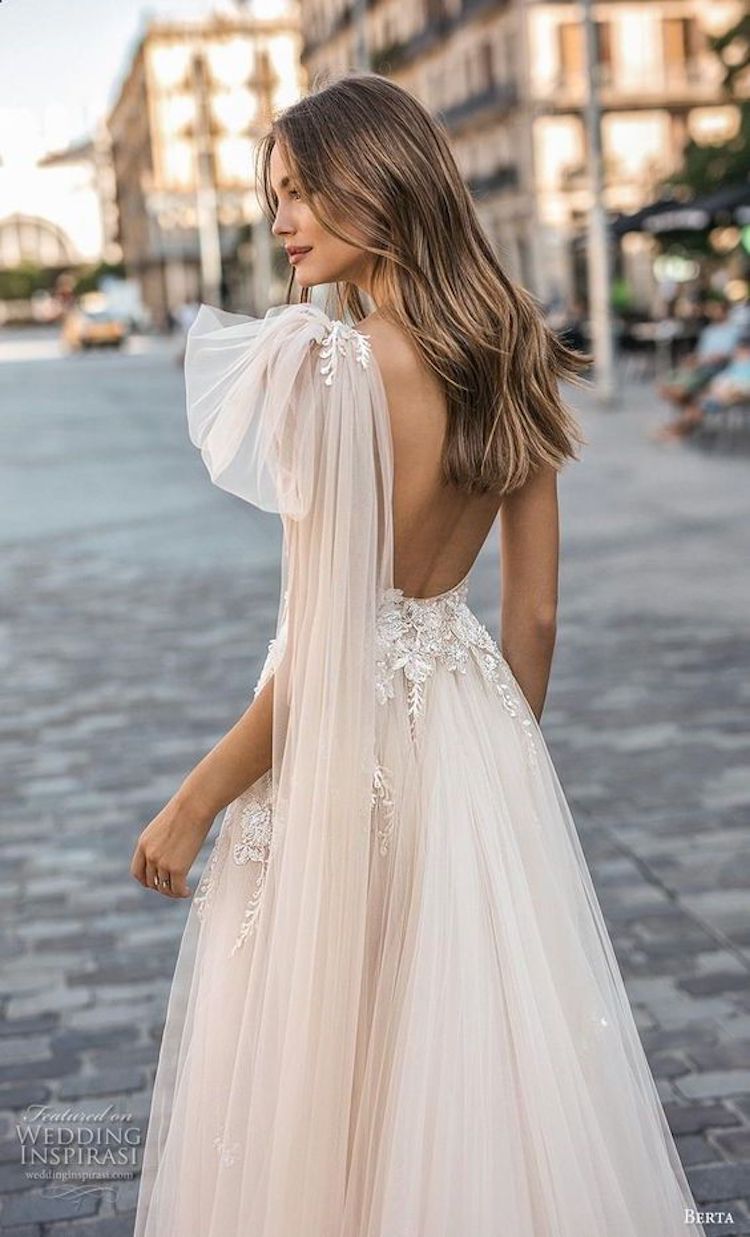 Photo credits: 1. Berta Bridal | 2. Berta Bridal | 3. Hooray Mag | 4. Berta Bridal | 5. Berta Bridal
Our favourite wedding accessories for an asymmetrical neckline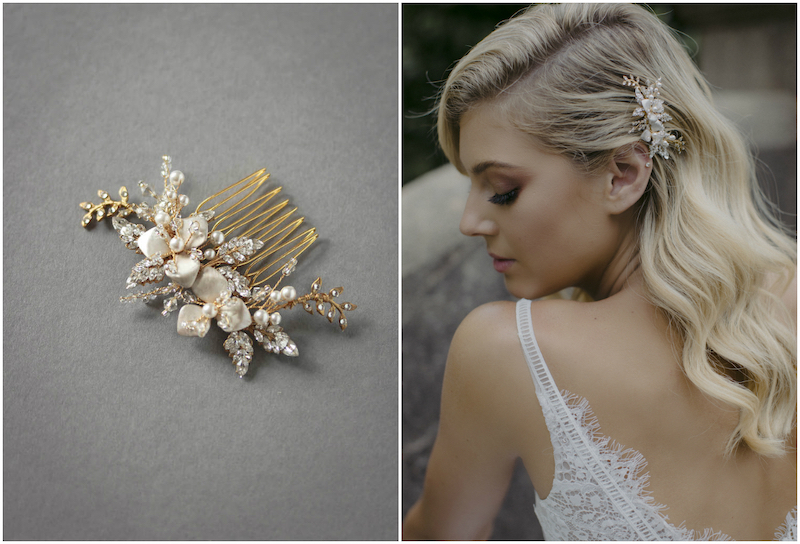 Shop this look: IRIS hair comb, TROUSSEAU hair comb, AUDREY veil, HUGO earrings, ARTEMIS comb