20 Oct

Bespoke
Blush Blossoms | A floral wedding headpiece for Tristan
What happens when you fall in love with a few floral wedding headpieces and can't decide which one to go for? Well, for US bride Tristan, she found herself in this exact situation when she discovered our CHERRY BLOSSOM set, and the MARION and the VERSAILLES headpieces.
When Tristan got in touch with her vision and predicament, we were instantly excited at the prospect of bringing together her favourite styles to create her perfect floral wedding headpiece. The styles she fell in love with all shared a number of common features: beautiful florals, an effortless regality and most importantly, their construction methods and aesthetics were similar which made it possible to bring her vision to life.
We believe that custom wedding accessories are just as important as having a wedding dress tailored and tweaked to suit your body shape and height. We all have different face shapes, hair thickness and types, and style, and we love to offer our brides the ability to tweak our designs so they are perfect for them.
Tristan's bridal look
Tristan had chosen an exquisite white wedding gown by Essence of Australia for her outdoor, garden wedding in Miami at a private Spanish style villa called Villa Woodbine.
Her bridal hairstyle is the epitome of style with hair mostly down and slightly pinned back with a boho style braid which she can tuck her veil into.
She shared pictures from her dress fitting of her wedding dress with her veil and we designed her hairpieces to take into account the width of her veil comb and the hairstyle she'd picked.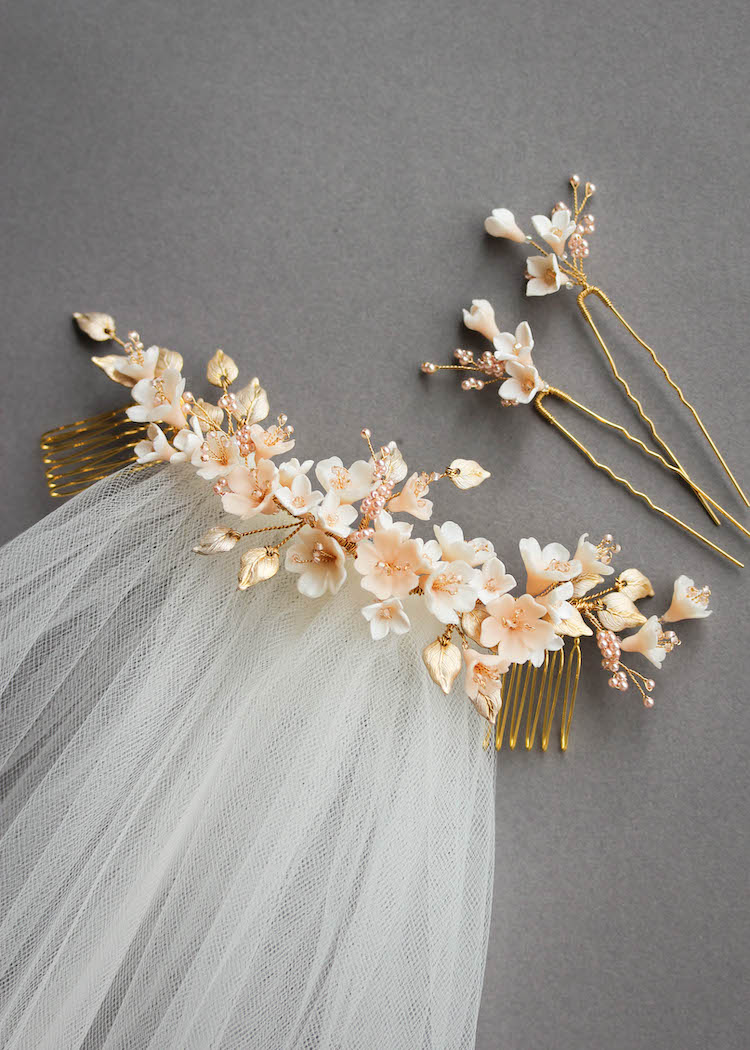 Combining a floral wedding headpiece with hair pins
The beauty of a larger headpiece and two matching pins is it will offer countless ways to style your hair. For Tristan, the larger floral headpiece is designed to frame her wedding veil and the two additional hair pins can be scattered as she pleases to add sense of whimsy. She can secure the pins at the ends of the piece to elongate the main headpiece or she can position them in the centre of the headpiece to fill it in and create more volume.
After the ceremony, Tristan can remove her veil and the hairpieces can stay in place or be restyled into a different configuration.
Interested in a bespoke headpiece?
We would love to work with you to bring your vision to life. If you have your heart set on a different combination of hairpieces, or perhaps would like to know how certain styles can be reworked to match your or our veils, get in touch. We'd love to work with you to create something beautiful.