19 May

Hair & Inspiration
Romantic hairstyles for birdcage veils
There's something about a birdcage veil. It's the little touch of old world glamour they add, especially when created in shades of soft white or ivory and adorned with a touch of sparkle! How can any girl not feel beautiful when wearing something so delicate?
The best thing about birdcage veils is that they suit almost any hairstyle, from the most intricate updos, to romantically tousled and undone. Should you choose to wear a longer veil for the ceremony, and change into a chic birdcage veil for the ceremony, you probably won't even need to rearrange your hair, leaving more time for wedding cake, champagne, and celebrating with your gorgeous man.
Since there are so many ways to wear your birdcage veil, I thought I would collect a few of my favourite hairstyles for birdcage veils that's glamorous and oh-so romantic:
The pretty side updo
Traditionally, birdcage veils are worn asymmetrically, and look divine with a hairstyle that sits low at the nape of the neck or to the side.
Photo credits: 1. via Pinterest | 2. Leila birdcage veil | 3/4. Abbey birdcage veil
The ballerina bun
If you love a little more structure, the birdcage veil is more than perfection. A pulled back ballerina bun works perfectly with the birdcage veil, because the veil adds the texture and softness against the simplicity of the hairstyle. Stunning!
Photo credits: 1. Mod Weddings | 2. via Style Me Pretty
The romantic and loose look
While I adore a soft up do with a birdcage veil, I love seeing my brides pair their veils with more romantic, loose curls. The beauty of the birdcage veil is that it can be worn an almost infinite number of ways!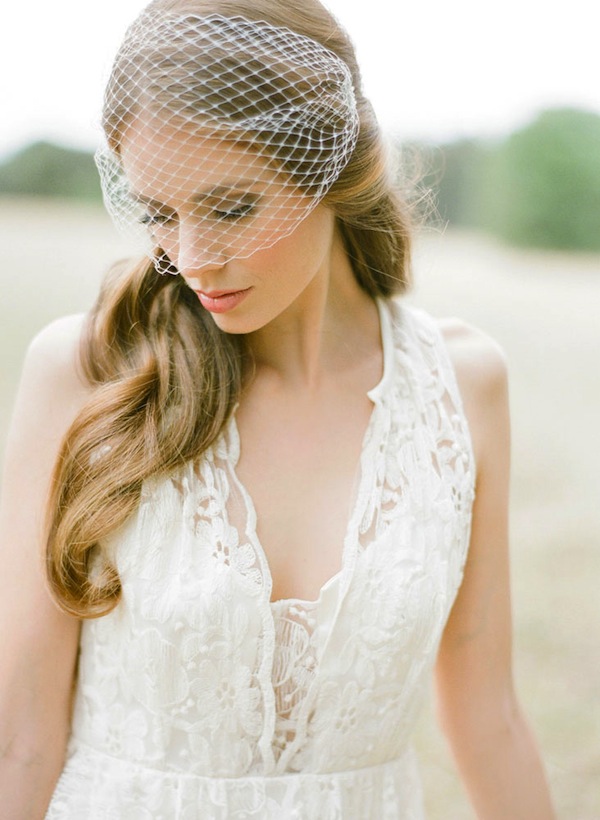 Photo credits: 1. via Pinterest | 2. Parker birdcage veil | 3. Marilyn birdcage veil 
Go for volume
Wear your birdcage veil pinned into the top of your updo for a fuller look. This is a lovely way to frame your cheek bones and balance out a low set bridal updo.
Photo credits: 1. Odalys Mendez Photography | 2. Marilyn birdcage veil
xx