12 Sep

Bespoke
HARVEST | A ruby red, blush and gold wedding crown for the unique bride
The HARVEST gold wedding crown is all about natural and organic floral styling.  Inspired by a love for wild flowers, this artfully arranged red and gold wedding crown is reminiscent of freshly picked flowers from a field of wild blossoms.
For the unique bride, this crown makes an elegant yet bold statement that's whimsical and feminine for the modern romantic. If you're yearning for something a little different and unconventional, working colour into your bridal look can be a fashion-forward way to make a beautiful statement.
Your accessories should represent your personal style and sensibilities, your likes and loves and your perception of beauty. For some brides, this might mean something a little unconventional and bold, or for other brides it might mean something more traditional and classic. Whatever your style, your bridal look should feel like a natural extension of your style.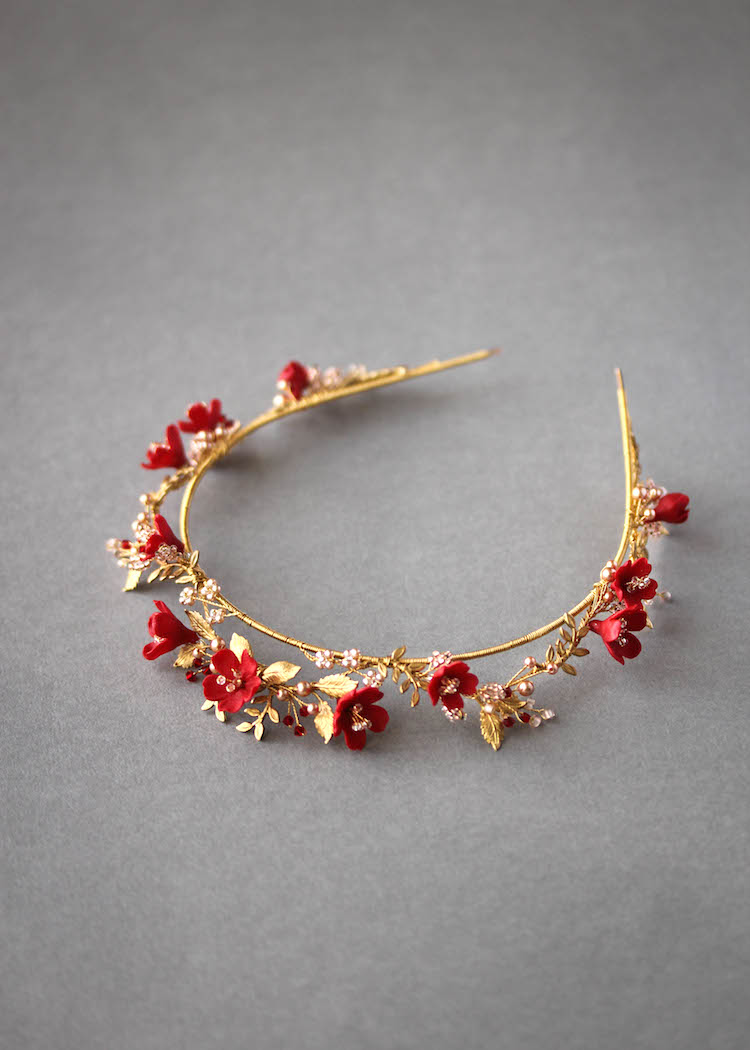 Perfect pairing
We love to pair the HARVEST crown with delicate and dainty crystal earring drops. These ethereal and lightweight sets perfectly frame the face without competing with the bold red details scattered across the headpiece.
Our favourite combinations include the GEORGE, ISABEAU and ARLETTE crystal drop sets.
Shop this look: GEORGE earrings, ISABEAU earrings, ARLETTE earrings
Customisable in different colour palettes
This gold wedding crown features a beautiful balance of foraged red flowers, ruby red crystals and rose gold and blush elements set against gold toned detail.  As a bespoke accessories designer, all of our pieces can be customised to suit your bridal colour palette.
We think this unique piece would look beautiful in antique silver tones with scattered ivory flowers, soft natural freshwater pearls and empire blue details for a subtle touch of colour.
Fancy something a little more classic? Perhaps gold and ivory tones with champagne elements might be more your style.  Or antique silver with blush tones and soft ivory tones might feel a little more timeless and sophisticated. This beautiful piece – along with our bridal collection – can be customised to suit your wedding dress, hairstyle and personal preferences.
How to style this gold wedding headpiece
Organic bridal styling is about effortless elegance. The HARVEST gold wedding tiara takes cues from the wilderness with boho luxe appeal. It's designed to frame the face and hair as though it's growing out of your hair and weaving along your hair line in a way that's fluid and romantic.
We think this piece would style beautifully with a sheer bridal veil with a clean raw edge. Pair it with a drop veil such as the ROSELLA wedding veil or a classic cut shorter veil such as our BLAIR fingertip veil.
In terms of hair, think all out hair with loose curls, half up hairstyles or a soft romantic bun.
Wear it again after the wedding day
It's always a good thing when you can wear something again after your wedding day. The HARVEST headpiece would perfectly suit spring races, engagement parties or anniversary dinners. Pair it with loose curls and all out messy hair for a look that's bohemian inspired, soft and romantic.
Make it yours
If you'd love to chat about commissioning a custom headpiece, send us an email.
Send across details of your wedding dress and hairstyle, wedding venue and favourite colours. We can then get back to you with ideas and suggestions. We'd love to hear from you.