01 Sep

Wedding veil guide
Crème de la crème | Our favourite wedding hairstyles with veils
We're sure you've spent a good portion of your wedding planning browsing Pinterest and Instagram looking for inspiration on wedding hairstyles with veils. We do this on a daily basis too – what can we say, we love hair and we love weddings! We've pulled together the crème de la crème of our favourite wedding hairstyles with veils to inspire. Feel free to pin them to your Pinterest boards for later.
Wedding hairstyles with veils
The wedding hairstyle you choose to wear on your wedding day is quite an important decision. It should reflect your personal style and sensibilities, and complement your wedding dress and venue.  In addition to being timeless, it should also be functional if it needs to accommodate a wedding veil or bridal accessories and keep them in place all day.
Most brides falls in love with a wedding updo, a down hairstyle or something in between. You can't go past these beauties for the season ahead:
1. Wedding updos with veil
For the bride seeking a classic look that feels modern with a nod to the traditional, a romantic wedding updo with a veil is chic and effortless.
For some brides, a veil with a wedding updo is a bit too traditional but we think it's all about the placement of the veil. If you position the veil too high (i.e beyond the crown of your head and closer towards your hairline where a headband would sit), it will look little more dated.  If you'd like to avoid the bridal looks of the 1980s-1990s, try positioning the veil a little further back – at the crown or above a low set bun. This has the effect of elongating your silhouette and also frames your updo in the most beautiful way.
We often work with brides who try on a veil with their wedding dress in their local bridal boutique. Often the veil looks overly fluffy and full – a look that a lot of modern brides try to avoid. With a little repositioning of the veil (i.e. lowering it) or opting for a more modern cut to the veil, the whole look can be transformed instantly.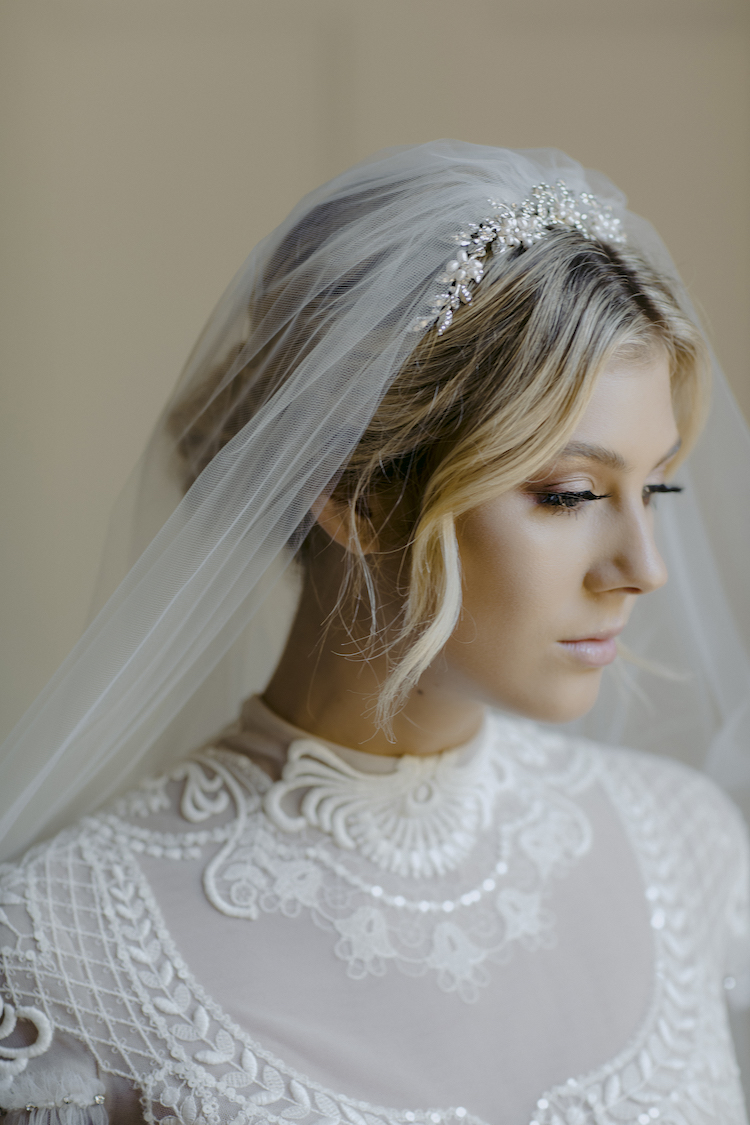 Photo credits: 1. via Once Wed | 2.  Marisa Rose MPH 3. LAURETTE hair pins + THEODORE veil | 4. CLARABEL headpiece + AMORA veil | 5.  JASMINE headpiece + BLAIR wedding veil | 5. HARLOW headpiece + THEODORE veil | 6. ROSEMONT headpiece + THEODORE veil| 7. Rachel Meagan Photography | 8. FLEUR crown + LUMIERE pearl veil | 9. MARION headpiece | 10. EVENING headpiece | 11. via Snippet & Ink | 12. ENCHANTED headpiece + AMORA veil | ROSEMONT headpiece + KARELL short veil | 13. via Pinterest | 14. AUDREY wedding veil
2. Hair down with veil
So you love the look of a veil and you also want to wear your hair is loose curls on your wedding day. Perfect! There's no reason why you can't wear a veil with your hair down. You'll just need a few extra bobby pins (and a little extra teasing) to secure the veil into place.
We adore this wedding hairstyle with a veil for its clean and minimalist vibe. It suits bohemian bridal looks right through to classic silhouettes.
This look can also be paired with a beautiful headpiece for a little added interest. Simply position the veil into place and place your headpiece on top of the veil's comb for a seamless finish.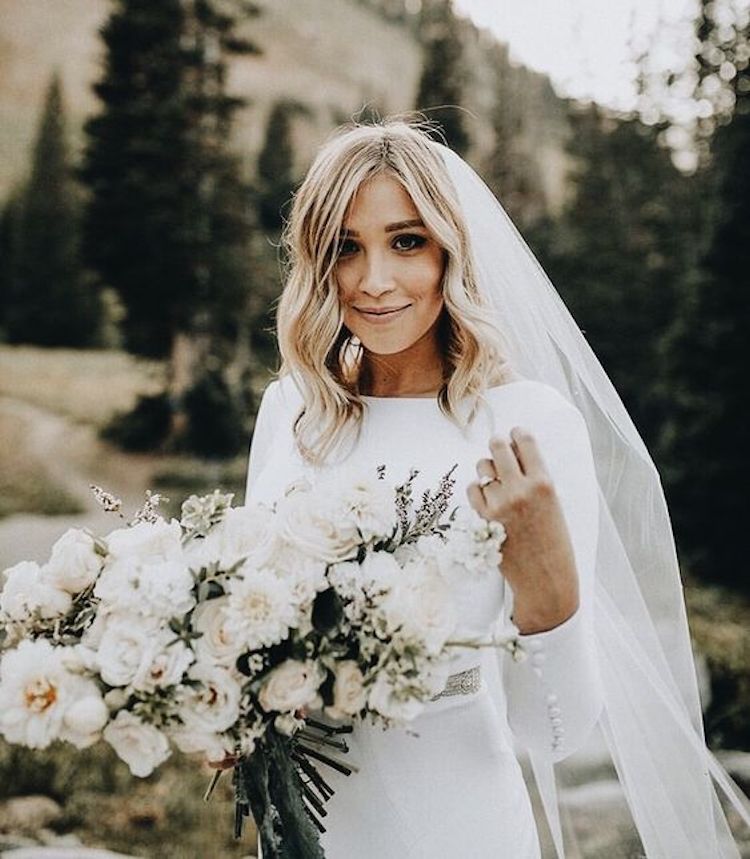 Photo credits: 1. CARMEN veil | 2. via Pinterest | 3. via Style Me Pretty | 4. NADIA pearl veil | 5. via Pinterest | 6. via Pinterest | 7. via Style Me Pretty | 8. via Pinterest | 9. via Pinterest
Related posts
3. Half up hair with veil
If you can't decide between a wedding updo or a bridal hairstyle that's all down and flowing, a half up half down wedding hairstyle might be the perfect style for you. When paired with a veil, it creates the perfect foundation to hold the veil into place and also keeps those strands of hair off your face.
We love this look because of the way it frames the hairstyle. The veil is positioned a little lower so it's possible to achieve more volume at the crown which is always a flattering look.
Photo credits: 1. ENCHANTED headpiece + MIDNIGHT veil | 2. via Pinterest | 3. HONEYSUCKLE bridal headpiece + THEODORE pearl veil | 4. via Style Me Pretty | 5. via Style Me Pretty | 6. VERSE hair comb + AMORA wedding veil | 7. via Pinterest | 8. LOREN pearl wedding veil
4. Ponytail with veil
We've seen so many beautiful ponytails grace the aisles this wedding season. They're modern, clean, chic and oh-so beautiful. Our favourite Anna Heinrich wed this year in Italy in a gorgeous cathedral veil secured to a low set ponytail. The look is not only mesmerising and romantic but ultra chic and feminine.
Photo credits: 1. Bayleigh Vedelago | 2. via Pinterest | 3. BORDEAUX veil for ponytails | 4. BORDEAUX veil for ponytails | 5. Bayleigh Vedelago
Customising your veil to suit your wedding hairstyle
Not all veils are created equal and not all veils will suit the wedding hairstyles of your dreams. If you've fallen in love with a wedding veil from our collection, send us photos of your bridal hairstyle and let's chat.
We'd be happy to offer advice on how the veil can be customised to suit you and your hairstyle. Often it's as simple as ensuring the correct sized veil comb is attached. Or it could be a slight variation in amount of gathers at the comb or a tweak to the blusher width for a cleaner look.