07 Nov

Bridal jewellery guide
How to choose bridal earrings to suit your neckline
You've found your wedding dress and now it's time to think about those little details to complete your bridal look. Your choice in bridal earrings and other wedding accessories will set the tone of your bridal look. You can instantly transform a sleek and minimalist wedding dress into serious #weddinggoals with the additional of statement floral drops. Prefer a more classic look? You can't go wrong with classic pearl drops or crystal earrings.
The challenge is not to over-accessorise and to choose key pieces that will anchor your look. You don't need to look or feel like a Christmas tree.  Sometimes just a headpiece, veil or a set of statement earrings might be all you need.
When we offer advice to our brides, we always look at 3 things – your wedding dress, the neckline and your bridal hairstyle. These details will impact the overall silhouette as well as the vibe of your look.
Low V neckline or low back
A low V neckline or low V back is the ultimate in sensual sophistication. A low front doesn't necessarily mean you need to wear a necklace to fill the space.  Instead, consider statement earrings with a longer drop or a backwards facing headpiece can be the perfect details to accentuate the lines of the low V.  Play on the long angular lines with unique accessories such as chain thread earrings, a long pearl drop or a clean wedding veil that highlights the strong V lines.
Shop this look: CASCADE earrings, BLANCA earrings, MARION headpiece, TULIP earrings, MIDSUMMER earrings, MONTE earrings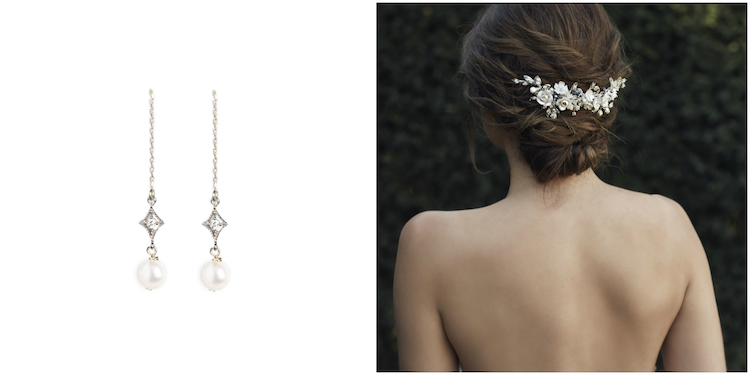 Shop this look: NIGHTINGALE earrings | FONTAINE headpiece
Shop this look: POETIC headpiece | GEORGE earrings | ISABEAU earrings | ARLETTE earrings
Illusion neckline
An illusion neckline is feminine, sophisticated and sleek. Pairing this neckline with a necklace can damage the sheer netting and often draw attention away from the rest of the dress.
We love the look of longer earrings with an illusion neckline to elongate the neck and also frame any details that might be applied to the neckline and sleeves.
Shop this look: ELISABETTA earrings, AURORA earrings, ELISABETTA earrings
Off-the-shoulder
An off-the-shoulder neckline is sensual, chic and utterly feminine. It draws attention to the neck, face and shoulders in the most beautiful way. It's a shame to over accessorise this area and often a set of longer earrings or a backwards facing headpiece or crow is all you need.
If you just want a touch of sparkle, opt for some simpler studs to keep this area open and clean.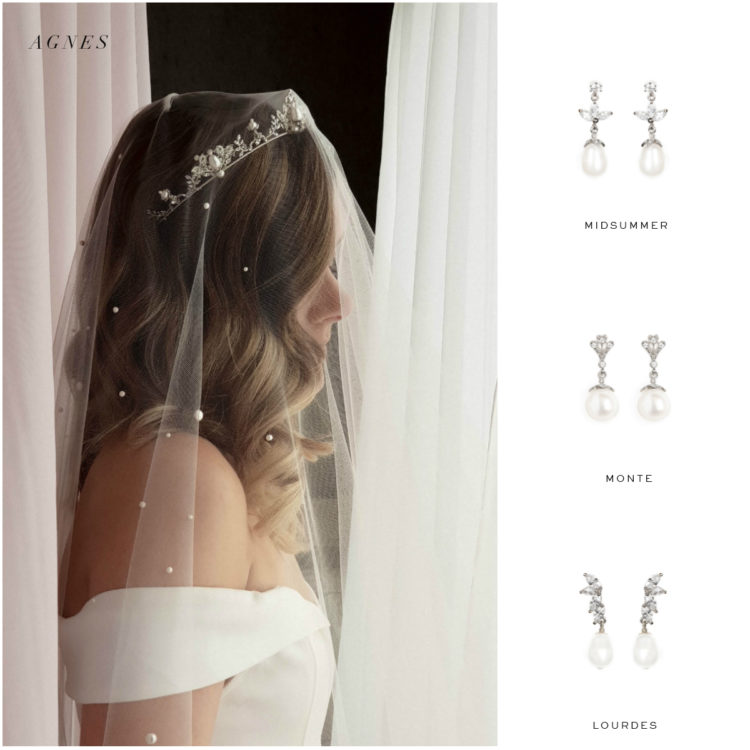 Shop this look: AGNES crown, MIDSUMMER earrings, MONTE earrings, LOURDES earrings
Shop this look: TULIP earrings, MARJORIE headpiece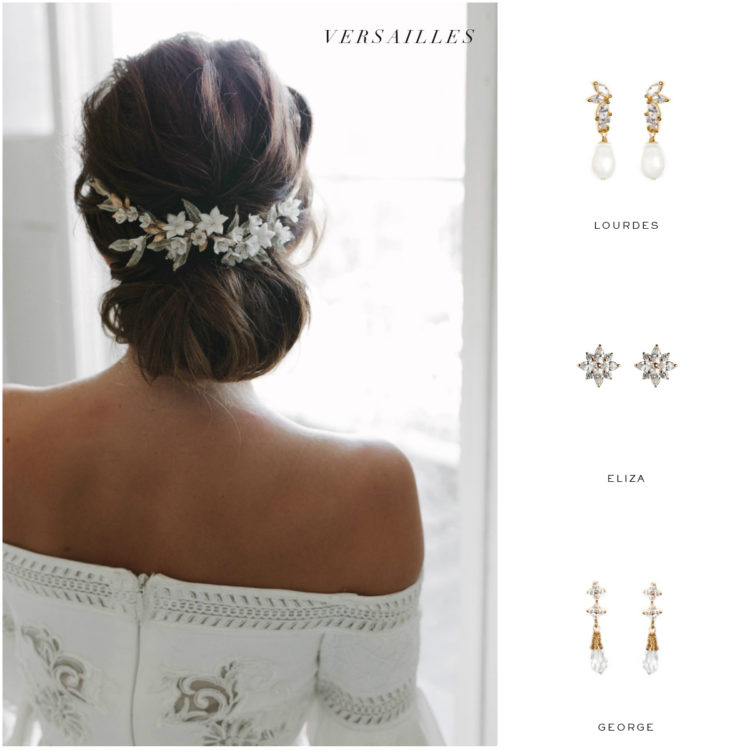 Shop this look: VERSAILLES headpiece, LOURDES earrings, ELIZA earrings, GEORGE earrings
High necklines
We love to pair high necklines with anything from stud earrings that draw attention to the face to longer earrings on the delicate side. Avoid heavy chandelier style earrings if your dress features a lot of detail around the face as this can be a bit distracting and compete with the other details.
Pearl or crystal studs or dainty chain earrings are the perfect way to add a classic and sophisticated detail to a modern and chic neckline.
Shop this look: AURORA earrings, BLANCHETT headpiece, GEORGE earrings, ISABEAU earrings, ARLETTE earrings
Shop this look: XAVIER earrings, HENRI crown
Shop this look: LE POEME headpiece, ALLURA earrings, ORCHID earrings, CUSTOM earrings
Long sleeves
A wedding gown with long sleeves feels regal and sophisticated with a classic beauty like no other. Don't be afraid to pair long sleeves with longer earrings if your dress features an open back. If your back is more enclosed, opt for timeless pearl or crystal studs to minimise the details around the face and neckline.
Shop this look: BLANCA earrings, ARTEMIS hair comb, TULIP earrings, NIGHTINGALE earrings, MIDSUMMER earrings
Sweetheart neckline
A sweetheart neckline is one of the most versatile necklines to accessorise.  The world is your oyster. A necklace, earrings, headpiece and/or veil will all work together but the key is not to over-accessorise.
If you'd love to wear a crown, you don't necessarily need to pair it with larger-than-life earrings or a necklace. A statement crown can look absolutely exquisite with crystal studs and no necklace, drawing attention to your face and dress.
Shop this look: ELIZA earrings, BREATHLESS earrings
Your bridal hairstyle
Your choice in bridal hairstyle should be based on the neckline and style of your wedding dress, your personal style and what will feel the most comfortable on your wedding day. If you don't like to show your neck, there's no reason why you should feel obliged to wear your hair up on your wedding day.
Similarly, there's no reason why you can't wear long statement earrings if you choose to wear your hair down – there's ways around it to ensure your look is still open and clean. A side swept or half up hairstyle gives you the best of both worlds. You can still wear your hair down and accessorise with larger earrings.
Shop this look: JASMINE headpiece, GEORGE earrings, HUGO earrings, MONTAGUE earrings
Shop this look: ORCHID earrings
Shop this look: BOTANICA headpiece, TULIP earrings, ORCHID earrings, MONTE earrings
RELATED POSTS