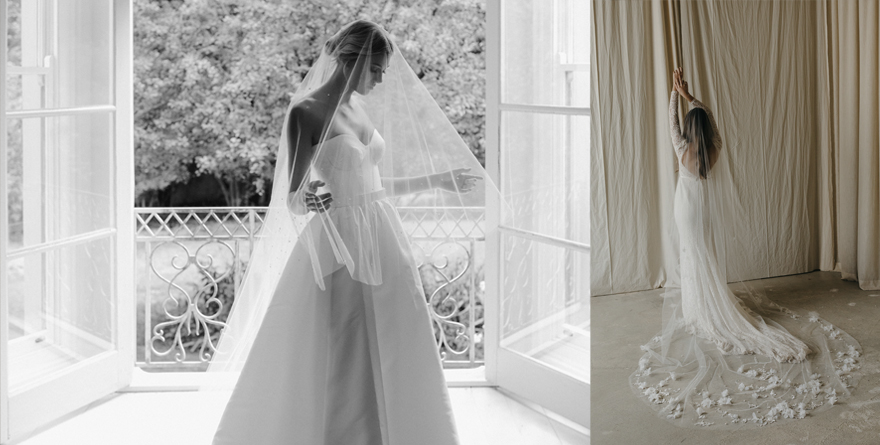 10 Mar

Wedding veil guide
The Mother of All Veils | Everything you need to know about cathedral veils
The mother of all wedding veils – cathedral veils – offer a regal formality and sophistication like no other length of veil. As you can guess from the name, cathedral length wedding veils are designed to be worn in a cathedral style church or a similarly grand setting where the aisle is long and wide and your wedding dress and veil will be on full display.
If you're now planning a smaller wedding or you've moved your church wedding to the outdoors, a cathedral veil can still be worn. Just ensure your aisle is wide enough to accommodate the length of your veil and drape the veil over your forearm to keep it off the ground as you move around for your bridal photos.
Not all veils are created equal and there's no standard 'cathedral veil'. They come in various lengths and widths, fabrics and cuts. Let's explore our favourite veil style below:
Shop this look: Images 1-3 RIVIERA veil, GEORGETTE cathedral veil
1. If you want to make a statement, this is your go-to veil
A cathedral veil feels more dramatic than a classic chapel veil.  Its sweeping train will glide effortlessly across the floor as you walk down the aisle. In fact, it's fair to say that your veil will be what your guests will notice as you stand at the altar with your back to them.
Not planning a church wedding? No worries. Many brides have worn cathedral veils on mountain tops, by the sea or in an enchanted garden. The extra length can add the perfect amount of drama to more relaxed settings and will create impressive images you will love to share for years to come.
A cathedral veil acts as an extension of your dress so a beautiful lace trim or embellishments will be a striking focal point that will pull together your bridal look.
Shop this look: NIGHT GARDEN cathedral veil, MIDNIGHT cathedral veil, CARMEN cathedral veil, ATHENA cathedral veil
2. It may not be practical for your wedding venue
A 3-4 metre long veil may not be the most practical wedding accessory if you're planning a beach wedding, a backyard gathering or a small intimate wedding in a restaurant or a quiet park.
However, if you have already purchased a long cathedral veil and now find yourself planning a smaller wedding due to COVID-19, you can manage the length of the veil by draping it over your arm to keep it off the ground.
Alternatively, if your veil is free from embellishments and your dress length allows for it, consider having your cathedral veil trimmed back to chapel length which might feel better suited for the occasion.  Floor length veils are often cut to 180cm and chapel length veils are generally cut from 230cm. These lengths might feel more suitable for modest venues and locations.
Shop this look: LOUVRE cathedral wedding veil, RIVIERA wedding veil, AUGUSTINE cathedral veil, NADIA cathedral veil with pearls
3. A cathedral length veil is generally for the ceremony only
If you're worried about your partner tripping or falling onto your veil during the bridal waltz, keep in mind that your cathedral veil is worn for the ceremony and wedding photos only.  Your bridesmaids would have already removed your veil and packed it away safely.
A lot of our brides will pair their wedding veil with a headpiece or tiara, so that when they remove their wedding veil, their hair still looks beautifully adorned and complete.
Related posts
Shop this look: MIDNIGHT crystal veil, MORNING MIST crystal veil
4. Ensure your wedding hairstyle can support your cathedral veil
A cathedral length veil isn't necessarily heavy. But depending on the cut and fabric of your veil, it can be quite tricky to manoeuvre if you're weaving between guests or hopping in and out of cars.  You will need to ensure your wedding hairstyle is strong and stable enough to support the weight and length of your veil.
A cathedral veil will need to be reinforced in your hair. This will prevent it from falling out if someone accidentally steps on it or the wild winds try to blow it out of your hair.
Shop this look: NADIA pearl veil, LOUVRE cathedral veil
5. Single tier versus 2 tier veil?
It's a very common question – what looks best with my wedding dress? A single tier veil or a veil with a blusher layer?
Our response depends a lot on the dress, the venue, the personal style of our bride, cultural considerations, and of course, the vision of our bride and groom.
For a lot of brides, a veil isn't a veil without the blusher layer. The 'lift and kiss' is what the veil is all about. In fact, we have worked with quite a few brides who personally don't like the idea of a blusher layer but they know that their partner has always dreamed about lifting the veil to reveal their wife so taking that away from them is something they wouldn't dare to do.
For some brides, the blusher layer has cultural significance and is also a religious requirement. For Christian or church wedding, covering the face and shoulders is important to show respect.
When it comes to the dress itself and recommending single tier vs 2 tier veils, we like to look at the lines of the dress, the style of the gown and general proportions. A statement veil is the perfect finishing touch to accentuate the lines of the dress as it creates a beautiful silhouette.
Shop this look: AMORA veil, MORNING MIST veil with crystals, AMORA veil
6. Cathedral veils can vary in length
Generally speaking, a cathedral wedding veil starts from 300cm or 118 inches long. But it can vary between designers. This is a fairly standard length but some wedding dresses with significance trains might be better suited to regal or royal cathedral veils.
A regal or royal cathedral veil can be cut to 450cm or  180 inches. This length is only recommended if you're planning to wed in a large cathedral.
And of course, wedding veils are completely customisable so if you're looking for a veil that's somewhere in between these measurements, do get in touch as we can certainly accommodate.
Shop this look: MARAIS soft veil, MORNING MIST crystal veil
7. Longer veils aren't necessarily wider
A 3-4 metre long veil isn't necessarily double the width of a standard veil. The width depends a lot on the style of the veil itself. I.e. whether it's a full and gathered veil with generous amounts of volume at the comb, or whether it's more clean and modern, such a drop veil which features no gathers or volume.
It is possible to achieve a modern and minimalist look and feel but still have the grandeur of a cathedral length veil. Our favourite veil to customise is our AUDREY veil in this instance. As you can see with the AUDREY veil below, a simple wedding veil can look just as dramatic as a 2 tier gathered veil.
It's important to take into account the proportions and style of your wedding dress when deciding on the best length and width.
Related post:
Shop this look: AUDREY veil (can be customised to cathedral length)
8. If you've fallen out of love with your wedding dress, a cathedral veil can add a touch of magic to your bridal look
Sometimes we'll work with a bride who has fallen out of love with their wedding dress. They may have loved the simplicity of their dress 12-18 months ago when she first tried it on but when she picked it up from the bridal boutique, it just didn't wow her anymore.
The good news is if the dress fits, there's many ways to fall back in love with the dress. Often this is through finding the right accessories.
An extra wide and long wedding veil can create a dramatic silhouette for a dress that might be on the simpler side. It can also be handcrafted with beautiful embellishments such as pearl or crystal elements for a look that's glamorous and luxurious.
Shop this look: NADIA cathedral veil with pearls, ATHENA cathedral veil
9. You don't need to find a 3-4 metre tape measure
It can be hard to find long measuring tape. Try using a long piece of ribbon, string or yarn instead and then measure that piece of string against a ruler or tape measure. You might also find it easier to measure it in sections – a section from the head to the bottom of the dress and then a separate section from the bottom of the dress to where you'd like your veil to end.
How do you measure for a veil?
Grab a measuring tape (ribbon, string or yard) and wear your wedding shoes, if you have them handy.
Start the measurement where the top of the veil will sit. If you're wearing a mantilla style veil, that will be at the top of your head. The position of the veil comb will depend of your hairstyle – usually secured at the crown or under or below your updo.
Now let go of that tape and measure roughly where you would like that train to end.
Need help?
If you aren't sure what length veil will best suit you and your wedding dress, do get in touch. Please send us photos via our contact page of your wedding dress, your height and heel height measurement and we'd be happy to offer some advice and recommendations.
Related posts