26 Jan

Wedding veil guide
How to choose a birdcage veil
It sometimes feels like there are just as many birdcage veils on the market as there are white t-shirts.  Figuring out how to choose a birdcage veil can be tricky when the options are endless. From short angled veils that are perfect for mid length vintage dresses to more modern cage veils for sleek silhouettes, there is a style for almost every dress. You may have also heard different names used to describe this veil style: a blusher veil, cage veil, bandeau veil, angle veil, wedge veil or a venetian veil. Other names include Russian, French or English Merry Widow birdcage veils.
Not all birdcage veils are created equal and the variations impact how they can sit, feel and look when positioned in your hair. The key differences relate to how the veil is cut and shaped, the width of the veil, the type of netting and where the gathering is placed. All of these details will impact how it moulds around your face and the aesthetic it creates.
The right veil for you will depend on a number of factors. It's important to consider your bridal hairstyle, face shape, dress style and embellishments.
Shop this look: STAR GAZER veil + DREAMER comb
What to consider when choosing a birdcage veil
1. Your wedding dress
The style of your wedding dress is the first thing to consider when choosing a birdcage veil.  A birdcage veil is a defining accessory so it will set the tone for the mood you wish to capture.
Short wedding dresses: A vintage-inspired tea dress or a mini dress pairs best with shorter birdcage veils at 9 inches wide. Your birdcage veil should be proportional to the shape and length of your skirt. A short dress and a bigger birdcage veil may look top heavy, disproportionate and unbalanced.
Playsuits and wide leg pants:  This ultra chic look can be styled with short or large birdcage veils ranging from 9 inches to 18 inches. The best size will depend on the shape and width of the pant leg. A cigarette pant that's narrow at the ankle will style better with a shorter veil or a sheer veil made from bridal illusion tulle. A wide leg pant can be styled with a larger or smaller birdcage veil.
Traditional wedding gowns: A birdcage veil is a beautiful way to capture the mood of your look. If you wish to capture vintage vibes or maybe you wish to create a contemporary mood, the style of your birdcage veil is important. Factor in the neckline of your dress and the size and shape of your skirt so your birdcage veil is proportional overall.
Sometimes contrast is better than matching details. If your dress features a fine lace pattern, contrast it with a birdcage veil with larger lace appliques which can pull together your look. Add detail to a modern and sleek plain gown by styling it with pearl, floral or crystal accents. A traditional lace dress with ornate lace patterns can be contrasted with pearl or 3D floral details for a next level look.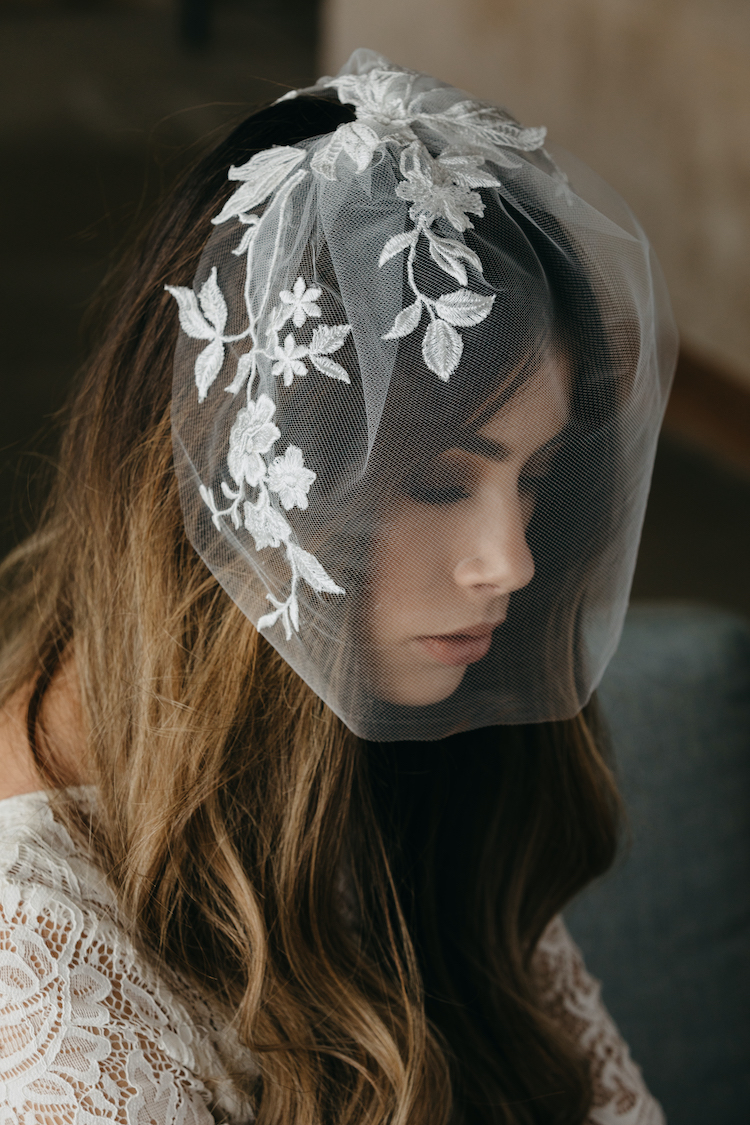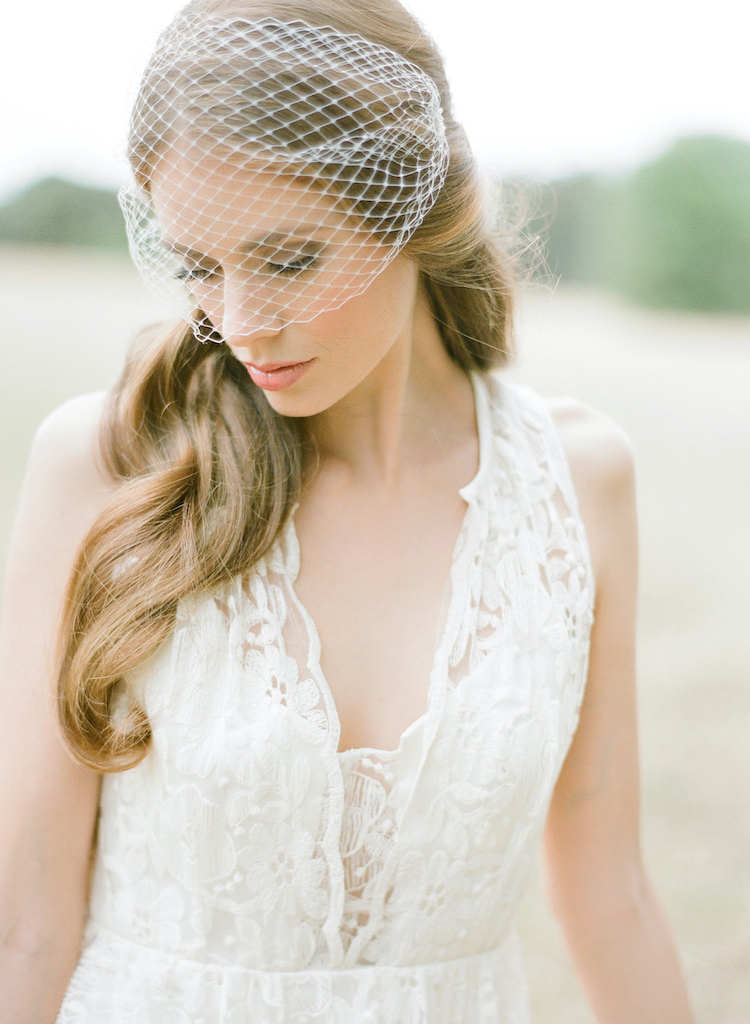 Shop this look: MARA birdcage veil, NOUVEAU veil, PARKER veil
2. Your face shape
As a birdcage veil frames the face, it makes sense that your face shape will be an important consideration when choosing your birdcage veil.
When it comes to finding the perfect birdcage veil, it's all about accentuating your finer features while drawing attention away from the areas you don't want to focus on.
The first step is to determine your face shape as this will impact the angle you will wear the veil, its width and the overall shape. So decide whether your face shape is oval, heart, triangle, square, round or long by reading our related post.
It's also important to consider your head size, factoring in your forehead height and width. If you have a small face or head circumference, a smaller veil will look more proportional. By contrast, a wider or taller forehead or a larger head size will suit a wider veil as you will need the extra length to offer more coverage. Keep in mind if you are self conscious about a wide forehead, your birdcage veil should offer height to lengthen your face. If you're worried about a tall forehead, consider a veil which features volume at the sides.
Shop this look: MARILYN veil, ABBEY veil, STAR GAZER veil + DREAMER comb
You might be wondering how to measure a birdcage veil?
The width of the veil refers to the distance from the top of the head, where the veil sits in your hair, down to where it falls across your face. On a centre gathered birdcage veil, a 9 inch width works best positioned at an angle so it sits about 2 inches above your hair line, covers your forehead and extends to cover an eye/eyebrow. On a bandeau birdcage veil, a 9 inch width will fall a little further down to touch your nose. If you wish for more coverage, a 12 inch birdcage veil can be placed further back at the crown of your head and will fall to the tip of your nose.
If you have a tape measure handy, determine where you want your veil to sit and measure from that point down to where you want the veil to fall across your face.  As a birdcage veil is often worn for the ceremony, it's best to have the veil fall to the nose or above the lip so it doesn't get in the way of the 'you may now kiss the bride' moment.
A bandeau veil is where the veil has been gathered at the sides near the ears and features two separate combs. A bandeau veil is best measured across its length so from the two gathered points (ear to ear).
Related posts:
3. Your bridal hairstyle
Your bridal hairstyle is important for a few reasons. It will dictate the vibe of your look and it will also impact your overall silhouette.
Pairing a birdcage veil with an updo does create a more traditional look. If you're hoping to update the look with a more contemporary aesthetic, consider loose curls or a sleek low set bridal bun.
When styling a bridal hairstyle, keep in mind your overall silhouette. Long loose hair with a birdcage veil can appear top heavy if your hemline is short or your dress features a minimal silhouette.
If you have short hair or extra fine hair, consider a birdcage veil that has been sewn directly onto a headband for a secure fit.
As you can see below, long sleeves and long hair pair perfectly together and we've styled this with a sheer birdcage veil made from bridal illusion netting to soften the look.
Looking for more beautiful hair inspiration? Find us on Pinterest and browse our popular hair boards:
Shop this look: , NOUVEAU veil, STAR GAZER veil + DREAMER comb
4. Embellishments
By its very nature, the diamond shaped patterns that are formed on a birdcage veil are decorative. So a simple birdcage veil can easily be worn on its own.
If you would like to pair it with an additional piece to finish the look, a birdcage veil can be worn with a feather or crystal comb positioned to the side.  For a more contemporary finish, style the birdcage veil with a thick headband to define the look.
Another option is to choose a birdcage veil with embellishments applied directly onto the veil as seen on our PRIMAVERA and NOUVEAU and STAR GAZER styles.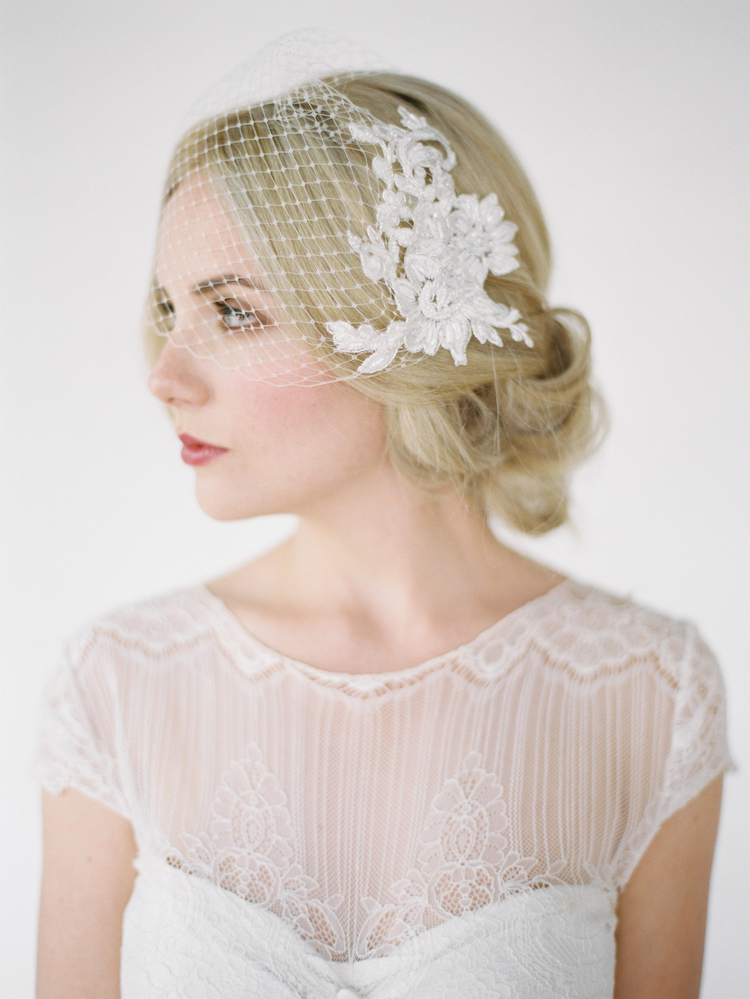 Shop this look: PRIMAVERA veil, LEILA veil
More styling tips
Bobby pins are your friend. And practice. It may take a few goes before you're happy with how your birdcage veil sits in your hair.
It's always disappointing when you order something online and it arrives flat in an envelope. It's especially disappointing when it's your wedding veil. A birdcage veil should arrive in a box to maintain its shape and also to avoid strong creases and folds.
If your birdcage veil does arrive flat, you will need to mould it in your hands to give it shape. Steam can also be used to remove the creases however this does take time and a few steam sessions.
Our recommendation is to always try to avoid creases in the first place. All accessories from our collection arrive in beautiful gift boxes, perfect for gift giving and safe keeping.