01 Dec

Stylist Picks
Something Blue | Our favourite wedding accessories with hints of empire blue
Something old, something new, something borrowed, something blue.
Traditions are ever evolving. And we are firm believers that your wedding should be a reflection of you and your partner. The Old English adage of carrying small tokens for good luck no longer rings true with many brides.
But what we love about traditions is creating new ones! Empire blue crystal details are fast becoming a favourite of ours. The deep indigo colour with its sophisticated charm, set amongst antique silver and pearl details creates a regal quality.
So whether you are wearing your 'something blue' or embracing your inner aristocrat, walk boldly down the aisles in these empire blue inspired wedding headpieces.
A textured and nostalgic piece, the ARTEMIS is minimally chic with a nod to antiquity. Nuanced with muted tones of empire blue, the ARTEMIS comb hints at Art Deco heritage while balancing a modern silhouette.
The enduring romantic appeal of the ARTEMIS comb is matched with a fine appreciation for wild flowers and overgrown foliage. A timeless combination for the modern bride seeking a touch of old world charm.
Style this with
We recommend pairing the ARTEMIS comb with a raw edge veil, a scalloped lace veil or a silver crystal encrusted veil to let the beauty of this intricately detailed piece take centre stage.
Full of old world charm, style it with loose romantic updos or side swept curls for a regal and sophisticated finish.
The MAYBELLE floral hair pin is a beautifully uncomplicated and compact piece. A miniature bouquet of flowers featuring imperial blue crystal details that spray from beneath a perfectly formed clay rose.
Although it may be small, it is mighty. It brings together the essence of our Secret Garden collection in a way that's understated and relaxed, and still bursting with old world regality.
Style this with
Style the MAYBELLE hair pin with small pearl or crystal earrings – our favourites are the BELLA, LOURDES and MONTAGUE earrings.
If you're planning to wear a veil, MAYBELLE will sit perfectly to the side of the veil, creating a beautiful yet subtle focal.
A wildly organic and evocative piece, the FONTAINE was inspired by woodland blooms bursting and weaving within an enchanted garden. It's equal parts romantic and exquisite, and perfectly frames bridal updos and loose romantic hairstyles.
Style this with
FONTAINE is a subtly asymmetrical piece that best suits updos where the headpiece gently curves along the contours. Style the FONTAINE curved around a beautiful soft rounded bun. It also looks exquisite worked into a half up/half down hairstyle with loose curls.
We love the look of FONTAINE with a veil, both with or without a blusher. The distance between the combs allow for a veil comb to slot seamlessly between, creating a clean and sophisticated bridal look.
We recommend a veil without too many gathers – a simple drop veil such as the BLAIR, MARISA, THEODORE or ROSELLA are the perfect accompaniments to let your dress take centre stage.
Inspired by Marie Antoinette's majestic and intricate harp, the HARPER is exquisite with its regal undertones yet hints at a dark romanticism. This magnificent crown is the perfect piece to nestle into a romantic updo or down hairstyle. It creates an enchanting and fashion-forward statement for the modern bride.
Finished with an abundance of exquisite crystal details and empire blue accents, the HARPER is reminiscent of the finishes in the Palace of Versailles.
Style this with
For a look that's wildly romantic and chic, we love to style the HARPER crown with a statement crystal encrusted veil such as our ETOILE and MARGAUX veils for maximum effect.
If you'd prefer something that's a little more understated, the HARPER crown pairs beautifully with the ROSELLA raw edge veil or the AUDREY veil for the minimalist inclined.
If you're inspired by a muted colour palette, a powder blue tone might be the perfect 'something blue' for you. The BLUEBELLS hair pins were inspired by the majestic blue blooms that grow in the woods and English gardens in springtime.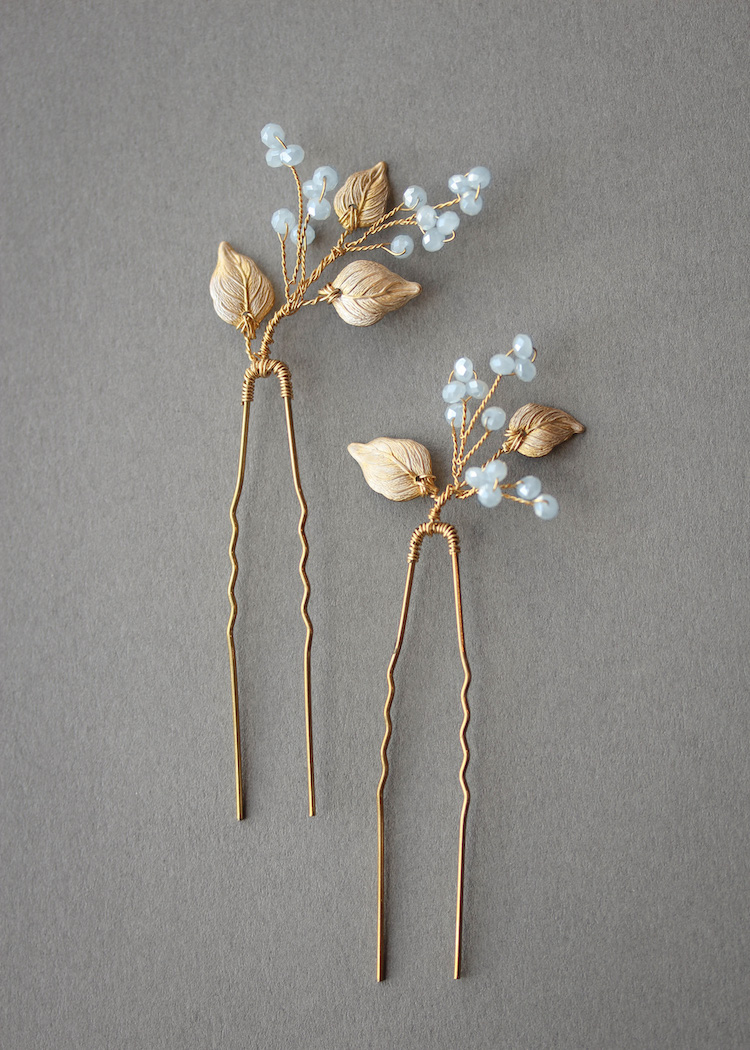 Style this with
Style the BLUEBELL pins alongside a messy bridal updo or scatter them along half up hairstyles for a more relaxed look. While there are no rules with styling these pins, a hairstyle with romantic appeal is a must!