30 Dec

Bridal headpiece guide
Champagne wedding dress accessories
So you've fallen in love with a champagne wedding dress but what accessories do you style it with?  Our obsession with champagne gowns extends to sheer ivory wedding dresses with champagne and nude lining fabrics that show through. Pairing these dresses with champagne accessories feels subtle and perfectly balanced.
Accessorising with ivory, silver and gold tones will always be a winner but if you're dreaming of softer and muted tones to bring together your look, explore our collection of champagne wedding dress accessories you will love to own and keep.  All styles featured below can be customised to suit your bridal hairstyle and wedding dress.
Champagne and blush pair beautifully with antique silver and pale gold tones. Balancing the warmth of champagne and blush with muted metallics will instantly elevate your bridal look.
1.) MIRABEL champagne headpiece
A tribute to the garden, the Mirabel champagne headpiece features a dreamlike fragility with its scrolling florals in champagne tones set amongst antique silver crystal leaves. We love this style for its unique textured details and unexpected asymmetrical silhouette.
Shop this look: MIRABEL bridal headpiece
2.) PALOMA champagne wedding veil
Handcrafted from champagne fine tulle, this exquisite beauty is long and frothy with a unique silhouette to frame champagne wedding dresses. Dramatically decadent yet effortless, this is a veil that speaks to beauty, timeless appeal and old world charm.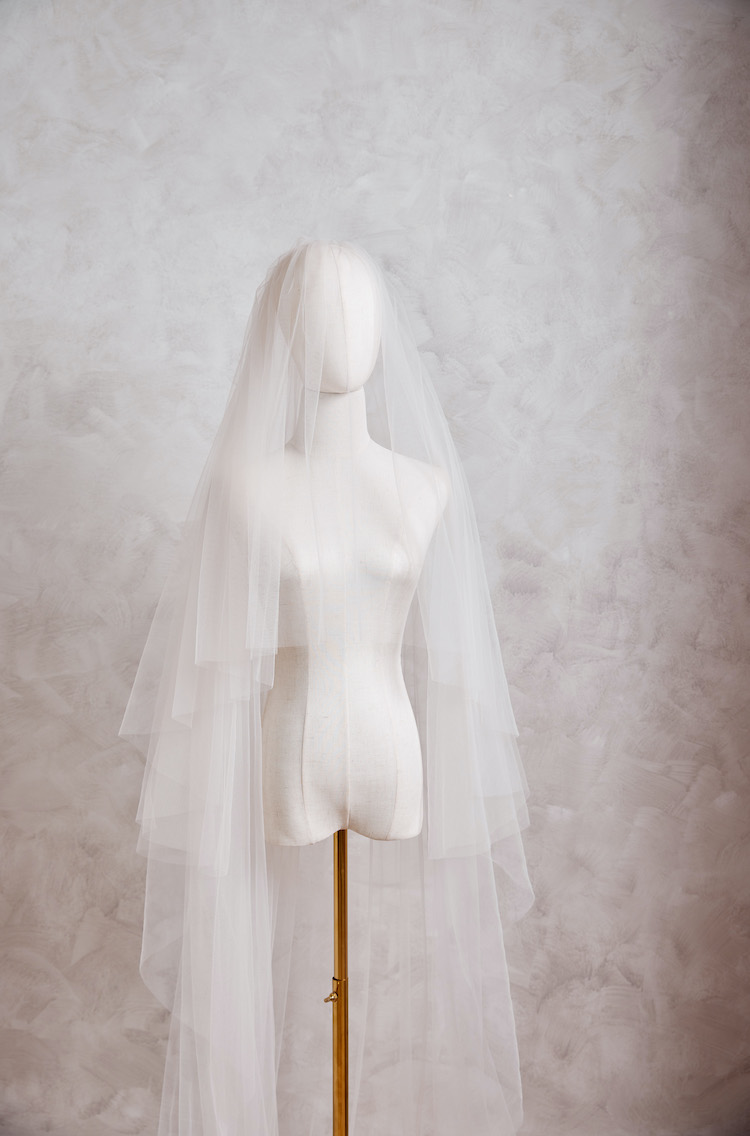 Shop this look: PALOMA champagne wedding veil
3.) SABLE bridal headpiece
Where to begin with this floral beauty. Sable balances champagne tones with pale gold and hints of blush and ivory.  Designed on a flexible base, we created the Sable to curve around the contours of your bridal hairstyle or romantic hair bun.
Shop this look: SABLE bridal headpiece
4.) ROSALIE bridal headpiece
The Rosalie headpiece is illuminating and beautifully decadent in soft blush and champagne tones. The just-picked-from-the-garden look feels effortless and romantic, like a bouquet of flowers in your hair.
Shop this look: ROSALIE bridal headpiece
5.) FABLES bridal hair pins
The Fables floral hair pins are intentionally mismatched for an organic and whimsical feel.  Scatter them around your bun or position them in a row for a neat finish in your hair.
Shop this look: FABLES bridal hair pins
6.) CHERRY BLOSSOM wedding hair pieces
This dreamy palette of soft champagne, pale gold and blush tones was inspired by the softness of light upon delicate cherry blossoms. A floral display bursting with overgrown details, this set of hair pieces feel feminine, fresh and utterly romantic.
Shop this look: CHERRY BLOSSOM hair pieces
7.) DUSK bridal hair pins
The Dusk hair pins were inspired by the warm golden tones of dusk. These ornate hair pieces speak to modern romance and old world details. Handcrafted with a fierce attention to detail, these hair pins are the ultimate pieces to scatter around a romantic updo or along a half up hairstyle.
Shop this look: DUSK bridal hair pins
8.) WHISPER floral hair pins
The Whisper floral hair pins are mesmerising in their simple beauty. Inspired by wildflowers, the carefree styling feels like freshly picked flowers in your hair. Available in a range of romantic tones, the champagne florals are simply stunning.
Shop this look: WHISPER bridal hair pins
9.) CLEMENTINE wedding headpiece
Undeniably beautiful, the Clementine bridal headpiece frames a romantic hairstyle with its overgrown detailing and delicate lines. This softly spoken piece honours a bohemian and romantic spirit and suits relaxed and whimsical bridal looks.
Shop this look: CLEMENTINE bridal headpiece
10.) WILDERMERE bridal headpiece
Whimsical and ethereal, the Wildermere headpiece is a floral arrangement that ticks all the right boxes. It embodies our love for the botanicals with its delicate floral inclusions.
Shop this look: WILDERMERE bridal headpiece
NEED BRIDAL STYLING ADVICE?
Need styling advice to bring together your bridal look? Get in touch with photos of your wedding gown and your favourite pieces from the collection. We would love to offer ideas and recommendations on pieces to suit, including how our pieces can be customised to suit you.
Looking for more inspiration? Follow us on Pinterest.
RELATED POSTS