23 Aug

Bridal jewellery guide
Gold bridal earrings for the style obsessed bride
From delicate drops to statement chandeliers, gold bridal earrings have the power to elevate your wedding look and leave a lasting impression. Among the vast array of options available, it is no surprise that gold bridal earrings have emerged as a timeless favourite for brides seeking sophistication, versatility and an undeniable sense of luxury on their wedding day.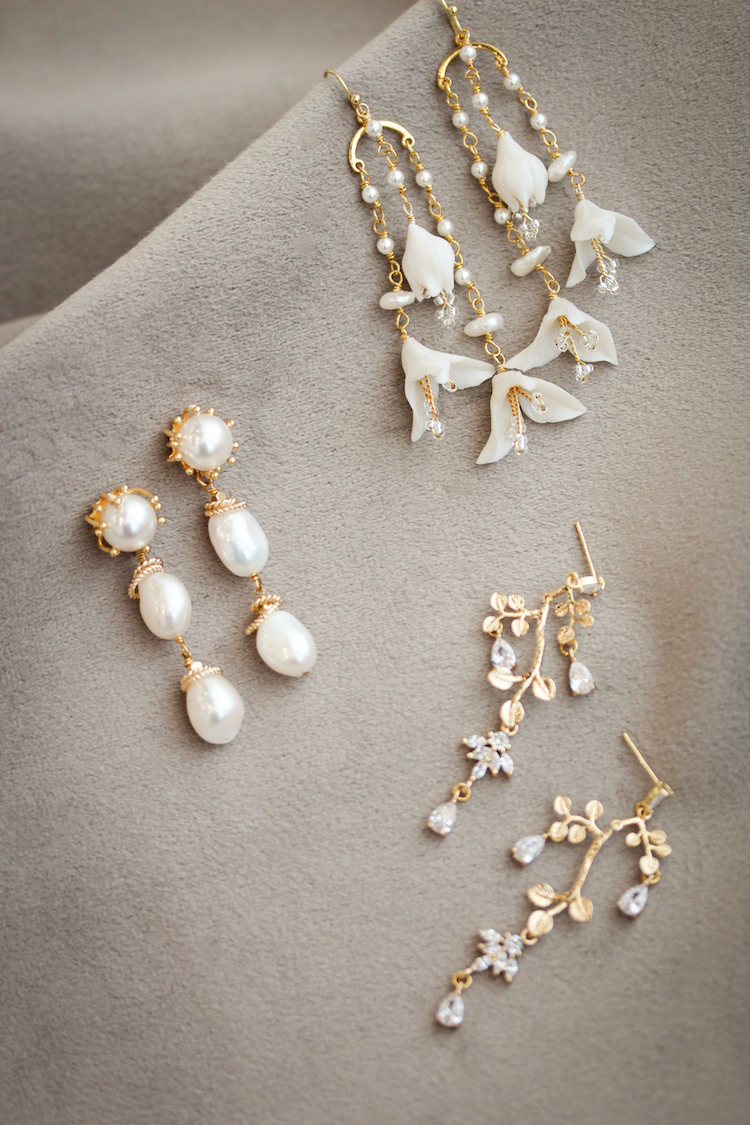 Shop the look: LEON pearl drop earrings, SNOWDROPS floral earrings, CEDARWOOD crystal earrings
Modern minimalism
For many brides, earrings are part of their bridal look along with their veil and headwear or jewellery. For these brides, opting for minimalist gold earrings that focus on clean lines, geometric shapes and subtle detail are a beautiful and fresh take on bridal elegance.
Shop the look: KATIA pearl drop earrings, ISABEAU crystal drop earrings
Opulent chandeliers
If you're looking to make a statement but not in a conventional way, chandelier-style gold toned earrings are a beautiful option. With intricate designs and captivating details, these earrings frame the neckline and can perfectly accentuate subtle details on your wedding gown.
Shop the look: CEDARWOOD crystal earrings, SNOWDROPS floral earrings, BRIGETTE pearl drop earrings
Graceful pearl drops
Pearls on a wedding day are a classic combination which are our go-to option for many brides. Whether you prefer a short, med or long drop, pearl and gold drop earrings gracefully frame necklines and bridal hairstyles with a touch of movement to add whimsy and romance.
Shop the look: FARRAH earrings, CLOVER earrings, SEYCHELLES pearl drop earrings, ELLIS pearl earrings
Embracing tradition and timelessness
Choosing gold bridal earrings on your wedding day is not only a safe option, but they stand as a testament to the enduring appeal of classic elegance. These earrings have graced countless brides throughout history and continue to do so today, providing that when it comes to bridal accessories, there's something utterly breathtaking and romantic about the allure of golden tones.
Shop the look: CASCADE floral earrings, DANTE floral bridal earrings
NEED STYLING ADVICE?
Need styling advice to bring together your bridal look? Get in touch with photos of your wedding gown and your favourite pieces from the collection. We would love to offer ideas and recommendations on pieces to suit, including how our pieces can be customised to suit you.
Looking for more inspiration? Follow us on Pinterest.
RELATED POSTS