29 Dec

Wedding veil guide
This trick will make sure your veil stays in place
At some stage, you may have wondered how do you stop your veil from falling out? The trick to making your veil stay in place is simple. You'll need bobby pins and a little preparation.
Many brides ask us whether they can wear a veil with loose hair on their wedding day. The answer is yes! You will just need to create a solid base for your veil comb and this can be achieved with bobby pins, small elastics or a tiny braid hidden underneath your hair for a neat finish.
If you're planning a bridal updo or a half up bridal hairstyle, you will already have a solid foundation to secure your veil. All you will need is some bobby pins to cross over the teeth of your veil comb.
Follow the steps below if you're planning to wear loose curls and a veil on your wedding day. These tips will ensure your veil stays in place all day and into the evening festivities.
1.) Section off the top area of your hair at the crown
By sectioning off the top area of your hair at the crown, you will reveal the perfect section to create a solid foundation to secure your veil under your hair. Once you've clipped the top section so it's out of the way, use some bobby pins to create an X under the hair. You could also try small ponytails using fine elastics or a small horizontal braid, depending on your hair texture and thickness.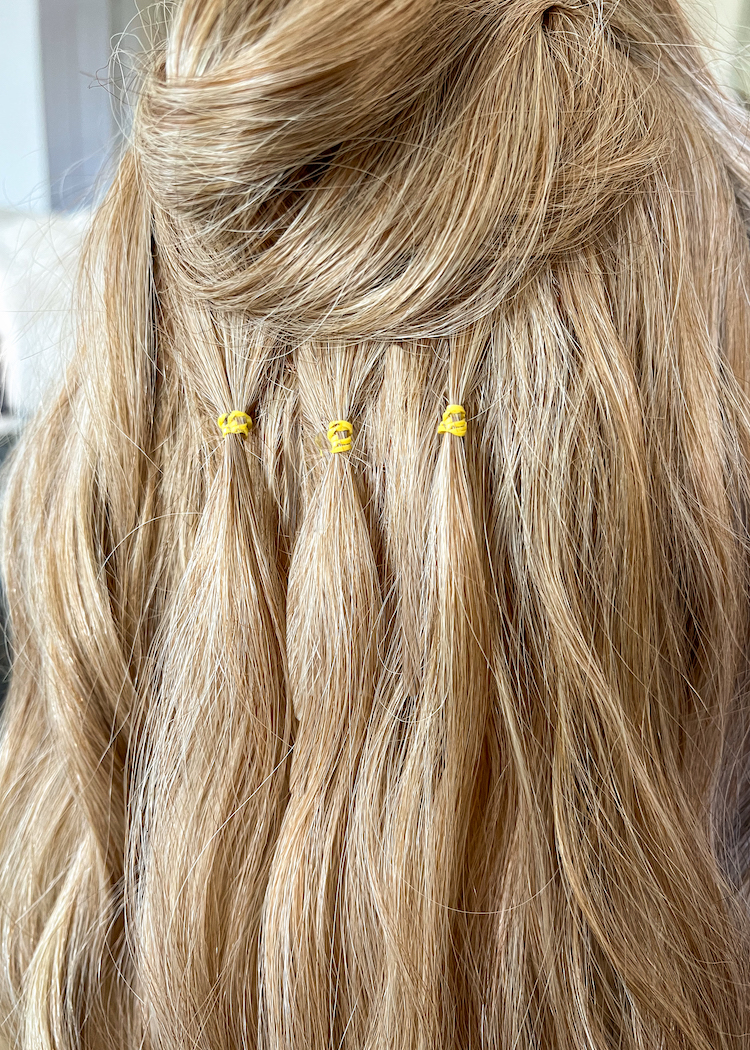 2.) Lower the raised section of hair to cover the prep work you just created
Remove the clip from the top of your head to cover the prep work you just created. Position your veil comb into your hair. Ensure the teeth of the veil comb slot behind the X formation, small ponytails or small braid.
The third image below shows how the bobby pins should cross over the teeth of the comb when positioned in your hair.
3.) Insert bobby pins on each side of the veil comb to ensure your veil stays in place
Ensure the bobby pins are a similar shade to your hair colour and are neatly tucked beneath the hair and cross over the teeth of the veil comb for a secure hold.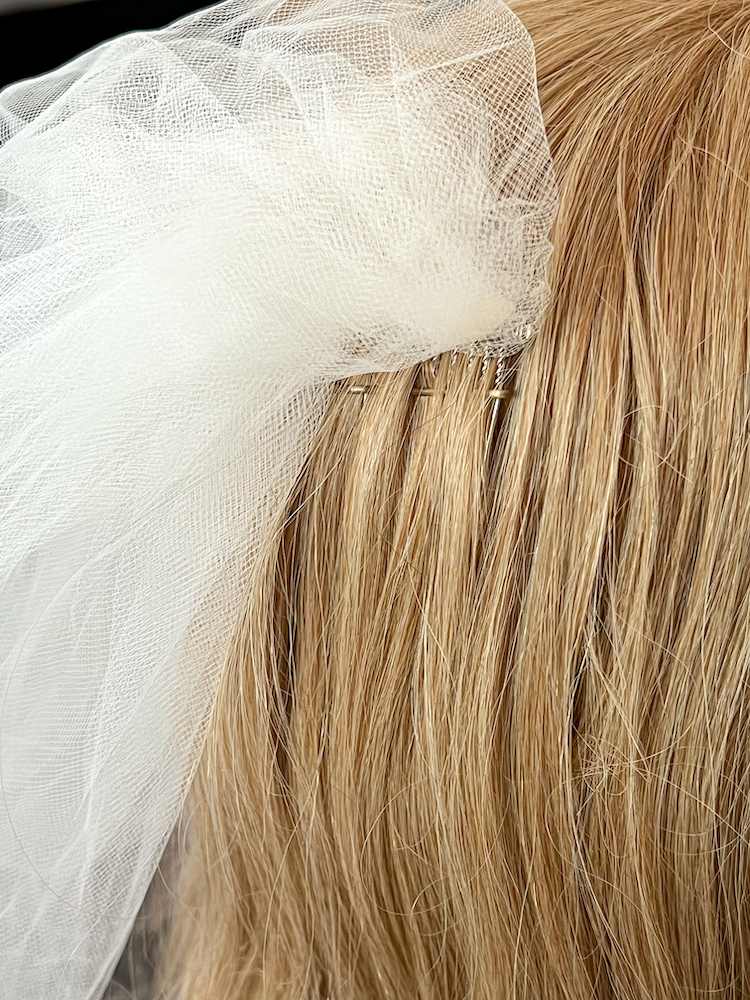 STYLING TIPS
Veils attached to small or extra wide metal combs can be secured in the same way.
If your veil comb is made from plastic, you may need extra bobby pins or small alligator clips to secure the veil. We recommend veils on metal combs only as they won't break and are more flexible compared to plastic veil combs.
This technique can be used for hair pins, halos, bridal hair combs and similar accessories.
If you're looking to change your hair accessories during the course of your wedding day (i.e. remove your wedding veil after the ceremony), be sure to take notes on how the comb was been secured so you don't mess up your bridal hairstyle trying to remove it. Ask your bridesmaids for help looking for the bobby pins before the comb is pulled out.
NEED HELP?
Your hairstylist will be able to offer you advice and recommendations based on your hair type, bridal hairstyle and your vision for your accessories. There are a number of different hair fasteners that are designed specifically for these situations.  For example, snap clips that are often used to secure hair extensions can also be sewn under a headpiece too. We can customise our wedding veils onto different attachments to suit your bridal hairstyle and hairstylist's recommendations.
Need hair inspiration? Find us on Pinterest.
RELATED POSTS