24 Feb

Wedding veil guide
3 steps to finding your perfect wedding veil
Wedding veils are as unique as their brides and the wedding dresses they're designed to accompany. From a chapel length veil which adds a touch of drama to a wedding gown, to a vintage-inspired birdcage veil that evokes a sense of mystery yet sophistication.
There are many lengths, widths, styles and embellishments on offer. It's no wonder that many brides-to-be planning their weddings can feel a little overwhelmed. Especially when they're purchasing a veil online and can't feel the veil, see how the veil drapes or try it on with their dress.
To help you choose the perfect veil, we'll cover 3 important considerations to get you on your way to finding your perfect match.
Shop this look: RIVIERA wedding veil
1.) Your wedding dress
The best starting point is the shape and style of your wedding dress. As a general guide, your veil should accentuate and be proportional to your dress.  This means it shouldn't overpower or take away from the details of the dress. Doing so can be distracting and also interrupt the flow of your overall look.
If your dress is busy and features lots of pretty details, find a simple veil with a clean raw edge. If your dress is simple, choose a veil with intricate details such as a lace embellishment or floral accents to add dimension to your gown.
We like to look for any focal points on the dress which we use as guidance for the veil. Often a veil will look best cut just above or below any horizontal lines. If your veil falls where a focal point begins, for example a defined waist line, this can have the effect of visually cutting you in half.
Related posts
LOOK FOR FOCAL POINTS

Your veil length should cut just above or below a defined waist line, hem line or key details.
TIMELESS ELEGANCE
Floral embellishments around the shoulders beautifully frame off-the-shoulder wedding gowns.
Shop this look: KARELL drop veil, RIVIERA veil
Classic silhouettes
Generally speaking, a fingertip length veil is a timeless and classic option that works beautifully with a range of different wedding dresses. It is also a versatile choice for a range of different venues – from the church to a beach or garden wedding.
2.) Your venue
Much like your wedding gown, your veil should be consistent with the formality of your wedding. For some church weddings, it may be customary to wear a veil with or without a blusher. However, a less formal or chapel veil (or shorter) may be the perfect accessory for a beachside or garden ceremony.
CHURCH WEDDING: It may be customary to wear a blusher or cover your shoulders.
Shop this look: CARMEN juliet cap veil
3.) Your hairstyle
When choosing your wedding veil, it's really important to consider your bridal hairstyle.
If you choose to wear a veil, your veil may need a supportive base such as a bridal bun, messy updo, or half up/half down hairstyle.  The longer or heavier your veil, the more supportive your bun or hairstyle will need to be.
The great thing about bridal hairstyles is your wedding veil can be made to frame your bridal hairstyle from behind. Instead of a metal bridal comb, your veil can be customised with cotton loops instead of a comb which means that your hairstylist can pin the veil to the natural curve of your bun.
Measuring up
Your hairstyle will affect how your veil sits and where the end of the veil will fall. If you're planning on a big bridal bun, the veil may need to sit above the bun. As a result, your veil may appear slightly shorter.
To ensure you choose a veil in the right length, ask a friend or your mum to measure your height to get an idea of what length you will need. Veils are usually secured to your hair with a hair comb so measure from the point where you'd like the hair comb to sit (keeping in mind your wedding hairstyle) and where you would like the veil to fall.
MEASURE UP
Measure from the point where you'd like the hair comb to sit to where you would like the veil to fall.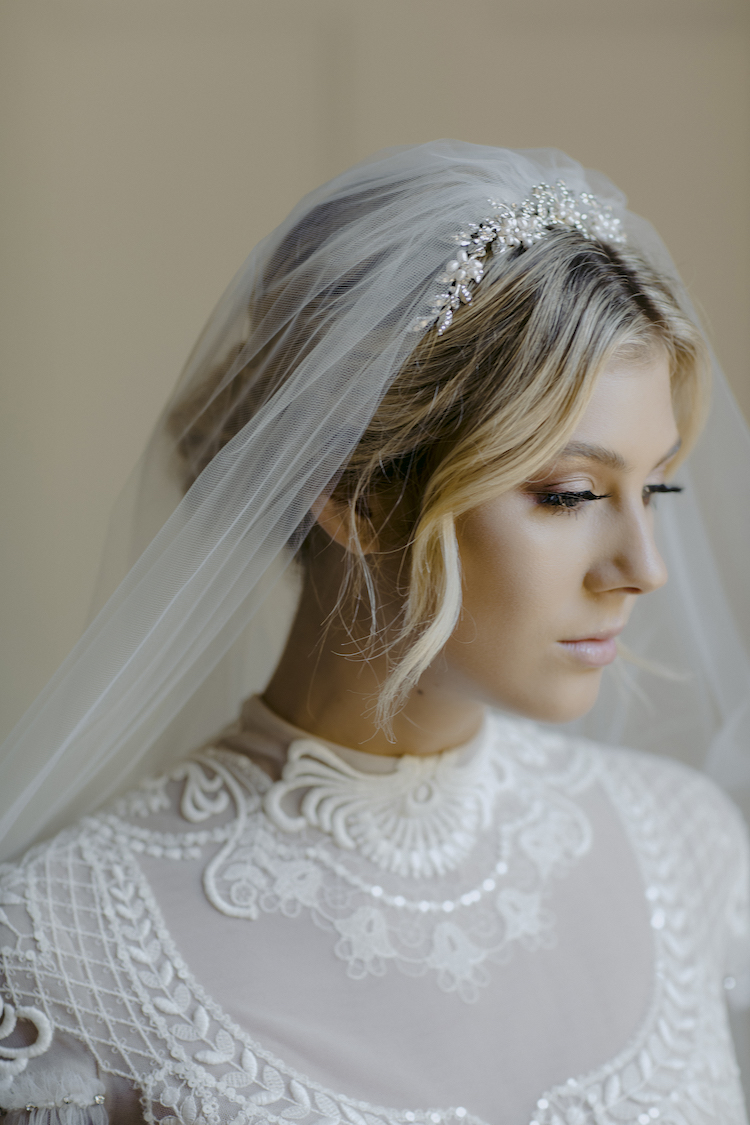 FRAME YOUR TRESSES
Pin your veil to the natural curve of your bun, crown or at the top of your head.
Shop this look: LAURETTE hair pins, THEODORE veil, ENCHANTED headpiece, AMORA veil
Need styling help?
If you have any questions or you're tossing up a few different styles, feel free to send us an email and we'll be more than happy to offer some suggestions.