14 Dec

Behind the seams
The Renaissance Collection in Full Bloom
From the moment we stepped onto the beautiful grounds of Milton Park we were captivated by this magical venue. From the ivy-covered pool house, to the ornate fences and hidden archways, it was as though we had entered the set of The Secret Garden. Located in the Southern Highlands of New South Wales, the grounds of Milton Park were the perfect backdrop for our new collection of floaty veils, regal crowns and statement earrings.
Designer and Creative Director, Tania Maras, was inspired by the art and sentiment of the Renaissance era when creating this new collection.
"The relevance of Renaissance is that of rebirth which felt timely with all things pandemic and the many changes around us," says Tania. "It plays on the 'renaissance' style/aesthetic but also the deeper meaning of rebirth, innovation and change that came from the renaissance era."
The Renaissance collection is a tribute to strength, femininity and possibilities. Featuring rich gold, silver and blush tones, lush florals and intricate beading, these designs have been handcrafted for ultra-romantic bridal looks.
Let's take a closer look at the collection.
Headpieces
We're introducing fresh approaches to crowns and combs in this collection – adding new textures, new soft blush tones and crowns in new heights.
DUET is a decadent double crown design, featuring pearl scallops and a gold vine dotted with delicate ivory roses. We're also releasing beautiful pink floral headpieces in this collection. The MONET hair piece is composed of golden leaves and blush fabric flowers with beaded centres. For a bolder look, the FRANCA features an abundance of handcrafted blooms to form the ultimate floral crown.
These headpieces also pair beautifully with our new line of veils.
Shop this look:  LOVERS headpiece, BLANCHARD earrings, REMBRANT headpiece, FRANCA headpiece, DUET headpiece, SOPHIA headpiece, CASPIAN headpiece
Veils
Our new embellished veils are designed to suit a range of styles, dresses and personalities. With dramatic florals, magical detailing and new silhouettes, these veils are designed to elevate your bridal look.
The dreamy DOLCE veil is created with the perfect balance of textural lace motifs, fabric flowers and sparkling crystals. This veil pairs beautifully with simple wedding gowns. AUGUSTINE is a Juliet cap veil with a halo of beautiful blooms and laces that trickle down the back of the veil. One of our new blusher veils is REMY, featuring bold floral and sequin lace motifs to frame your wedding dress.
If statement earrings are more to your taste, we've also designed a whole range of styles to fall in love with.
Shop this look: MATISSE veil, AUGUSTINE veil, AVA veil, FLORENCE veil, MIRA veil, CAMILLE veil
Earrings
In longer lengths and bolder designs, these new earrings will have a starring role in your bridal look. VALENTINA is golden drop earrings with a touch of empire blue, for a strong and feminine look. BLANCHARD features vines of beads and blooms that cascade down the neck. For a splash of pink, the DARLING earrings add colour and sparkle with handcrafted blooms and crystal stamens.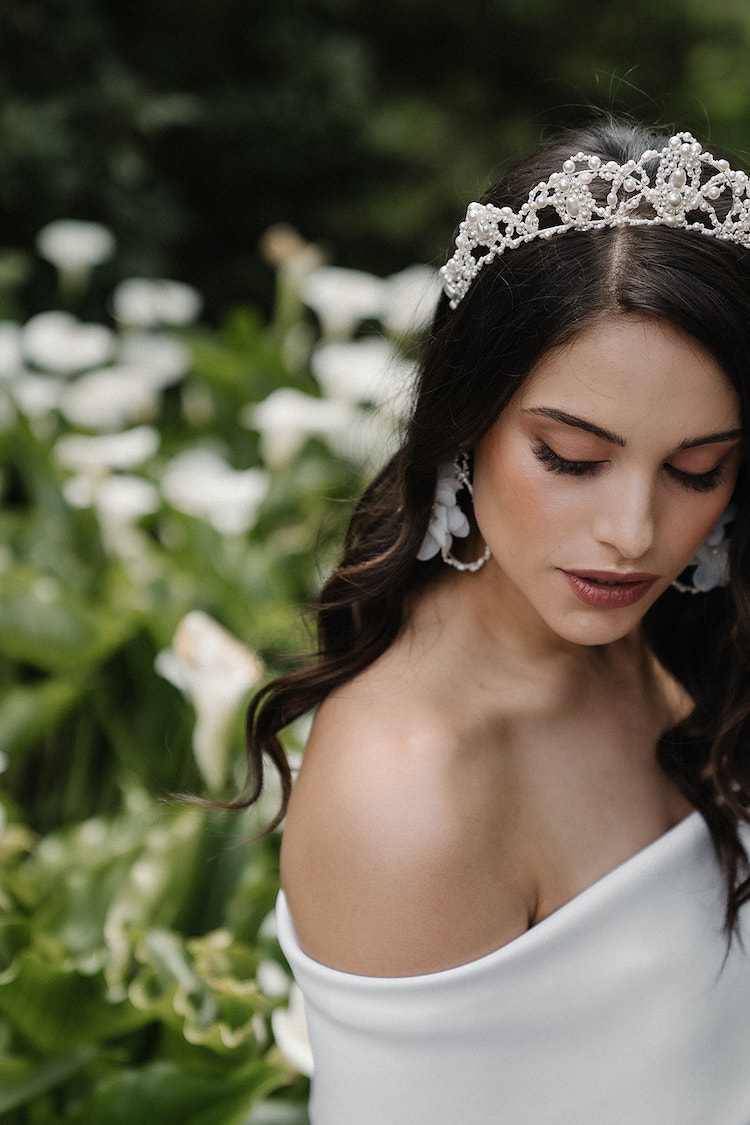 Shop this look: BLANCHARD floral earrings, ELISABETTA earrings TEARDROP earrings, DARLING blush earrings, VALENTINA empire blue earrings
We hope you find something special for your wedding day in the Renaissance collection. For help pulling together your bridal look, please get in touch.
Special thanks to:
Venue – Milton Park 
Photography – Jack Henry
Stylist – Sophie, from Engaged Creative
Model – Victoria Lopez, from Vivien's Models
Hair stylist – Holly Gould
Make up artist – Lu Lu Makeup Artist
Videographer – Maxine