01 Feb

Wedding veil guide
How to secure a drop veil
If you haven't heard of a drop veil, it's likely you've seen Kate Middleton or Grace Kelly's wedding veil. Also known as circle veils, they are a classic veil style that can be worn by vintage-inspired brides through to modern or bohemian brides.
A drop veil is designed to sit over the face during the wedding ceremony and then pulled back to create a two layered veil. It's the perfect style if you want to add a sense of formality to your wedding whilst staying classically chic.  It sits flat against the head and lacks gathers so there's no volume or puffiness.
The way it drapes over the head feels ethereal and effortless. But securing it in the first place can be tricky as it will depend a lot on how you style your hair, your height, and the placement of the comb on the veil.
We're sharing below our top tips on how to secure a drop veil so once your veil is positioned in place, there's only two things left for your beloved to do: lift and kiss!
1. The placement of the comb in your hair will impact the length of your blusher
Drop veils come in a wide range of lengths and they can be worn with all bridal hairstyles. Think bridal updos, half up half down hairstyles and also loose curls. Due to the nature of a drop veil, a 'one-size-fits-all' drop veil is often difficult to work with as the position you place the comb in your hair will impact where your blusher layer will fall to.
If you are shorter or taller than average, this means your veil may overwhelm your proportions or look too short if your comb is placed 3-4 inches too high or too low.
The images below show the difference in blusher length based on comb placement in the hair. This is the same veil shown in both images. In the first image, the veil comb is worn further back and tucked into a low half up hairstyle so the blusher layer sits higher. In the second image, the comb is positioned higher at the crown so the blusher layer sits lower.
An extra short blusher may not be the look you're after which is why we would lengthen the blusher to suit you and your preferred comb position.
Shop this look: LUMIERE fingertip drop veil
2. You don't have to wear the blusher layer over your face
Some brides may feel that a drop veil which features a blusher layer means you need to wear it over your face.
While a lot of brides do use their blusher layer, many brides choose to only wear it back which creates a beautiful silhouette and adds to the drama of their overall look.
Shop this look: THEODORE pearl drop veil
3. How your veil attaches to your hair can vary
A drop veil on a comb is our preferred attachment.  A comb that's sewn on in the right spot will allow ease of use and also it ensures your veil will stay in place.
A comb is our default because we take into account the requirements of our brides. Her hairstyle, her height, her preferred blusher length all impact how a drop veil sits. We don't have 'standard' sizes as a standard fingertip length drop veil will look very different on a bride who's 4'9 compared to a bride who's 5'7 or 6'1.
For brides looking for a drop veil, we always recommend avoiding a standard drop veil where the comb has been sewn in a default position which hasn't taken into account your height or hairstyle.
No combs or attachments
Some drop veils come without a comb. So you'll just receive a piece of fabric which you'll need to pin into your hair.  This is great if you or your hairstylist have requested this, but if you're looking to wear your hair all out, your veil will simply fall out even if you were to pin it into place. This is also easy to work with if your veil is a perfect circle but if your veil is slightly oval shaped or longer, finding the exact middle point and balancing the blusher length can be fiddly.
If your veil isn't attached to anything, you'll need some hair pins to pin it into place. Choose hair pins which don't have plastic tips as these will ensure you can pierce the netting without damaging the fabric.
4. If you want a difference in lengths when pulled back, your blusher layer will need to be shorter
A fingertip length veil is a perfect example of a drop veil with 2 distinct tiers. This look is elegant and will complement a wide range of dress styles and silhouettes.
The second row of images show a hip length veil where there are 2 layers but they fall to the same spot creating a strong line across the back.
Shop this look: BLAIR fingertip drop veil
Shop this look: KARELL hip length veil
5. A long drop veil can be just as beautiful as a short one
The length of the blusher is often dictated by the width of the veil. For a drop veil to appear balanced, the length of the blusher layer should be at least half the width of the veil. If the blusher layer is too long for the width of the veil, your veil may look awkward side on and expose your hips.
Also consider the length of your blusher to the length of your overall veil. A floor length veil and an extra long blusher will overwhelm your frame and shorten your silhouette. It's best for the blusher to be proportional to the length of the veil for a seamless look.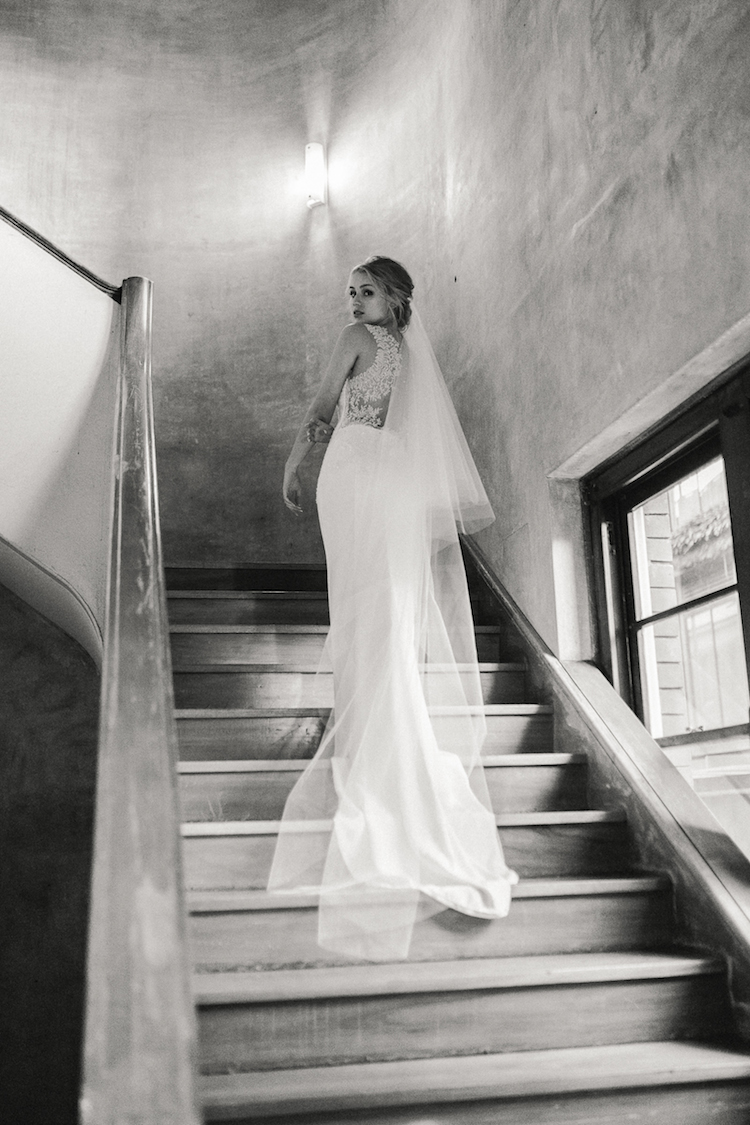 Shop this look: THEODORE chapel veil with pearls
6. Next level bridal styling? Consider an embellished drop veil
The simplicity of a drop veil is the ideal blank canvas for an embellished veil. We take into account all aspects of a drop veil when designing our embellished veils. We ensure our pearl and crystal details are all double sided so when the blusher is pulled forward, the details are just as beautiful and the underside of beads won't be visible.
The placement of lace and floral embellishments are also important to ensure that when you pull the blusher layer forward, an oversized flower or lace won't be covering your eyes or concealing your face!
Shop this look: WEEPING CHERRY drop veil
Related posts