18 Jan

Hair & Inspiration
The essential guide to 2020 wedding hair
The new decade is well and truly here and while 2020 has shown us a new world we are still adjusting to, 2020 wedding hair feels a little different to previous years. Why? Well, nothing is off-limits with much smaller weddings, elopements and impromptu ceremonies. It's an interesting time where anything goes and while there may be less of a focus on trends this year, there are defining looks that we are likely to continue to see.
From full messy buns, sleek straight styles and luxurious waves framed by middle parts, we look forward to seeing soft tendrils framing the face and a generous amount of volume and texture. However you choose to style your 2020 bridal ensemble, the go-to bridal look will be ultra feminine and chic.
Scroll down and fall in love with our favourite 2020 wedding hairstyles.  Find our top styling tips for each hairstyle – from choosing the right wedding veil, headpiece or earrings to suit. Choosing the best accessories for your look will be a balance of taking into account your bridal hairstyle and your wedding dress neckline, style and silhouette.
Photo credit: Ash and Co
1. Luxurious soft bridal waves
Soft waves and wedding hair go hand in hand. And so it continues into 2020. The updated look would feel at home on the red carpet with a touch of bohemian styling. A little bit imperfect, a touch of effortless chic, add a bit of volume and texture to mess things up a bit.
How to accessorise:
Keep it simple. Style this look with a delicate crown or headband, a small side comb or statement earrings. Less is definitely more with this look – you might even find just a wedding veil is all you need.
If you decide to go with a crown, choose one that's delicate and won't overwhelm your hair. Set it up high on the head and/or with a veil positioned at the crown of your head to let your waves take centre stage.
Factor in the weight of your headpiece or veil. Choose a piece on the lighter side so it won't weigh down your curls.
The texture and size of your curls and waves, as well as the style and silhouette of your wedding dress, will influence the style of your accessories. Sculptural waves reminiscent of Hollywood styling would better suit a small side comb or small tiara to frame a wedding veil. Relaxed and messy waves will lend itself to accessories that capture boho luxe vibes.
The size of the comb on your wedding veil isn't as important with this hairstyle. A veil with a wide comb will work just as well as a smaller one.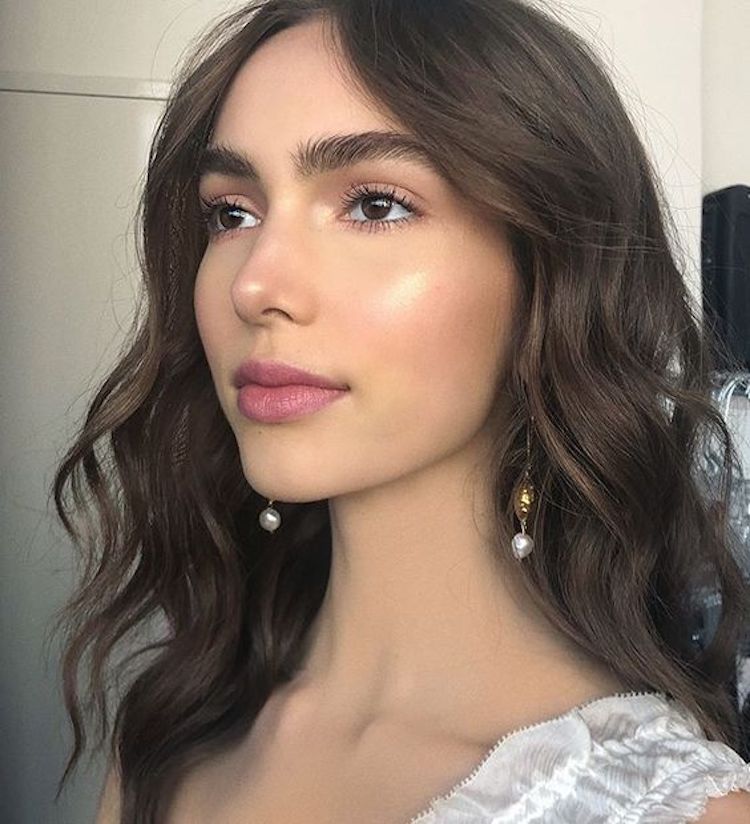 Photo credits: 1. via Pinterest | 2. Sasha Esenina | 3. Andrea Tiller | 4. via Pinterest | 5. via Pinterest | 6. Who What Wear | 7. Sasha Esenina | 8. Ash and Co
See it styled:
Shop this look:  (Clockwise from top left) CARMEN veil, TROUSSEAU comb, TEMPEST crown, NOUVEAU veil
2. Textured updos with soft tendrils
A classic look that will never fade. You're guaranteed to see many textured updos this wedding season. The defining look will be a low set upstyle finished with soft tendrils around the face. Personalise your look with an assortment of texture, braids or twists. Think full messy buns, tousled French twists and simple low updos. If you're looking to capture a romantic vibe, you can never have too much volume. Or braids. There's a reason why braids continue to find their way down wedding aisles. They're the ultimate in romantic detailing, they add texture and beautifully capture the mood of a wedding day.
How to accessorise:
A textured updo feels romantic and effortless so your accessories should capture this vibe. Find small pins that you can scatter to the side of your updo, or a medium sized comb which can sit in the middle to frame your wedding veil.
Depending on the size of your bun and your face shape, exaggerated earrings will balance out your look and will bring attention to the front and sides.
It would be a shame to cover up beautiful braids and twists so pair this look with a sheer minimalist veil or position it just above the bun (rather than the crown of your head).
Avoid veils with extra wide combs (i.e. wider than 3-3.5 inches) as larger veil combs will look too bulky. Veils attached to smaller combs from 1.5 inches to 3 inches will create a more contemporary finish.
If you'd like to achieve an ultra luxe look with maximum impact, pair a statement wedding veil with statement earrings. Just ensure your wedding dress is simple and there are complementary details across your accessories such as matching pearls or floral elements.
Photo credits:  1. Ash and Co | 2. Sarah W Hair | 3. Beyond the Ponytail | 4. Sarah W Hair | 5. Sarah W Hair | 6. Alex Gaboury | 7. American Salon | 8. via Pinterest | 9. Sarah W Hair
See it styled:
Shop this look:  (Clockwise from top left) LYRIC headpiece, CATALINA veil, CHERRY BLOSSOM set, LAURETTE hair pins
3. Sleek and straight wedding hair
Who says straight hair is just for everyday? The Kardashians, Gigi Hadid and numerous runway shows have inspired sleek and straight hairstyles for 2020. The thing we love the most about straight wedding hairstyles is they're the perfect balance of modern and sleek styling with an effortless vibe.
The reality to achieving a straight wedding hairstyle may not be as simple as first thought. Straight hairstyles do require some work with preparation to ensure minimal flyaways and of course your hair must be in great condition to begin with. But if you can tick both of these boxes, this is a next level look. A must have? A middle part and hair tucked behind the ears for a look says elevated modern luxe.
Minimalist bridal looks were a big hit in 2019 and it's fair to say this trend will continue well into 2020.
How to accessorise:
Keep your accessories simple. Choose a pair of statement earrings, a wedding veil, simple hair slides or a simple crown. Emphasis on 'or' and not 'and'.
Opt for bold makeup – accentuating your cheekbones, lips and eyes.
The neckline and style of your dress will be an important factor in choosing your accessories. I.e. have you chosen a straight hairstyle because your dress features an exaggerated silhouette with lots of texture and detail? Or are you looking to achieve a minimalist look overall?  Either way, less is more.
A straight hairstyle can be paired with a full wedding veil with lots of volume and gathers, or a simple and sheer veil that sits flat against the head. It will depend whether you want your veil to define your bridal look or accentuate it. A veil does need a good foundation to feel secure so your hairstylist will need to take extra precautions with additional hair pins under the hair.
Photo credits: 1. via Pinterest | 2. via Pinterest | 3. Grace Loves Lace | 4. via Pinterest | 5. via Pinterest | 6. Sarah W Hair | 7. Vogue UK | 8. Grace Loves Lace | 9. via Pinterest | 10. Elle.com | 11. Wedding Forward | 12. Brit and Co
See it styled:
Shop this look:  (Clockwise from top left) LUCILLE headpiece, HENRI crown, IRIS comb, FLORES crown
4. Wedding hairstyles with middle parts
Middle parts are here to stay and we love them more than ever.  In 2020, we'll see middle parts on voluminous soft waves, sleek updos, beach bridal hairstyles and everything in between.
How to accessorise:
We love to play on symmetry when it comes to middle parts. Wear a headband set up high with a strong curve (i.e. a pearl headband) or a crown with a peak positioned right in the middle.
If you've fallen in love with a loose or sleek updo, accessorise with a headpiece set low and positioned to the back of the head.
Statement earrings are a must if you'd like to skip the veil and headpiece.
Depending on the neckline of your dress and your face shape, contrast the symmetrical nature of this look with a scattering of hair pins styled to the side.
Any style of veil will suit this hairstyle – from lace mantilla, fully embellished to sheer and minimalist.
Photo credits: 1. Jaye Edwards | 2. Sasha Esenina | 3. via Pinterest | 4. Sasha Esenina | 5. via Pinterest | 6. Sasha Esenina | 7. Christie Nicole Bridal | 8. Sasha Esenina | 9. via Pinterest | 10. via Pinterest | 11. Joanna Haplin Tumblr
See it styled:
Shop this look:  (Clockwise from top left) FLEUR crown, ELISABETTA earrings, MAYA earrings, HARPER crown
5. Low set textured ponytails
There's something so feminine and chic about a ponytail and we will continue to see textured ponytails in 2020. The look is less cheerleader and more effortless chic, with volume at the crown and pulled back into a ponytail above the nape of the neck.
How to accessorise:
Your wedding veil choice is really important if you love the look of a bridal ponytail. Choose a veil that's attached to a smaller hair comb (1.5-2.5 inches) to create a smaller teardrop silhouette in the hair.  A wide veil comb (anything wider than 2.5 inches) will overwhelm your look and will cover up the ponytail.
If you wish to choose a wider comb on your veil, ensure there's little to no gathers. Find a drop veil or a veil that's so sheer your hairstyle will show through.
Choose accessories that will accentuate the ponytail – position delicate hair pins to the side of the head, a headpiece just above the ponytail, or frame both sides of the ponytail with a floral display inspired by a laurel vine.
Depending your wedding dress choice, you might want to balance out your look with a crown or tiara positioned at the front. This is a great choice if your dress features a full skirt and extra long train.
A backwards facing headpiece can look incredible with a ponytail. Just ensure the width and style is proportional to the size of your head and the volume/curls in your ponytail.
Photo credits: 1. Sitting Pretty Halo Hair | 2. Sitting Pretty Halo Hair | 3. Sarah W Hair | 4. Anita Bauer Hair | 5. Sarah W Hair | 6. Marie Claire
See it styled:
Shop this look:  (Clockwise from top left) BORDEAUX veil, CATALINA veil, FRIDA hair pieces, STELLAR pins
Need help choosing your wedding accessories?
We work with brides worldwide and we would love to offer advice and recommendations to finish your bridal look. Our wedding accessories collections can be customised to suit your dress and hairstyle. Feel free to send across photos of your wedding dress, face shape and preferred bridal hairstyles and we can get back to you.
Related posts