10 Oct

Wedding veil guide
Your guide to short wedding dresses with veils
It goes without saying, 2020 and 2021 have taken us all for a spin. For brides planning their weddings this year, their original wedding dates may have changed multiple times, and with it, their bridal vision may have also been flipped on its head. We've worked with countless brides since the beginning of the pandemic who have pivoted from a dramatic ballgown to a sleek mini or midi dress for their last minute elopements.
If you find yourself wearing a short wedding dress on your wedding day—whether it's a mini, knee length or a midi that skims the ankle—accessorising these lengths with a wedding veil will elevate your bridal look.  A short dress doesn't mean you have to compromise on glamour or drama and a bridal veil is the quintessential piece that can transform your simple dress in an instant.
And, we must say too, a wedding veil with a short dress also makes for some beautiful keepsake photos to share with loved ones after the big day.
Photo: via Pinterest
5 Things to consider when choosing a veil for a short wedding dress
1. Formality
Who says a short dress can't be worn for a formal wedding? The key is to choose accessories that captures the formality that might be lacking from your short wedding ensemble.  If you're looking to add a touch of the traditional to your modern cropped dress, a long trailing veil with a blusher is a great choice.
If formality is the last thing on your mind, experiment with cropped birdcage veils, a statement headband or even a short blusher veil that skims the shoulders and accentuates your waistline.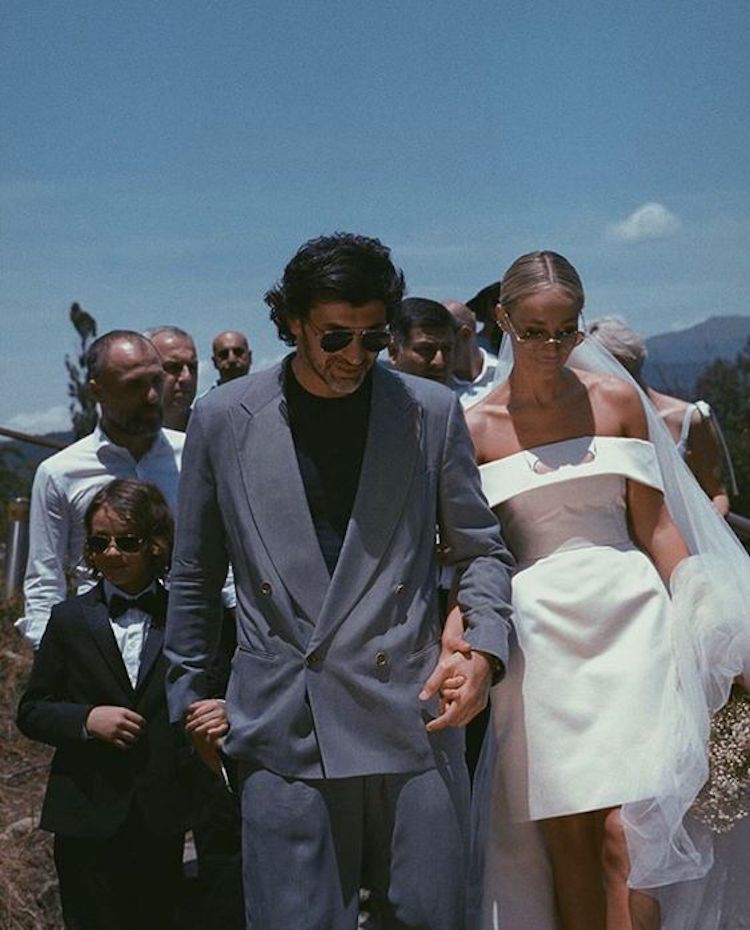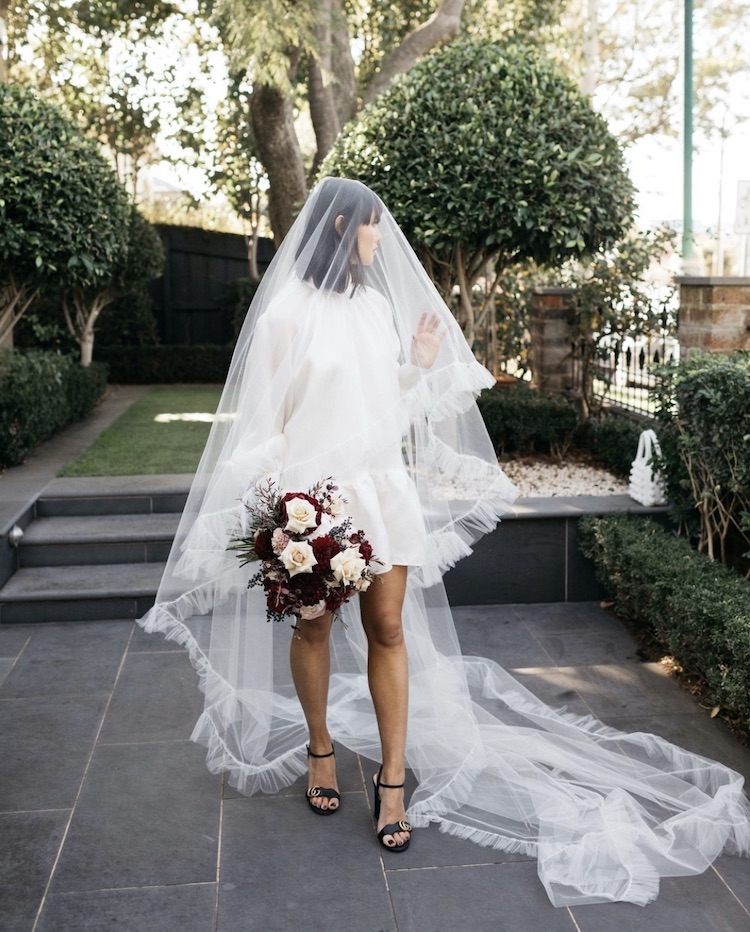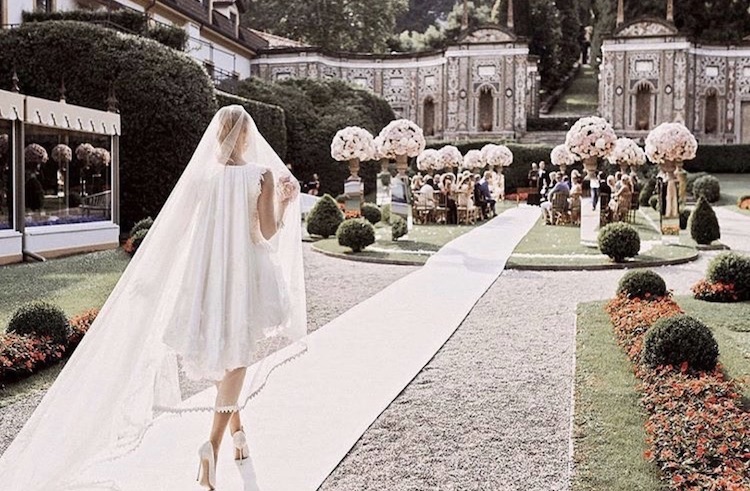 Photo credits: 1. via Pinterest | 2. Hello Chloe May | 3. Linas Dambrauskas | 4. via The Dress Tribe | 5. via Bridal Musings
2. Style and silhouette
A vintage-inspired tea dress exudes a very different vibe to a 1920's flapper dress finished with feathers or a refined knee-length shift dress with cap sleeves. Consider the style of your dress and the vibe it creates: is it playful, flirty, traditional, modern, refined or fashion-forward? Choose a veil which captures and enhances this mood. Or, if you feel your dress is lacking in any of these ways, this could be a great opportunity to transform your look by contrasting it with a veil that adds drama or interest such as through floral embellishments or a dramatic train.
Styling tip:
If your dress has a defined waistline, consider pairing it with a waist length veil or a long veil with a blusher that falls to the waist. Alternatively, if your mini dress falls to your mid-thigh, consider pairing it with a veil that falls the same (or similar) spot with a blusher that falls to your waist or onto the floor.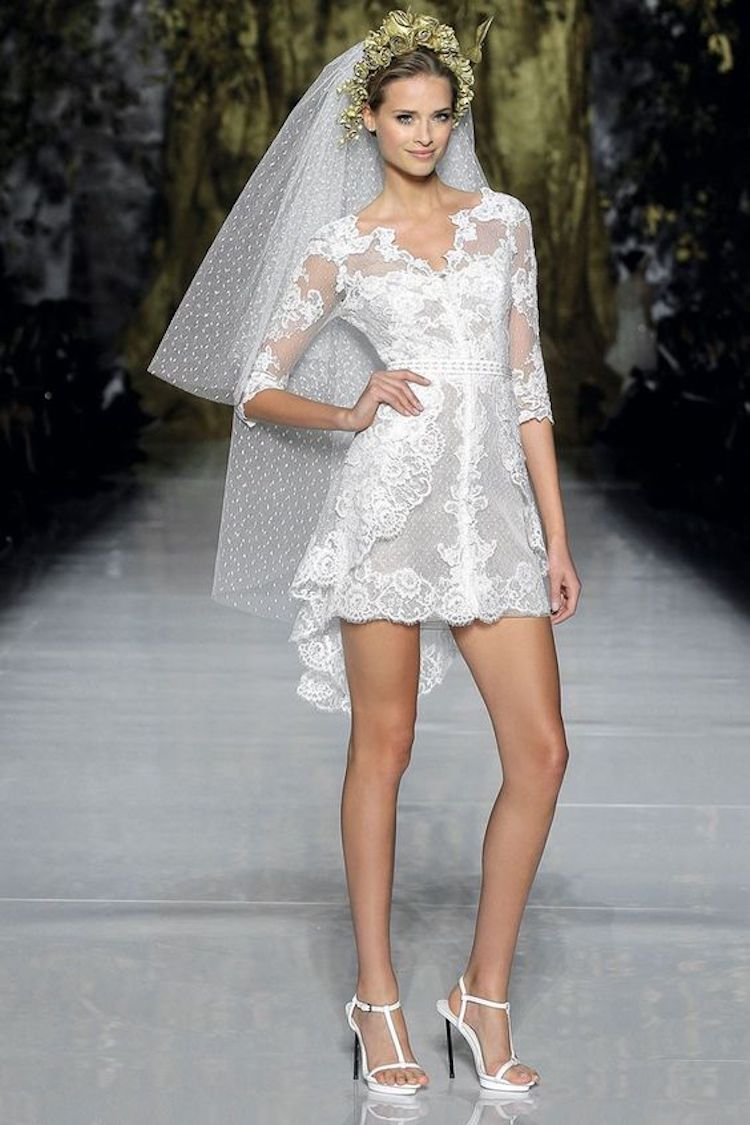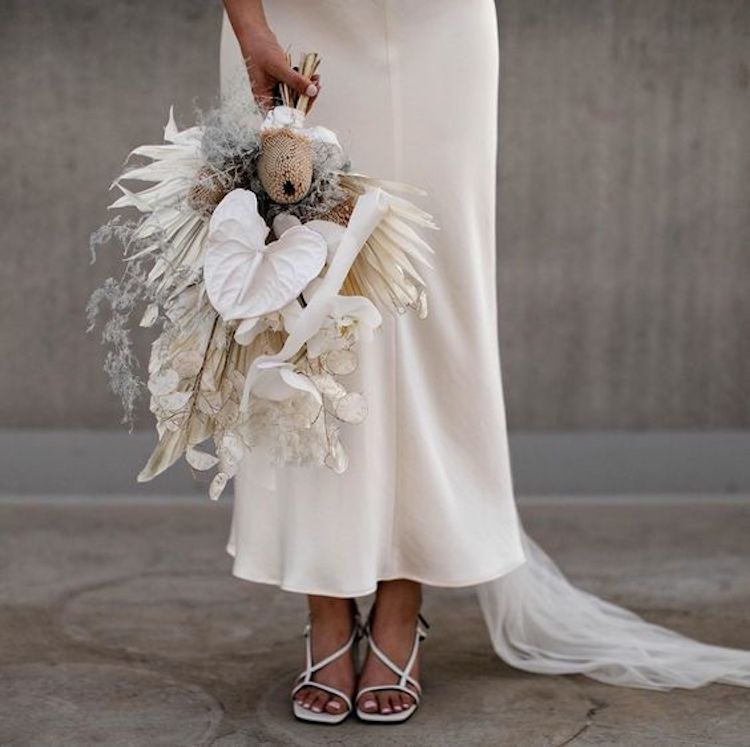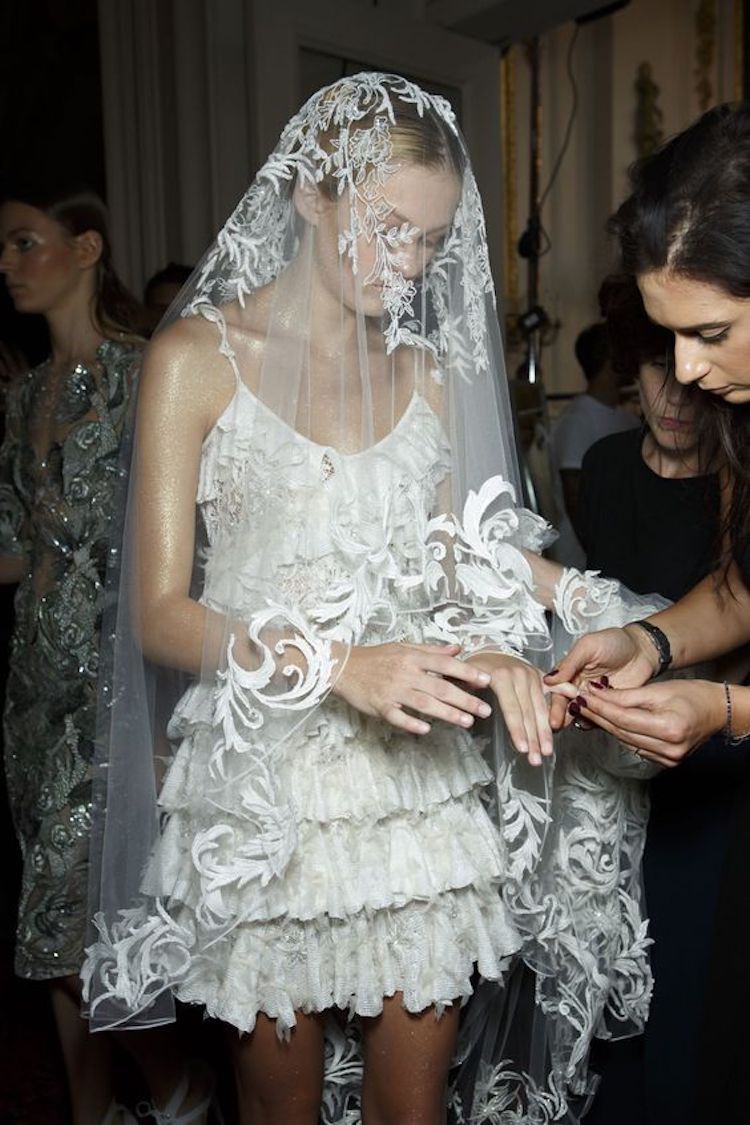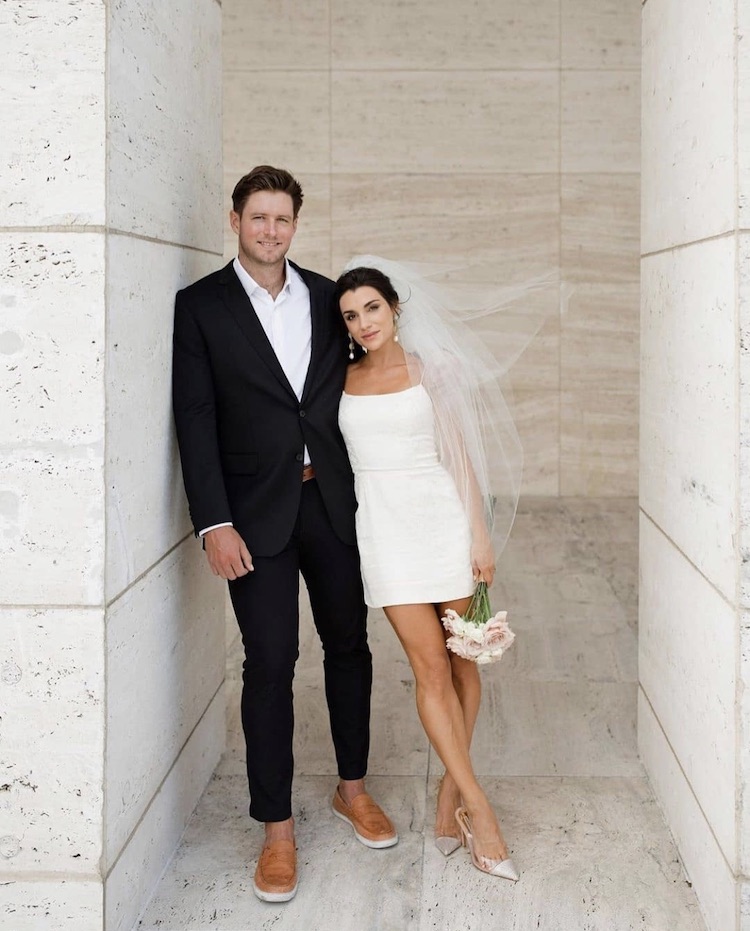 Photo credits: 1. Pronovias |  2. Megan Kelly Photography | 3. Julien Macdonald | 4. via Wedded Wonderland | 5. via Wedded Wonderland
3. Your height
Long veils have the effect of elongating your silhouette which can work wonders for cropped wedding dresses. Interestingly, a short veil that falls to the natural waistline is also a great way to elongate your silhouette as it brings the eyes upwards. Avoid a veil length that cuts you in half (hip length) if you're looking to lengthen your frame.
Styling tip:
Like a wedding dress, there's no one-size-fits-all wedding veil. We customise all of our veils to suit our brides. Share your height, heel height and photos of your dress with us and we'd be happy to tweak our designs to better suit your look.
Photo credits: 1. Agata Serge Photography | 2. Julien Pelletier | 3. Sarah Seven
4. Drama!
Sometimes a dramatic long veil is what it takes to get a bride excited about her wedding day again. You can add drama to a look through colour, length, fabric, fullness or embellishments.
A great way to add drama is through contrast so a short dress can look incredible when paired with a full and frothy veil. Alternatively, if you have chosen a cropped A-line dress, pair this with a short simple veil or a birdcage veil to balance out a full skirt.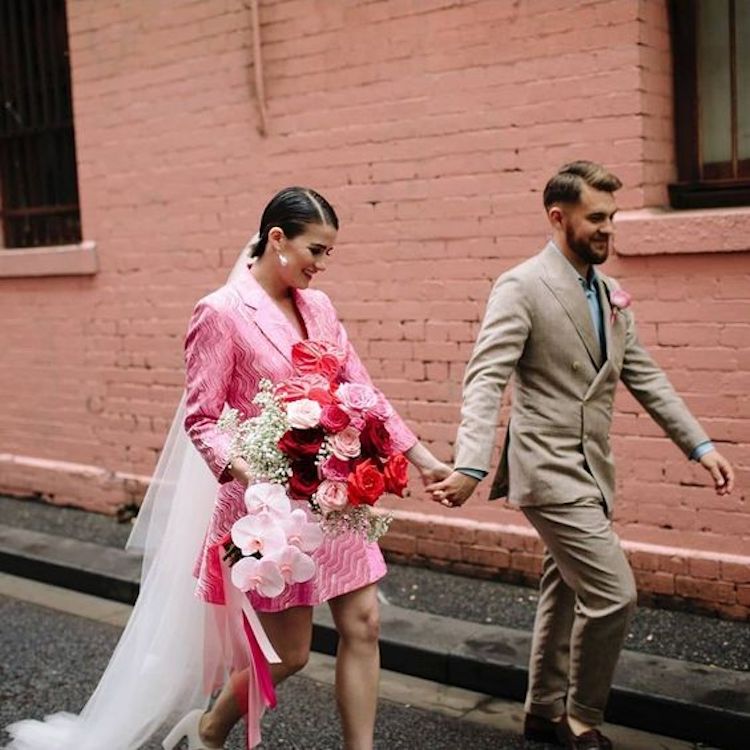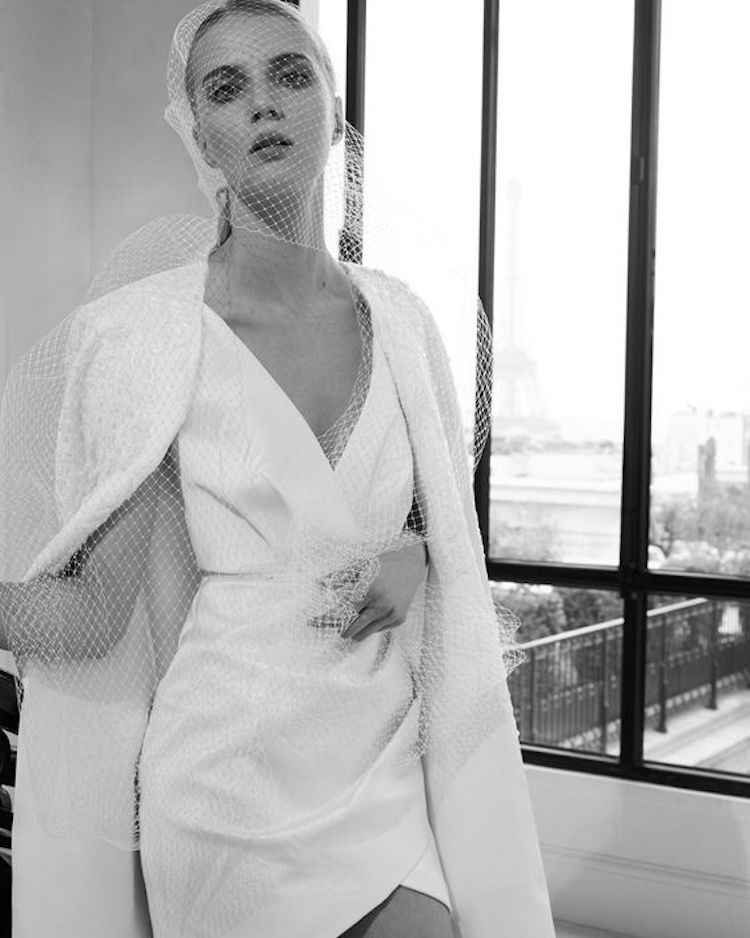 Photo credits: 1. Sarah Seven | 2. It's Beautiful Here | 3. Elie Saab
Stylist's notes
Take advantage of custom made veils to ensure your veil falls to a nice spot and factors in your height, hairstyle, dress length and shoe height.
A blusher layer can add formality and drama instantly – and makes for some beautiful photographs!
There are no rules with styling a short dress. Walk with your head high, choose accessories that make you feel like 'you' and you will look and feel incredible.