15 Sep

In The Studio
BLUEBELLS | Something blue crystal hair pins
Easily one of the most loved wildflowers, there's something endlessly inspiring by the majestic blue blooms that grow in the woods and English gardens in springtime. Rich in pollen and nectar, the bluebell flower has an elusive scent reminiscent of the hyacinth flower.  It's no wonder the bluebell is commonly used in bridal bouquets and corsages.
We believe in the language of flowers and the dewy bluebell speaks to everlasting love, humility and constancy.
We looked to this delightful blue flowering stem as the perfect source of inspiration for our latest 'Something Blue' hair pin set.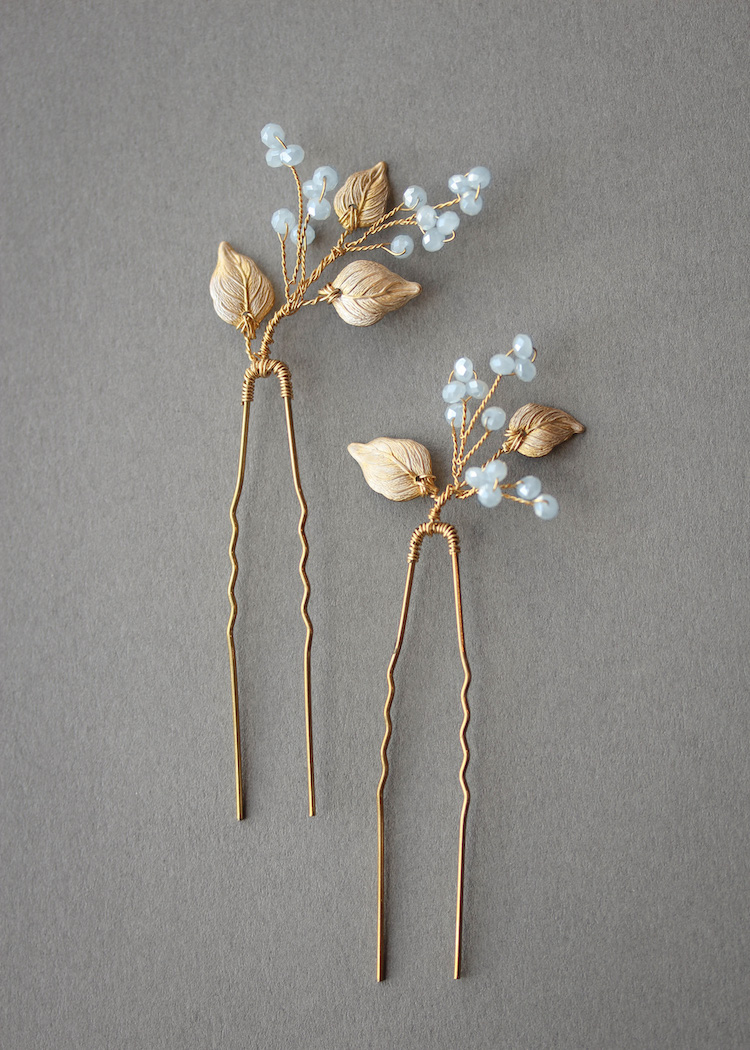 'Something blue'
The rhyme that often comes to mind when planning your wedding is the age old, 'Something old, something new, something borrowed, something blue, a sixpence in your shoe'.  While a coin in your shoe wouldn't be too comfortable, your 'something blue' also doesn't need to look or feel out of place with the rest of your bridal look.
For brides seeking a pale shade of blue, the powder blue tones of this hair pin set blends beautifully against all hair colours and ivory or white wedding gowns. In designing these pins, we fell in love with the mineral – almost misty – tone of the crystal beads. Subtle, sweet and romantic, this shade of pale blue is a perfect match to soft gold or silver wiring.
If you prefer a darker shade of blue, there's a number of styles in our accessories collection that feature beautiful shades of empire blue. Our ARTEMIS, MAYBELLE, FONTAINE and LADY GREY are some of our popular styles for brides seeking that subtle and sophisticated 'something blue'.
Customisable to suit you
All styles in our collections are customisable to suit you. We love to style this set of 2 BLUEBELLS in multiples – think a set of 4 or set of 6 around a loose low set updo. For a look that's more delicate and subtle, a set of 2 can be positioned to the side of a bun or half up hairstyle.
If you love this set, send us an email and can chat more about your bridal look.