13 Apr

Bridal jewellery guide
Beautiful bridal jewellery you'll want to wear
Your wedding dress will set the tone for your overall bridal look, along with your choice in wedding veil or other wedding accessories. Your accessories are best chosen in conjunction with your other pieces – the textures and details in your bouquet, the venue, the style of your bridesmaids dresses. Considering all of these details as a whole will ensure your wedding theme feels cohesive and complementary. Even a theme that's decidedly eclectic will have elements of the unpredictable and unexpected to bring it altogether.
When choosing your bridal jewellery and accessories, some brides will err on the side of caution with simple pearl or crystals studs. This may not be a bad thing – sometimes it might be all you need to finish your look.
But sometimes it's an accessory which is a little more detailed or elaborate which can perfectly capture the mood and aesthetic of your dress. These pieces can be difficult to find but when they're chosen well, your whole look can instantly transform.
There's no right or wrong ways to accessorise a wedding dress with jewellery. There are certainly general guidelines for necklines and hairstyles but it's important to go with what feels right for you and what holds meaning. It might be a necklace from your mother or a piece of jewellery from your beloved which means the world to you. We've worked with brides who have worn a seashell on a necklace to mark their first date at the beach, or a leather strap around their wrist to symbolise a round-the-world trip they took when they were a bachelorette roaming the globe. You do you.
Shop this look: MADRID earrings + OLIVIER cape
High necklines
Often it's said a high neckline works best with hair up but we would have to dispute. A high neckline can be beautifully styled with long loose wavy. It will depend on whether your dress has sleeves, the delicacy or heaviness of the dress fabric, as well as the proportions of your gown.
Bring it all together
To elongate the silhouette, position a veil at the crown of your head and finish with a comb.
Short earrings, simple stud earrings or an earring with a thread attachment will lengthen your neck.
A wedding crown or tiara will frame your face and balance out covered shoulders.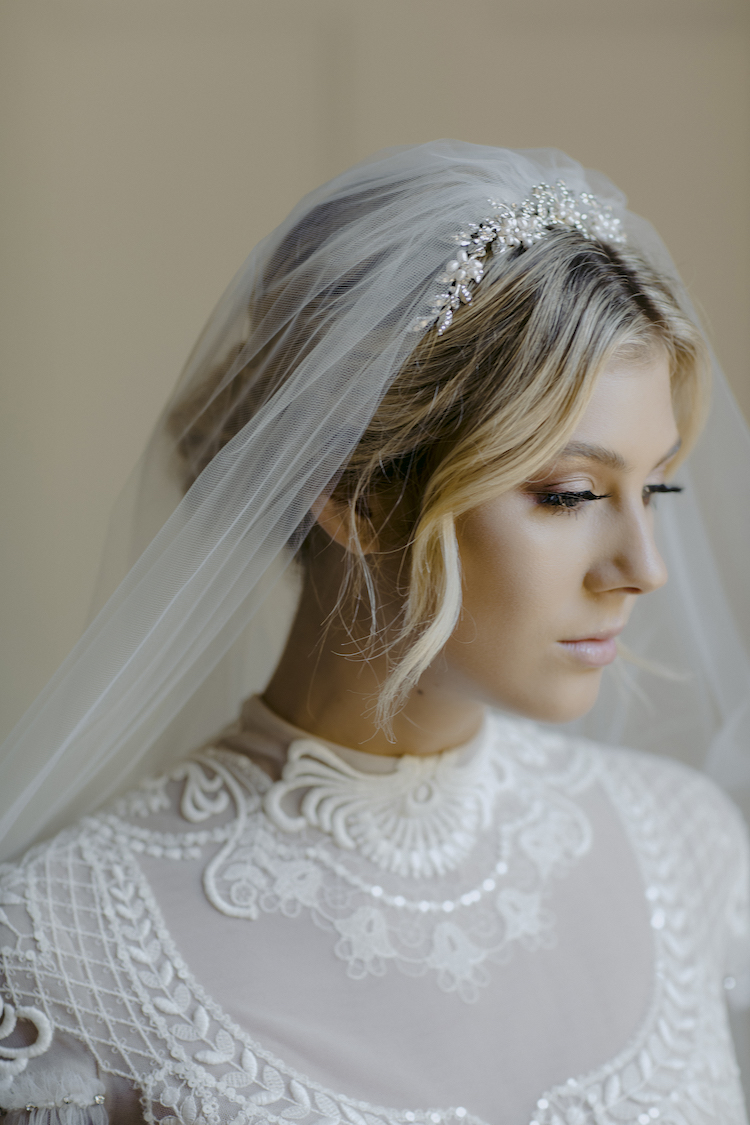 Shop this look: ENCHANTED headpiece + AMORA veil, HENRI crown + NIGHTINGALE earrings
Bringing it all together
With so much detail around your face and neck, choose either stud or a short length drop earrings. If you want to wear a simple bracelet, you can do so, but why not let the lace do all the talking and go without?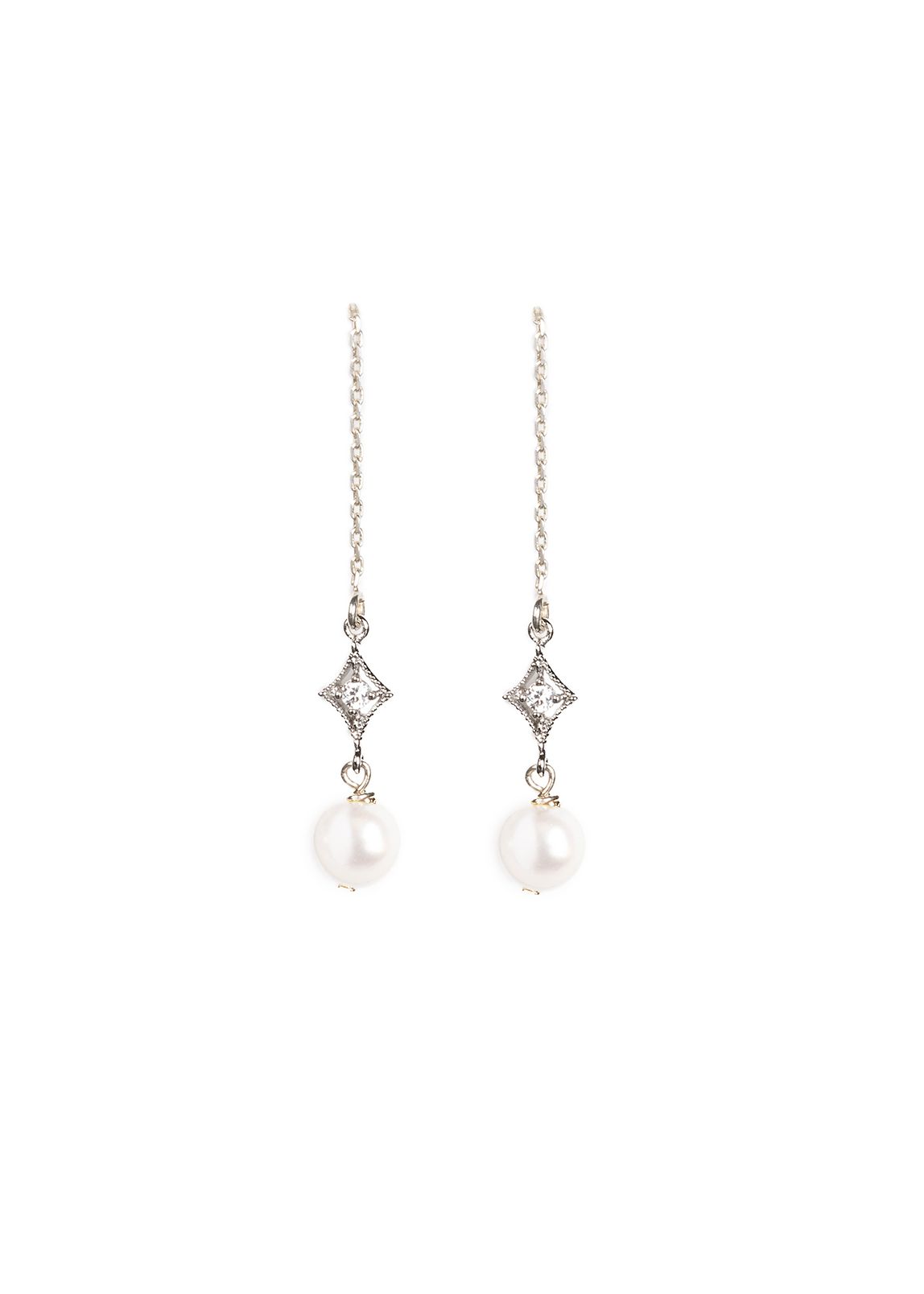 Shop this look:  LUIS earrings, NIGHTINGALE earrings
Halter necklines
Halter necklines will always have a place, especially down a wedding aisle. This style of dress frames your shoulders while generally exposing your back. Visually, it will draw your eye upwards towards your face and hair.
Bring it all together
To maintain a long elegant neckline, opt for short to medium length drop earrings. Your earring choice will depend on the fabric and style of your dress. Even simple pearl studs will pair beautifully.
A bracelet, rather than a necklace, would be a beautiful choice and will balance out the look by drawing attention to the arms.
A wedding crown or tiara will also accentuate an open back by elongating your torso.
Shop this look: WINDSOR crown + ROSELLA veil, WINDSOR crown
Shop this look: BELLA earrings, EVANDER bracelet
Off the shoulder and plunging necklines
Plunging and off the shoulder necklines are the epitome of femininity. They feel elegant, romantic and effortlessly chic.
Bring it all together
Statement earrings are always a winner with these necklines. The open neckline is a blank canvas for you to play with different earring styles and lengths. From crystal chandelier earring through to decadent floral drops.
A wedding crown or tiara will frame your face and balance out the off-the-shoulder straps or sleeves.
Skip the bracelet and opt for a sweeping wedding veil to trail behind you as you walk.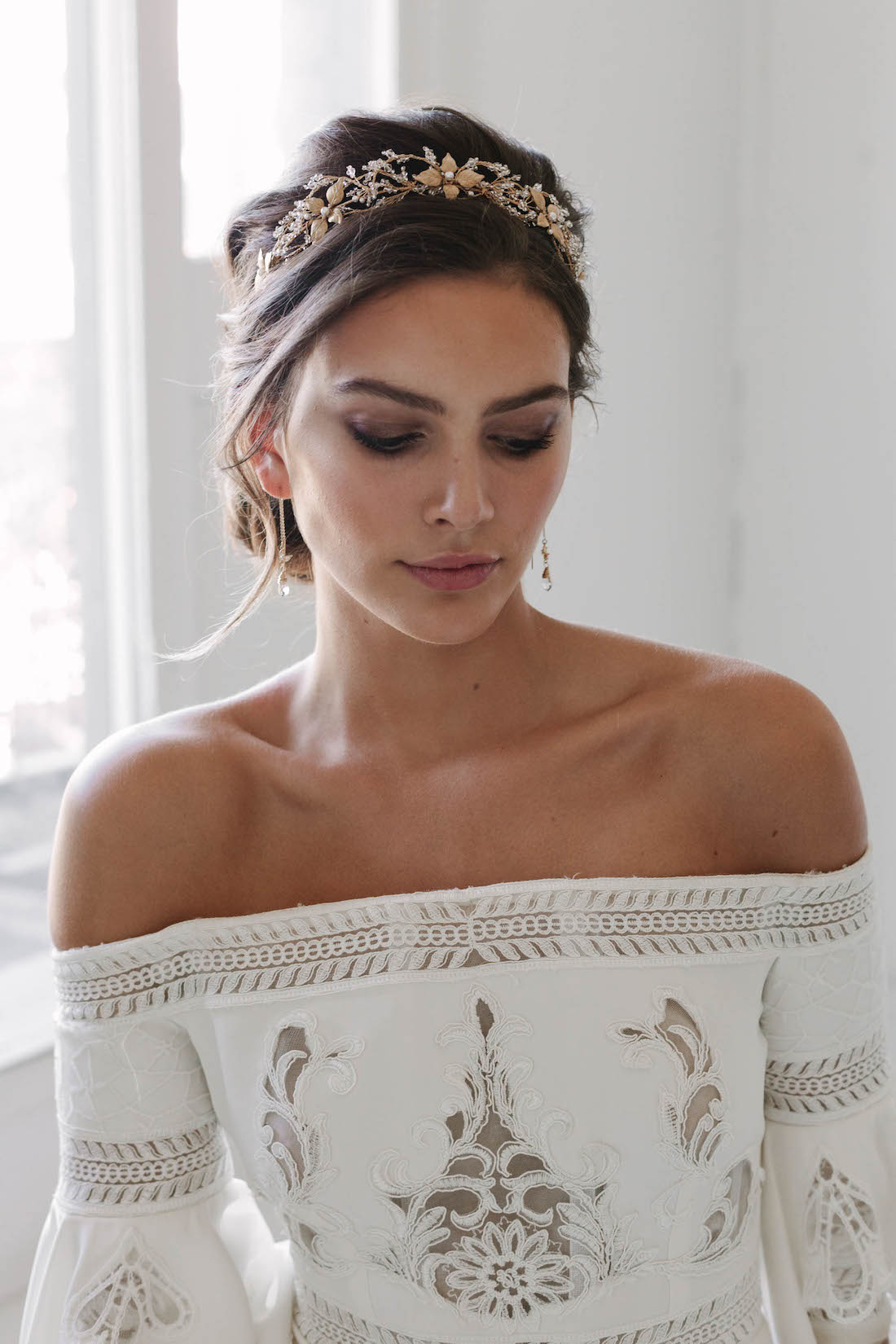 Shop this look: ROSEBURY crown + ISABEAU earrings, JACQUES halo + ETOILE veil
Shop this look: NIGHTINGALE earrings, SEVILLA earrings
Strapless and ballerina straps
An all time classic that will never go out of style. Much loved for its elegant silhouette, this neckline is designed to frame your décolletage and face.
Bring it all together
Traditionally a necklace would be the go to option.  For modern brides, skip the necklace and choose a pair of long earrings to frame your neckline.
A crown or tiara will add a regal feel to this neckline and accentuate the formality of this silhouette.
A headpiece positioned to the back of your head will add a point of interest as you walk down the aisle. It's also a beautiful detail to cover the comb of a wedding veil.
A wedding veil that extends beyond the length of your train will feel proportional and sophisticated.
A bracelet that falls elegantly over the wrist will accentuate open arms.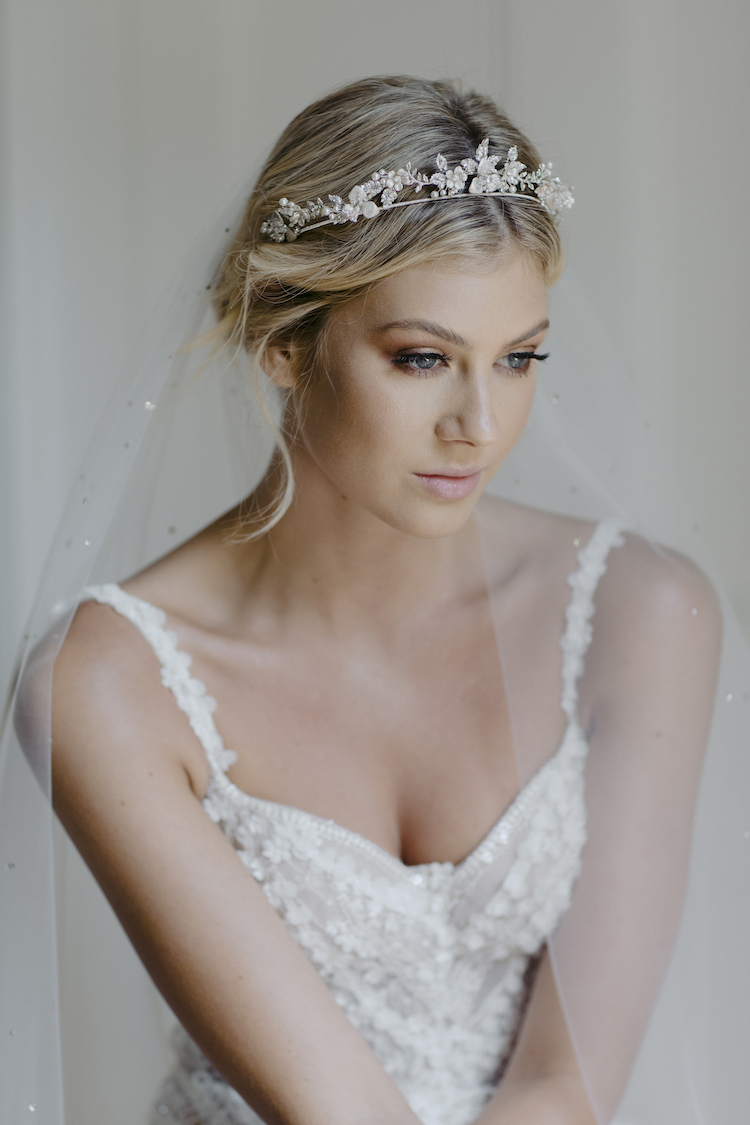 Shop this look:  CASHMERE crown + MORNING MIST veil, FONTAINE headpiece
Shop this look: VALENTINE earrings, FABLE bracelet