15 Dec

Hair & Inspiration
How to recover from a bad pre-wedding hair cut
Who hasn't been there… you walk out of the hair salon and you immediately pull your freshly cut hair under a paper bag. Or, at the very least, straight into a ponytail.
Like they say, there's only 6 weeks between a good and a bad haircut. But, what happens if your wedding is mere weeks or, heaven forbid, days away?
If you have gone the snip when you were hoping for a 'trim', and regretted it, fear not. Scroll down and consider the beautiful options below to help you recover from a bad pre-wedding hair cut.
1. Bridal braids
Braids are are perfect way to tuck away a fringe or shorter lengths of hair. They look beautiful with shoulder length or even a chin length bob. Finish off the look with some simple hair pins or a delicate hair vine and nobody will be any the wiser of your recent haircut mishap.
Photo credits: Pinterest, Pinterest, Pinterest
How to accessorise
By their very nature, bridal braids are textured and decorative. So let your braids do the talking and choose simple or small hair pins like the JUNIPER hair pins or a minimalist veil like the AUDREY or THEODORE to finish the look.
Draw attention to your face with a crown or statement earrings.
Less is more with textured and detailed hairstyles.
Shop this look: JUNIPER hair pin + THEODORE veil, AUDREY veil
2. Sleek updos and romantic bridal buns
If your hair has been cropped to shoulder length, an updo is very achievable. You might be naturally inclined to style your hair into the tightest ponytail possible to hide it from sight. But with a few twists to that ponytail, you're on your way to a petite bridal bun which will look polished,chic and catwalk worthy.
Prefer a messier hairstyle? Your hairstylist may be able to work hair padding or a hair donut into your hair to add fullness and texture.
Photo credits: Pinterest, Pinterest, Pinterest
How to accessorise
Frame your sleek or messy updo with some hair pins positioned to one side or across the top of the bun.
A wedding crown or delicate headband will draw attention to your face. A hairpiece that sits above the hairline suits middle or side parts, and even no part at all.
Statement earrings will instantly elevate a sleek modern hairstyle or looser styles.
Shop this look: TEAROSE hair pin, ROSA hair pins, FLORENTINE hair pins
3. Go vintage
Vintage-inspired hairstyles with finger waves, structured curls and retro looks can be the perfect hairstyles to disguise accidental hair hiccups.
Ensure the overall look is consistent with your personal style, the silhouette of your dress, or your wedding venue.
Photo credits: 1. Pinterest, 2. Grey Likes Weddings, 3. Pinterest
How to accessorise
Position a hair comb to the side of your updo or a floral hair clip near the temple to accentuate the retro vibes of your look.
A crystal brooch or hair comb like the ARTEMIS comb will add sparkle and heirloom detail.
Crystal stud earrings will add a finishing touch to vintage inspired hairstyles.
4. Hair extensions
A simple Google search for hair extensions will show endless results for hair extensions that can arrive quickly at your doorstep. Chat to your hairstylist first about what colour and length would best work for your hairstyle and the look you'd like to achieve.
A short hairstyle can be instantly transformed into a beautiful long ponytail or full updo with the help of strategically placed extensions discreetly worked into your hair.
Photo credits: Pinterest, Pinterest
How to accessorise
Once your extensions are in place, the added strands will be barely noticeable if done well so your accessories will be decorative rather than functional.
If there's a colour or texture difference, position a hair piece to help disguise the colour or texture transition.
Ensure your accessories are securely pinned into place and reinforced with additional hair pins.
Shop this look: STELLAR hair pins, VERSAILLES headpiece, BORDEAUX veil
5. An embellished or full veil
If coverage is what you're after, an embellished veil with 3D floral or lace details, or a full wedding veil will provide coverage as well as a beautiful accent that will instantly define your look.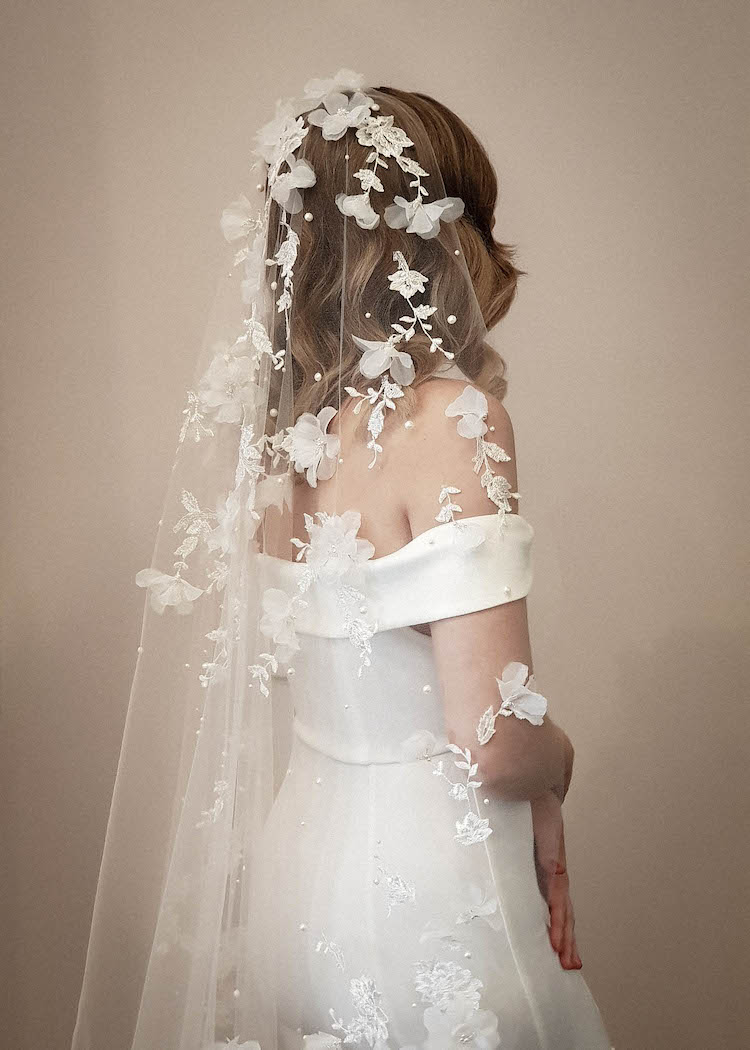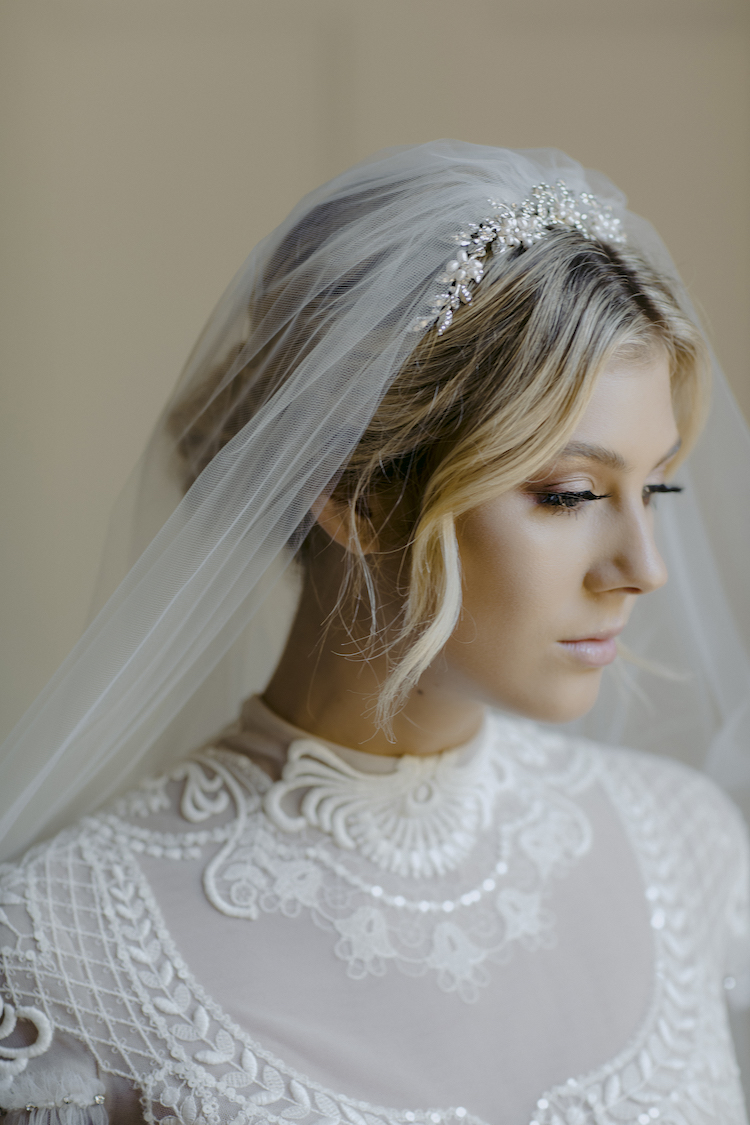 Shop this look:  RIVIERA veil, ENCHANTED headpiece + AMORA veil, CATALINA veil,