06 Jul

Advice + How To
Flying High | Wedding veils above or below the bun?
There's few opportunities in life to wear something as exquisite and elaborate as a wedding veil. While a veil may not be for every bride, we love how a veil can elevate your bridal look by framing your face, and elongating your silhouette.
One of the most common questions we receive is, 'do you wear the veil above or below the bun?'  Here are our top tips on deciding how to style your wedding veil for your day:
Low to mid updos
Thinking of a low to mid set updo?  While you can position your veil from your crown to elongate your silhouette, it also works nicely to position your veil directly on top of your updo or just below it. It really is a personal preference and will depend on a number of factors including the neckline of your dress, the volume in your hairstyle, as well as your height.
If the neckline on your dress is quite high or you will be wearing sleeves, consider wearing your veil higher on the head rather than lower to balance out the heaviness of the fabric on your dress.
We also find that positioning the veil below the bun works well when styled with a low or open back. This creates a visual gap from behind which feels balanced and proportional.
If you're thinking about wearing a wedding comb with your veil, perhaps consider the layered veil and headpiece look. Simply slide your veil comb between your updo and headpiece to create one seamless and gorgeous look.  If you prefer something a little more relaxed, position some delicate hair pins to the side of your veil.
Images: MARION delicate floral bridal comb | ROSELLA chapel veil with blusher | JASMINE bridal headpiece | GABRIEL halo | MARGAUX wedding veil
High set updos
We love high set updos. Think a ballet bun reimagined with ultra luxe vibes to something a little more conservative. A high set updo will add height and a focal point from behind to frame your shoulders and back.
If you're thinking high ballet bun, we love to pair this look with a veil positioned below the bun to avoid the veil overwhelming your face.
For an updo slightly lower, we love to style this with a veil positioned below the bun so the veil can cascade ever so beautifully from beneath your updo, without pulling focus or adding too much volume to the top of your head.
Credits: LISETTE wedding veil | MARQUISE hair comb | SOMERSET hair comb | WYNTER wedding veil 
Hair out and half-up hairstyles
Soft tousled tresses and beautiful waves evoke a romantic look in an instant. Pair loose curls with your wedding veil positioned at the crown to frame your jawline and lengthen your silhoeutte. This will ensure your hairstyle won't get weighed down and instead will flow every so elegantly down the back of your head and your back.
For half-up hairstyles, secure your veil at the point in which your hair is pinned up. This will provide a strong foundation for your veil to stay in place, as well as a headpiece for the perfect finishing touch.
Thinking about a blusher layer?
A very important consideration is whether your intend to wear a one or two tier veil – i.e. whether you would like a blusher layer to pull over your face.
The position of your veil's comb in your hair will impact the length of your blusher. If you decide to wear a two tier veil below the bun, keep in mind that your blusher layer will need to be long enough so that when it's pulled up and over your face, there's enough length to cover your face, shoulders and your upper torso.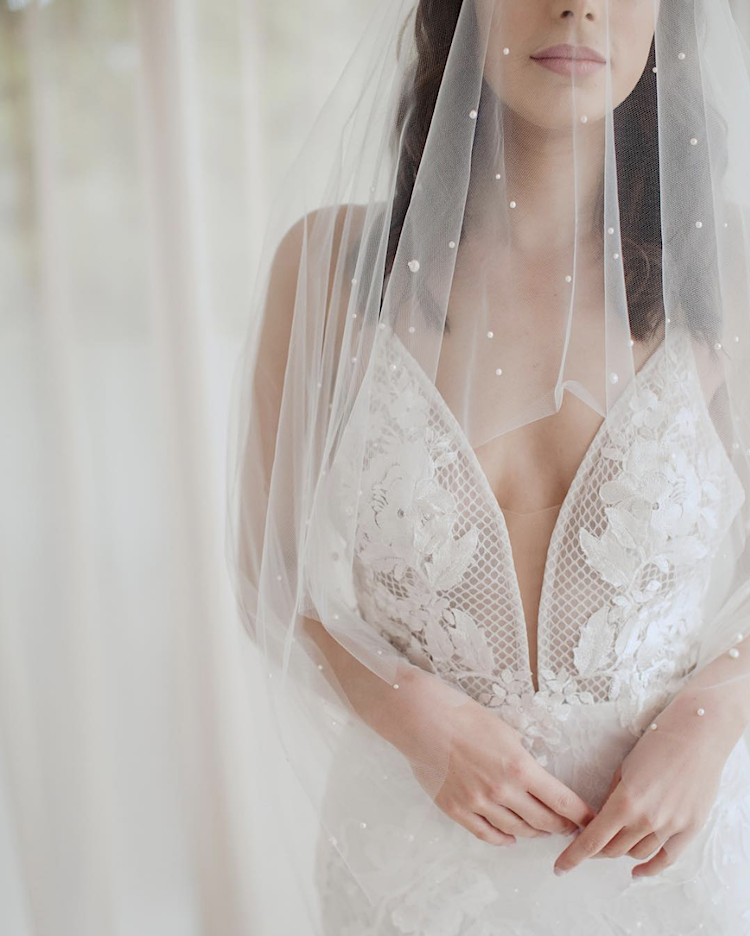 Image: LUMIERE pearl veil
Would you like styling advice? | Chat to our team
We love to work with our brides to bring together their bridal looks. Feel free to email us photos of your wedding dress and hairstyle. We'd love to get back to you with some veil options and how best to style them.