11 Mar

Wedding veil guide
How to accessorise a lace wedding dress
Lace is innately feminine, romantic and effortlessly elegant.  The textures and details inherent in lace fabric can sometimes make you feel that simpler accessories are better but this isn't necessarily true. If you're wondering how to accessorise a lace wedding dress, we're here to share our styling tips to help you pull together your bridal look.
Shop this look:  CHERRY BLOSSOM hair piece set
1. Mimic lace patterns
Lace fabric is often made up of repeated curves or lines which form to create a distinctive pattern. Don't let these intricate details overwhelm you. Instead, look to see if you can find any clear patterns or shapes that you like such as scalloped details, eyelash edging or floral or leaf motifs. When choosing accessories for your lace wedding dress, you can mimic or accentuate these details by bringing them into your hair piece or veil.
If your dress features floral patterns with distinct 5 petal flower shapes, choose a hairpiece with flowers which features a similar shaped flower. This can also be applied to leaf patterns or geometric shapes.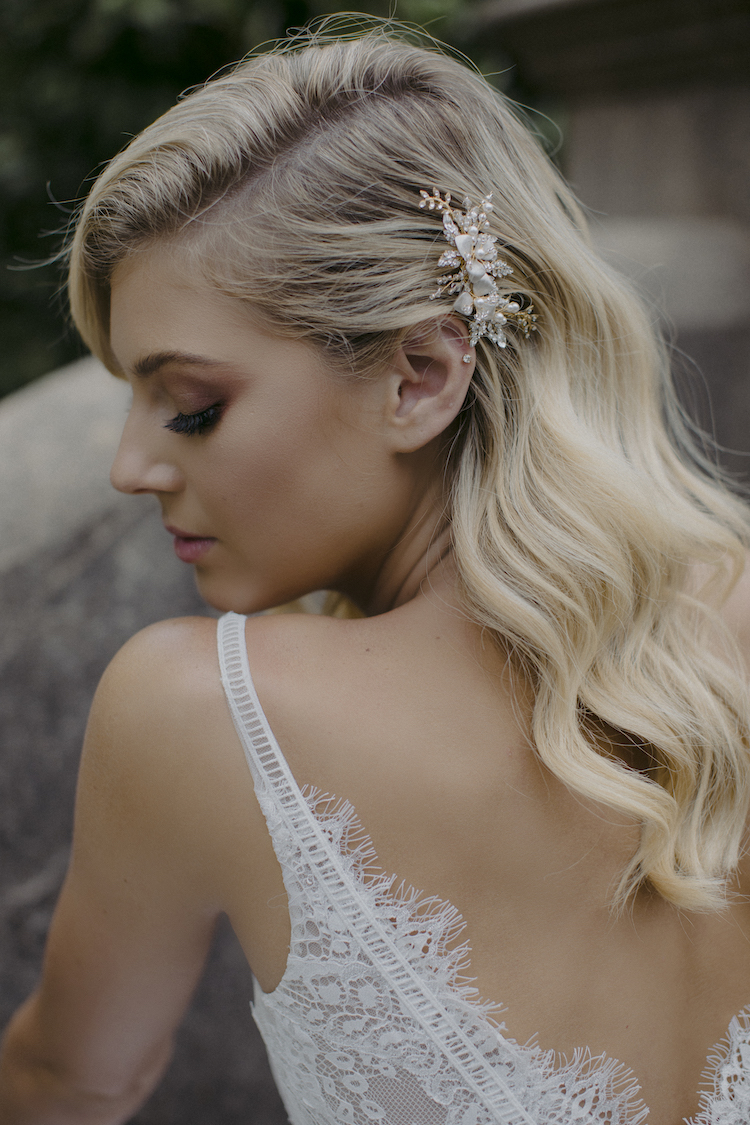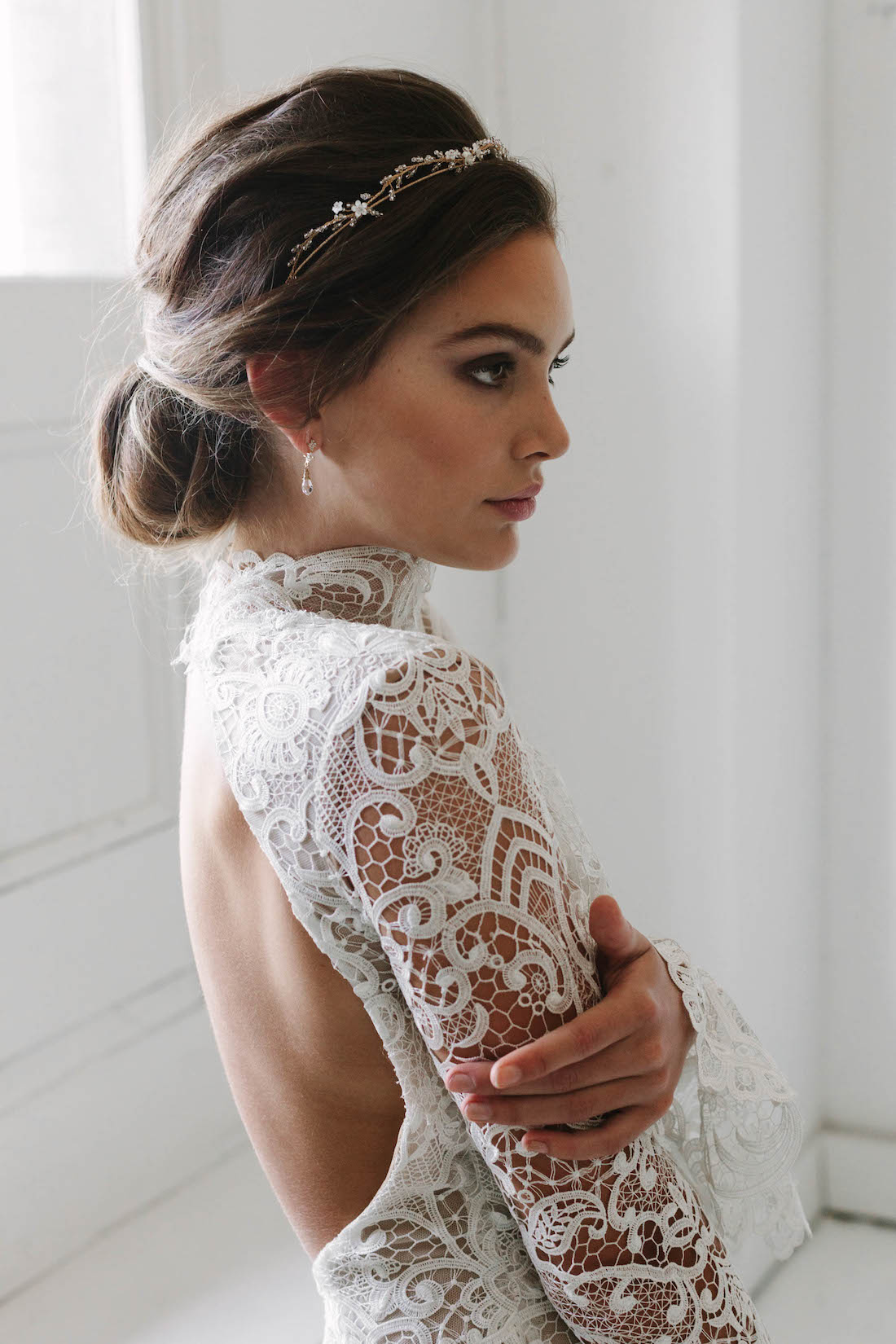 Shop this look: TROUSSEAU comb, NOUVEAU birdcage veil, BLANCHETT tiara, HARPER crown, HENRI crown
2. Contrast a lace dress with pearls
How to accessorise a lace wedding dress is easy with the addition of classic pearls. Timeless bridal styling often brings together a lace wedding gown with a pearl necklace. While a pearl necklace may not be your style, incorporate pearls into your look with a modern pearl wedding veil, pearl bridal headpiece or pearl drop earrings.
Pearls scattered across a wedding veil will add a touch of whimsy with contemporary appeal.
Shop this look:  THEODORE pearl veil, MARA birdcage veil with pearls, THEODORE pearl veil
3. Add floral details
When done correctly, adding floral details to a lace wedding gown can look next-level chic.
The beauty of florals lies in its natural ability to instantly add dimension to a flat lace pattern in a way that feels like a natural extension of the fabric. You can incorporate floral details through statement earrings, flower details hand-beaded onto a veil or fresh flowers pinned into your hair.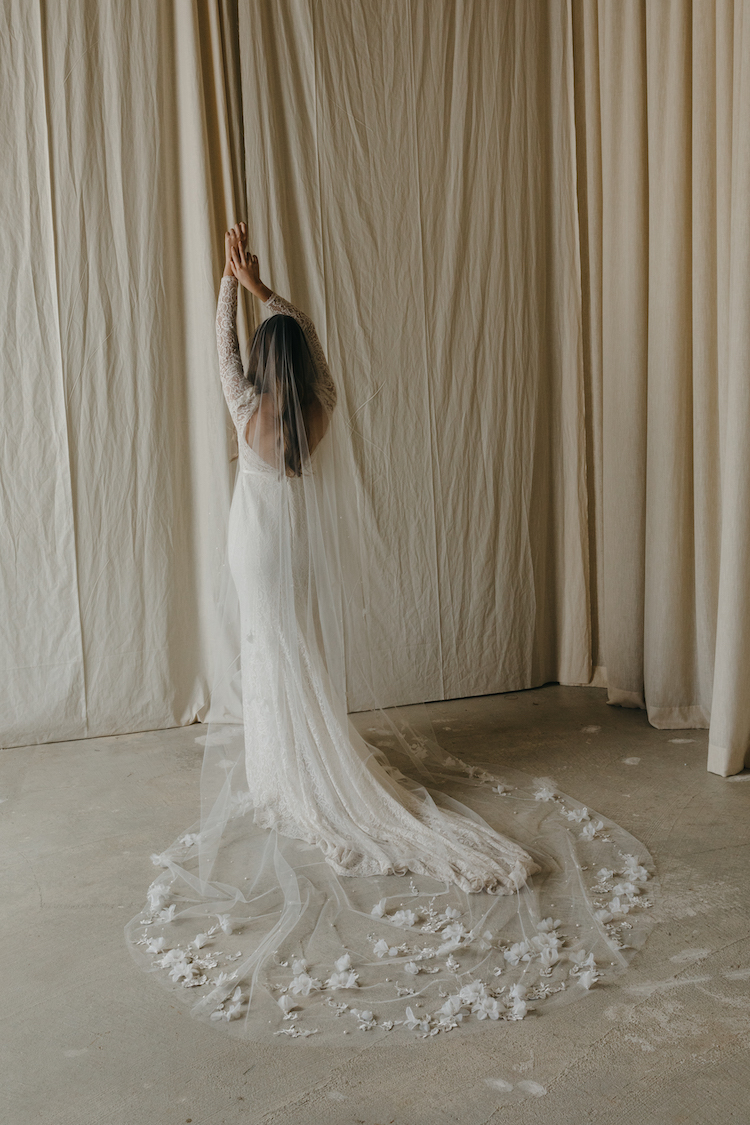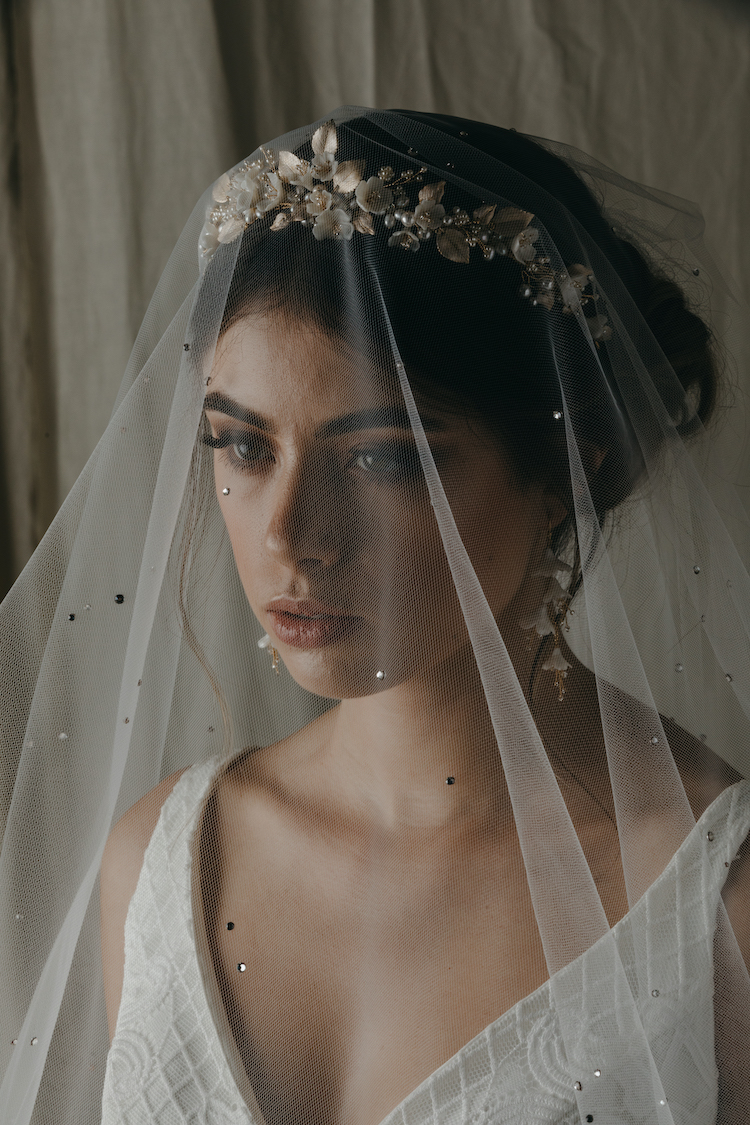 Shop this look: AURORA floral earrings, NIGHT GARDEN veil, FLORES crown, CHERRY BLOSSOM pin set, CATALINA veil
4. Pair lace with lace
Matching lace with lace doesn't need to be an exact science but it's important that the colours are complementary and the aesthetics match.
If your dress features a heavy lace, contrast this with a similar pattern in a smaller or lighter format.  Where your lace pattern is heavily floral or leaf based, bring these motifs into your veil with embellished motifs.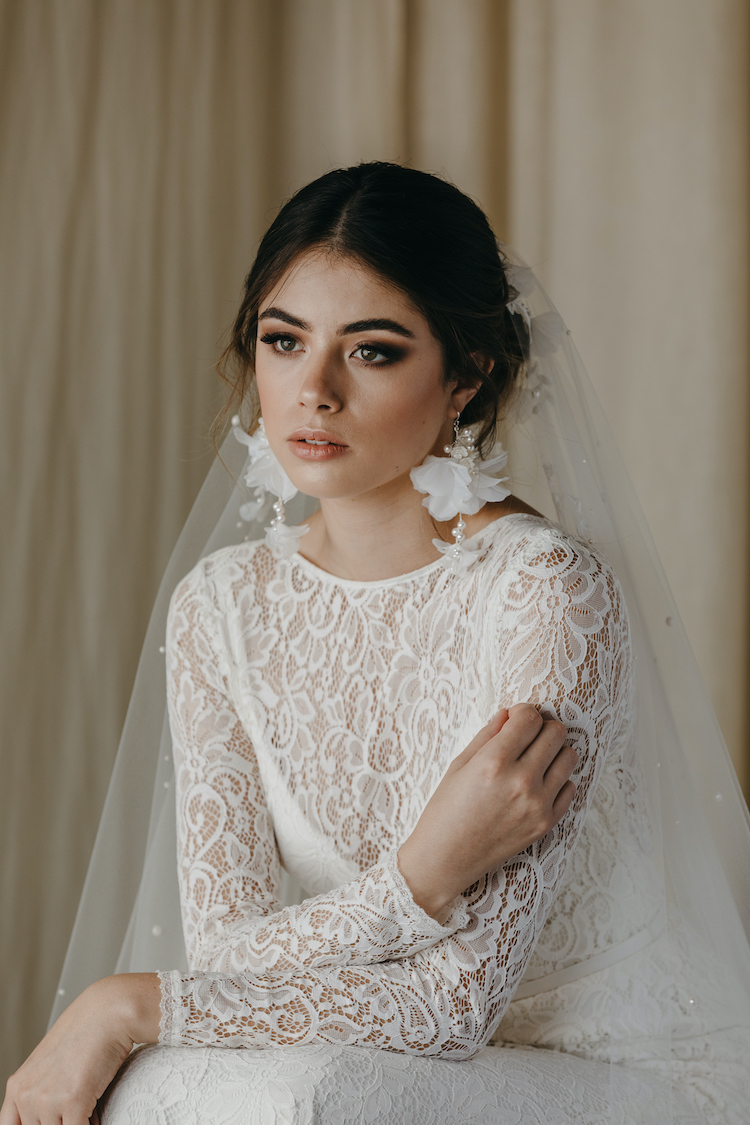 Shop this look: CARMEN veil, NOUVEAU veil, BLANCA earrings
5. Choose a raw edge veil
The simplicity and clean lines of a raw edge veil will let your lace wedding gown take centre stage. If your veil features no details or embellishments, the silhouette of your veil will be important to ensure it enhances the dress.  Depending on the cut of your veil, it can either elongate your silhouette or draw attention to distinctive lines such as the natural waistline or where the train starts to flare out.
Shop this look: KARELL veil, GEORGETTE veil, AMORA veil, WYNTER veil, AMORA veil
6. Add sparkle with crystal details
Add infinite elegance and shimmer to your bridal look with sparkly crystal details.  Similar to pearls, crystals pair perfectly with lace details. Whether the crystals are applied to your wedding veil, featured in your headpiece or drop earrings, crystals will add a luxurious finish to your dress.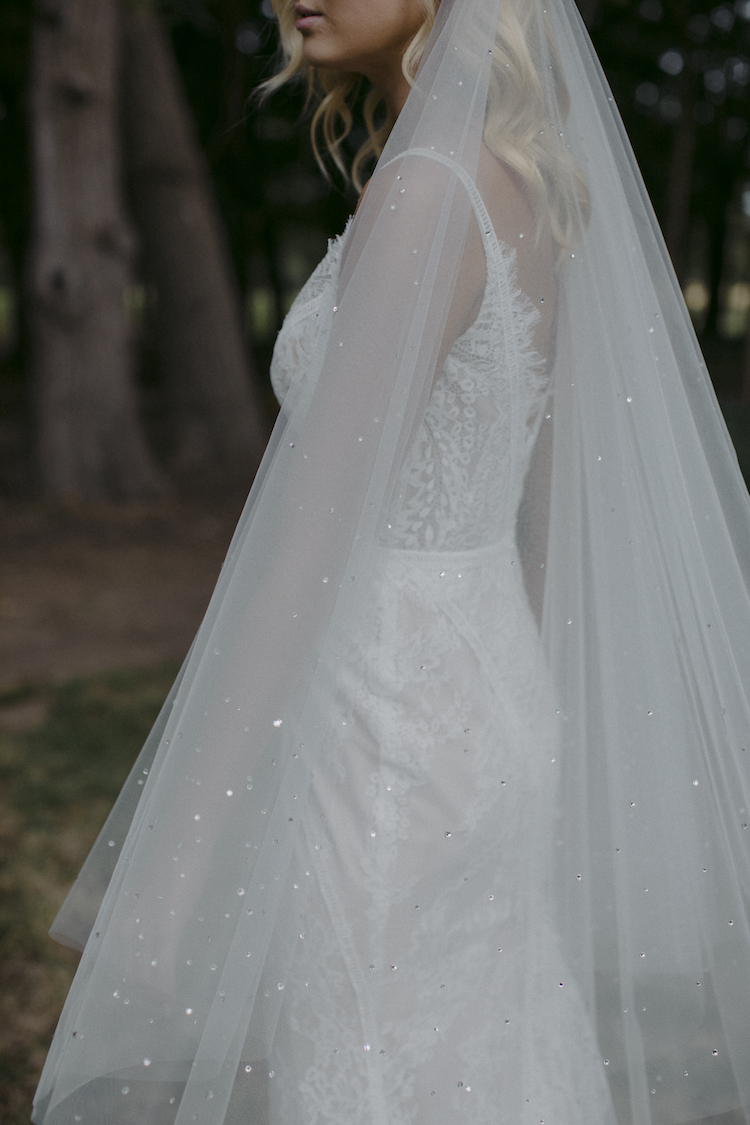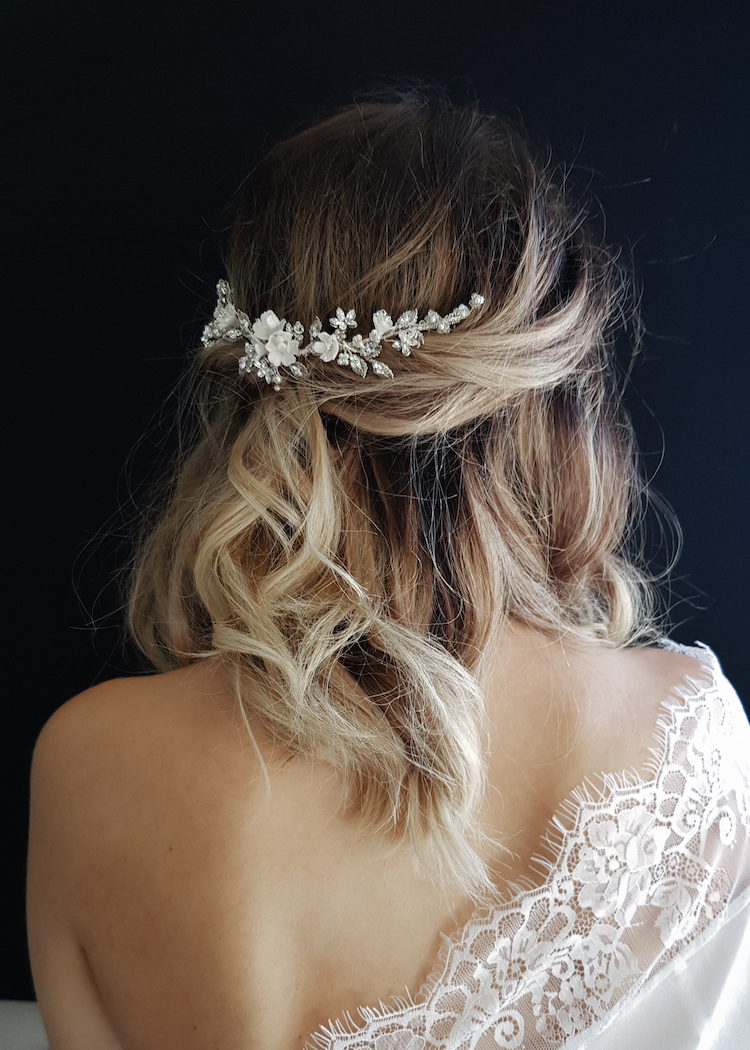 Shop this look: ENCHANTED headpiece, MIDNIGHT veil, CASHMERE crown, BOTANICA headpiece
Need styling advice?
We love to work with our brides to help bring together their bridal looks. No need for an appointment, we work with brides worldwide via email to design and create wedding headpieces and veils to suit your wedding dress and bridal hairstyle. Feel free to email us with photo of your wedding dress and hairstyle, including links to styles from our collection so we can get a feel for your style. We can then get back to you with ideas and recommendations.
RELATED POSTS