06 Jul

Bridal headpiece guide
11 Celestial-inspired wedding accessories to fall in love with
When we look up to the night sky and gaze at the infinite stars above, the magnitude of the universe instantly captivates. There's nothing more timeless than time itself and it's no wonder that many wedding themes are inspired by the beauty and decadence of what lies above us.
Your bridal accessories don't necessarily need to feature star/moon shaped elements to be inspired by the constellations. There's a luminous quality to the night sky that translates beautifully to a bridal look in the form of crystal details or soft pearlescent accents.
Don't be afraid to incorporate florals or pearl elements amongst celestial-inspired details into your look.  While they don't grow in the sky, capturing the relationship between the earth and the sky is just as beautiful and utterly majestic.
We've pulled together 11 of our favourite celestial-inspired wedding accessories we hope you'll love:
Shop this look: STARRY NIGHT crown
1. STARRY NIGHT crown
The STARRY NIGHT wedding crown with stars hints at the magic above us. This celestial beauty was inspired by an enchanted night sky, featuring a soft golden palette and silver crystal elements that make a beautiful statement of refinement and femininity.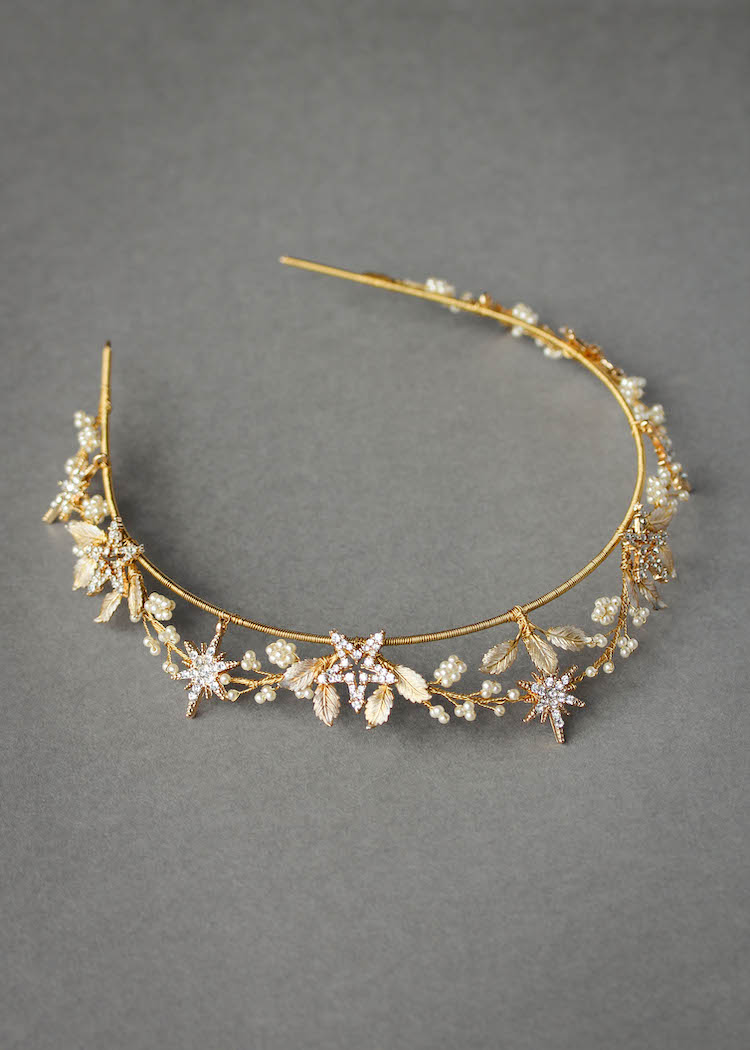 2. STELLAR hair pins
Sometimes less is more, and sometimes it's the simplest detail that can complete a bridal look. The STELLAR crystal hair pins were designed for the minimalist bride seeking that little touch of feminine beauty. Style them across your hair to appear like shooting stars across a beautiful night sky.
3. GILDED LILY hair piece
The GILDED LILY hair piece was designed to capture the harmonious light of summer with an almost celestial tribute. The GILDED LILY can be pinned into the hair above a romantic updo or half up hairstyle. It speaks to a down-to-earth bride seeking something effortless and easy to wear.
4. STAR GAZER veil + DREAMER comb
The traditional birdcage veil has been updated with the STAR GAZER veil. An unexpected take on traditional styling, it features a muted silver net designed to be worn diagonally or horizontally across the face or hairline. Finished with double sided sparkling crystals, this modern piece feels chic, decadent and effortlessly luxurious.
Pair the STAR GAZER veil with the DREAMER crystal comb to add a touch of modernity contrasted against vintage styling.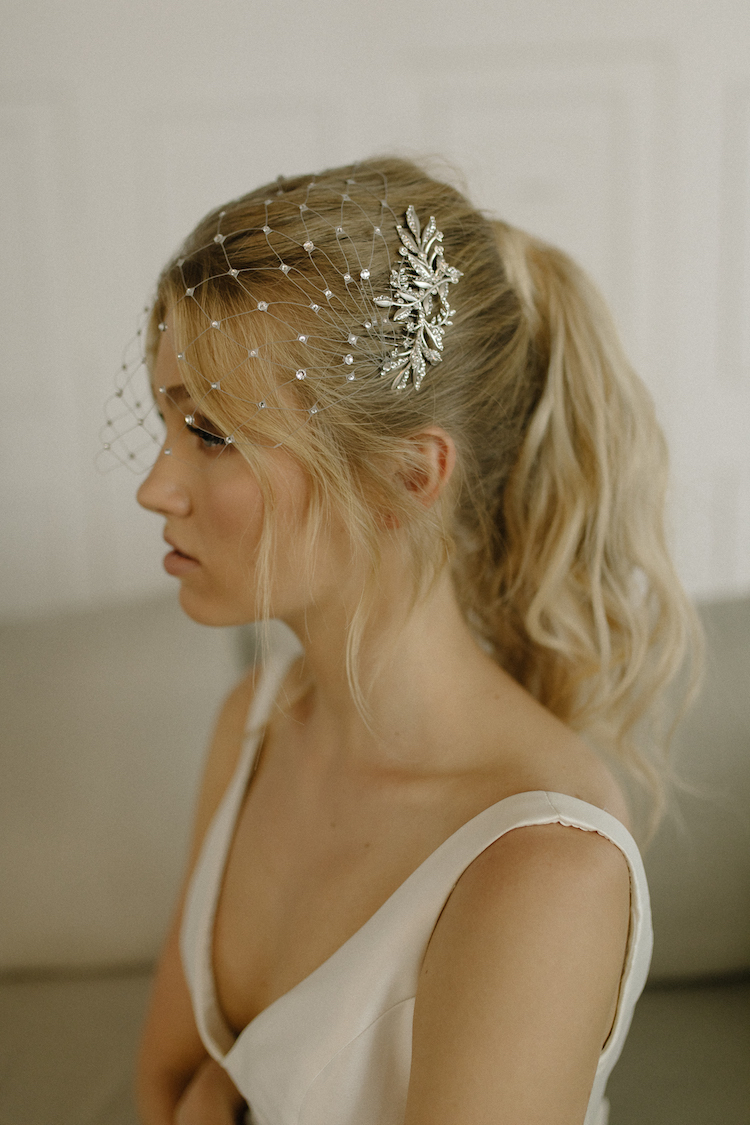 5. ARDEN hair pins
For modern romantics, the ARDEN bridal hair pins are a fresh take on traditional hair pins. This set of 10 hair pins brings together the earth, sky and the ocean through the combination of strong floral motifs, crystal elements and shimmering pearls. The result is a textured and classic look that ticks all the right boxes.
6. ADRIANA headband
The ADRIANA wedding headband features a minimalist silhouette adorned in celestial inspired details, vine-like elements and sparkly crystals. This delicate yet impactful piece was designed for sophisticated brides and modern romantics.
7. STARBURST pearl comb
The STARBURST pearl bridal comb was inspired by the earth and the stars above.  The pale golden tones is the ultimate detail for modern brides seeking an indulgent and unconventional detail to finish a chic bridal hairstyle. The STARBURST pearl bridal comb features a heavy cluster of pearls set onto shimmering leaf details and crystal accents.
8. CASHMERE crown + MORNING MIST veil
A dreamy display of romanticism, the CASHMERE wedding tiara is softly embellished with floral motifs of muted mushroom and antique silver tones.  Accented with sparkly crystals, we love to pair this piece of regal splendour with the MORNING MIST crystal veil for a look that's utterly majestic and breathtaking.
9. DEWBERRY veil
The DEWBERRY crystal veil is a dreamy veil that moves to its own rhythm. The single tier is adorned from head to toe with double sided crystals that dramatically transform a wedding dress in an instant.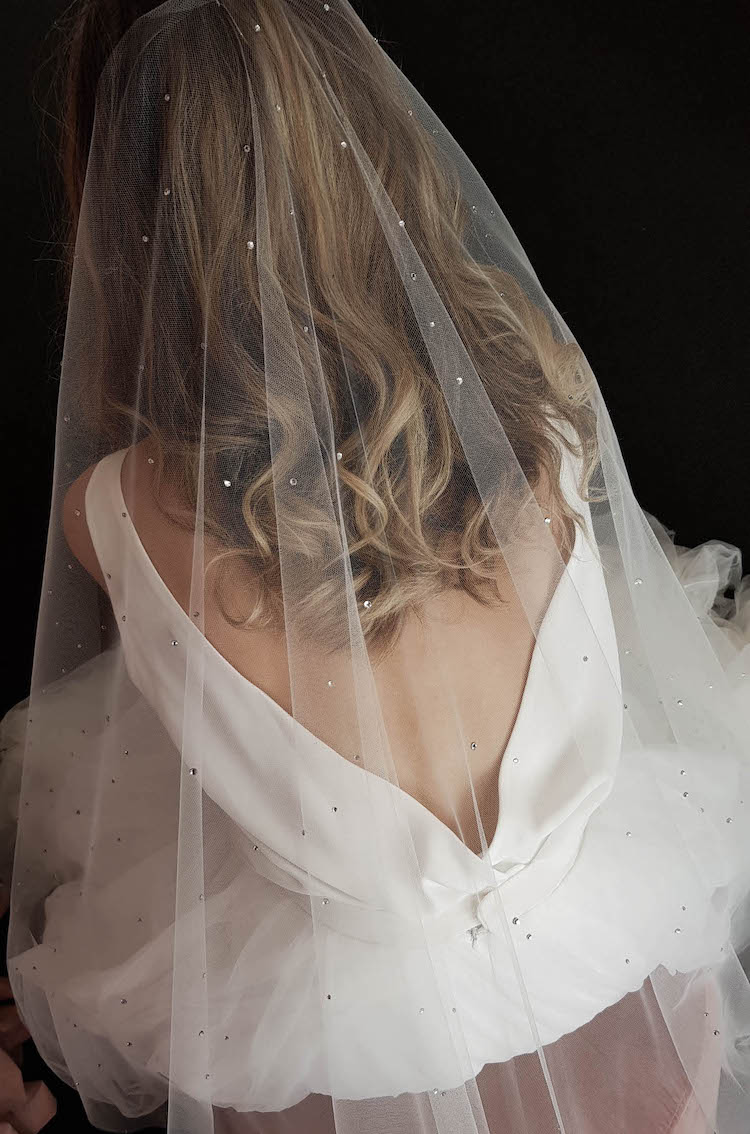 10. EVENING headpiece + MORNING MIST veil
An ethereal beauty of rich harmonic layers, the EVENING crystal headpiece is hauntingly beautiful and decadent on every level. The colour palette of soft silver, antique silver and mushroom tones has been artfully arranged to frame a low set updo.
Offset the decadent details with a sheer drop veil with scattered crystal elements, such as our MORNING MIST veil. Our favourite combination for luxe bridal style.
11. MIDNIGHT veil
The statement wedding veil for a bride with stars in her eyes, the MIDNIGHT veil with crystals was inspired by the infinite stars above. When the double sided crystals catch the light, the veil illuminates and frames a wedding dress in the most breathtaking way. The royal length is all about maximum impact – dramatic, sparkly and impressive. An decadent veil for exquisite photographs!
RELATED POSTS