21 May

Bridal headpiece guide
11 Wedding tiaras for a fairytale wedding
Wedding tiaras are a must for a fairytale wedding. Bridal trends have changed over the years and so too has the bridal tiara. Our favourite wedding tiaras feel majestic, enchanted and ornate, and less like something you'd find in a costume box.
Fall in love with 11 of our most coveted wedding tiaras. All customisable to suit you, your wedding dress and bridal hairstyle.
1. ANTOINETTE wedding tiara
A timeless artisanal treasure, the dreamy ANTOINETTE crystal tiara will add effortless grandeur and decadence to your bridal look.
Exquisitely designed with romantic elements, this dramatic headpiece features antique silver leaves encrusted with sparkly crystal details, soft ivory blooms and scattered pearls.
SHOP THIS LOOK:  ANTOINETTE crystal tiara
2. FLORES bridal crown
FLORES is a floral wedding crown constructed from a dreamy palette of soft ivory, pale gold and silver tones. Inspired by the softness of light upon delicate blossoms, this floral display is bursting with overgrown details and intricate embellishments.
Feminine, fresh and utterly romantic, the Flores crown makes an extra luminous style statement.
SHOP THIS LOOK:  FLORES wedding crown
3. MEDICI wedding crown
For lovers of refined femininity, the MEDICI crystal wedding crown features a classic silhouette adorned in sparkly Austrian crystals that catch the light in the most beautiful way.
This dreamy piece offers old world detailing in a modern aesthetic and pairs beautifully with classic, modern, traditional and vintage-inspired wedding gowns.
SHOP THIS LOOK:   MEDICI crystal crown
4. HENRI bridal headpiece
A simple yet high impact piece, the HENRI bridal crown is designed for sophisticated brides and modern romantics. A clean silhouette with an edge, it makes a bold statement and sets the mood of raw romanticism.
HENRI is a must have for unconventional brides who aren't afraid to express her unique style.
SHOP THIS LOOK:   HENRI bridal headpiece
5. BLANCHETT delicate crown
The BLANCHETT delicate tiara crown is the definition of effortlessly cool bridal luxury. Barely there with a hint of floral finery, the BLANCHETT offers the perfect touch of regal appeal in a clean and soft silhouette.
SHOP THIS LOOK:  BLANCHETT delicate bridal tiara
6. ROSEBURY bridal headpiece
Golden vines entwine to create the ROSEBURY crystal wedding crown. The details on this heirloom headpiece feel delicate and dainty whilst beautifully creating a high impact finish to your bridal look.
Romantic, bold with a touch of bohemian luxe, the Rosebury takes bridal opulence to a whole new level of elegance.
SHOP THIS LOOK:  ROSEBURY bridal tiara
7. CASPIAN pearl bridal headpiece
An ethereal and textured beauty, the CASPIAN pearl bridal tiara is decadent and beautiful on every level. Featuring a striking silhouette with a peaked centre, CASPIAN was designed with a classic colour palette of soft silver and ivory tones and features freshwater and Austrian pearls and fine beading artfully arranged to frame your face and wedding gown.
SHOP THIS LOOK: CASPIAN pearl wedding crown
8. REINA gold wedding crown
A hypnotic beauty, the REINA wedding crown is opulent, feminine and rich in botanical detailing.
Much loved for its gold sculptural blooms set onto delicate details, this striking piece beautifully merges regality with a touch of bohemian wonder.
SHOP THIS LOOK: REINA wedding crown
9. FLEUR bridal crown
The FLEUR bridal crown is bewitching in half light, striking in its simplicity yet magnetic in its finer details. It features antique silver or golden details set amongst floral details and soft ivory pearls.
The distinctive geometric arrangement is a tribute to the Art Deco era yet feels ethereal, fresh and chic.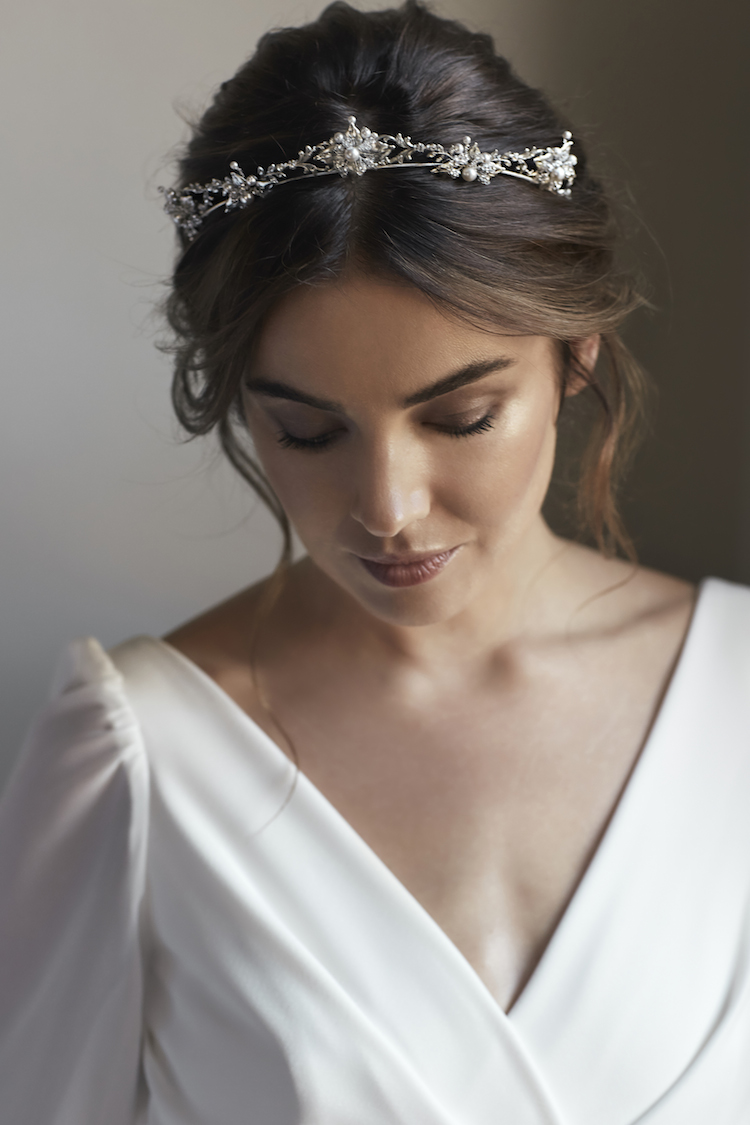 SHOP THIS LOOK: FLEUR wedding crown
10. DUET bridal crown
The DUET bridal tiara is a beautiful display of old world details that are thoughtfully combined to form a breathtaking wedding crown you will love to own and pass on.
An airy silhouette is framed by a double band and accentuated with delicate floral elements and fine hand beading.
SHOP THIS LOOK: DUET bridal tiara
11. MARISOL crystal crown
The MARISOL bridal tiara is illuminating and beautifully decadent with its low profile and enchanting sparkly crystal details set onto an antique silver crown.
This delicate piece is the perfect accompaniment to modern and chic bridal gowns, ethereal dresses and vintage-inspired gown of profound femininity.
SHOP THIS LOOK: MARISOL bridal tiara
NEED BRIDAL STYLING ADVICE?
Need styling advice to bring together your bridal look? Get in touch with photos of your wedding gown and your favourite pieces from the collection. We would love to offer ideas and recommendations on pieces to suit, including how our pieces can be customised to suit you.
Looking for more inspiration? Follow us on Pinterest.
RELATED POSTS