05 Nov

Hair & Inspiration
How to style the modern chignon wedding updo
For lovers of wedding hairstyles, you can't go pass the chignon wedding updo.  This variety of updo can feature twists, coils, braids and loose tendrils around the face. We love the modern variations—from relaxed to refined styles—because you'll always look back on your wedding photos and love the timelessness of this look.
We love to accessorise a bridal chignon with intricate and detailed hair pieces that will instantly elevate your bridal look. Whether it's a wedding headpiece or a bridal veil, a chignon is the perfect foundation to secure a beautiful heirloom piece.
Our favourite bridal chignons
Combining the classic chignon shape with an undone—almost messy—aesthetic, a relaxed bridal chignon is the ultimate in bohemian bridal styling. This look can take you to the red carpet, wedding aisle or your engagement party.  The look feels effortless, is anything but polished and can be styled with structured wedding gowns through to soft and billowy dresses.
Whether you have long, short, thick or fine hair – this relaxed hairstyle will work for you. The messy structure can be formed with the help of texturizers and hair extensions to add volume and thickness to the bun.
How to accessorise a bridal chignon
The low set structure of a chignon is the perfect foundation for bridal hair accessories.
1. Secure a hair comb or headpiece along the curve of your updo to create a striking focal point.
2. This hairstyle styles beautifully with a headpiece that curves downwards.
3. Secure some hair pins to the side to add a subtle detail without feeling overdone.
4. Pair this look with a tiara or crown to bring attention to your face and to provide balance the shape of the chignon.
5. Finish with a veil.
1. Choose an upwards facing headpiece to frame your hairstyle
A headpiece positioned at the back centre of your chignon will create the perfect focal point as you walk down the aisle. This look is beautiful for wedding gowns with low V backs, long sleeves or off-the-shoulder necklines as it will draw attention upwards and elongate your silhouette.
The beauty of an upwards facing headpiece is it will frame your hairstyle. We all know how long it can take to choose the perfect hairstyle for your wedding day so why not put it on full display.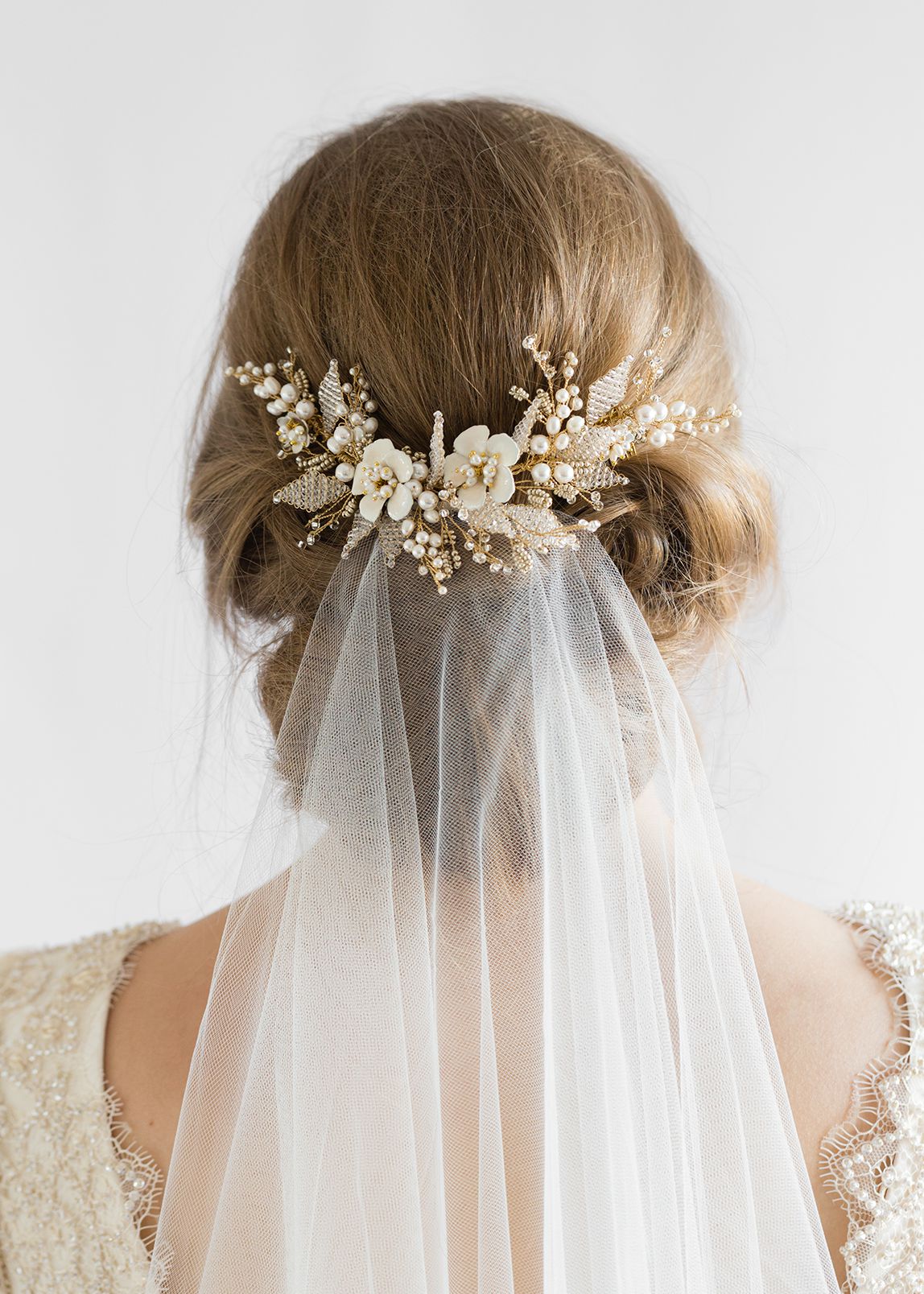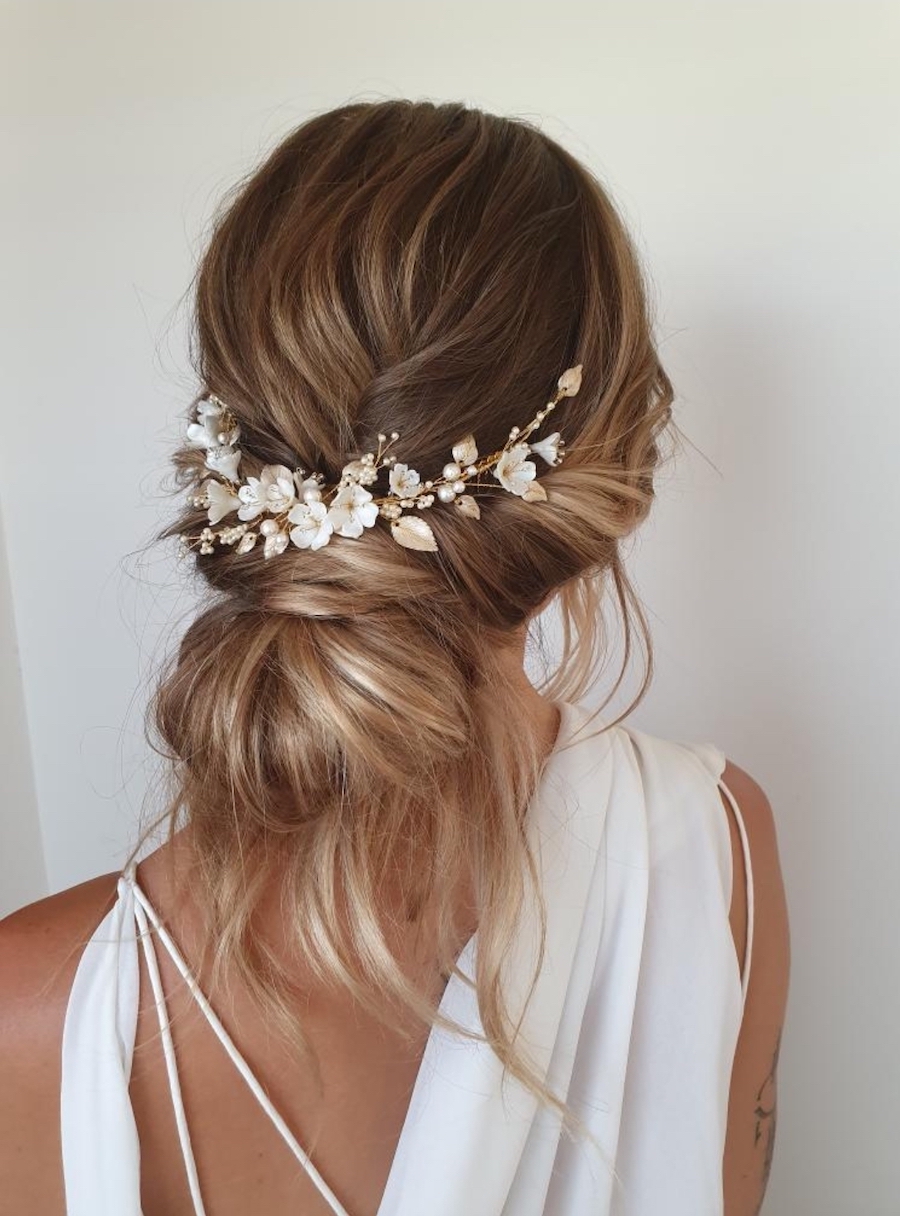 Shop this look: VERSAILLES headpiece, MARION headpiece + ROSELLA veil, JASMINE headpiece, LYRIC bridal headpiece
2. Or a headpiece that curves downwards to frame your veil
A headpiece that curves downwards will direct the eye down towards the shoulders and frame your veil. There's a feeling of effortlessness with this look as it curves around and down the contours of your chignon.
This look is beautiful with smaller earrings and suits both refined or relaxed bridal updos.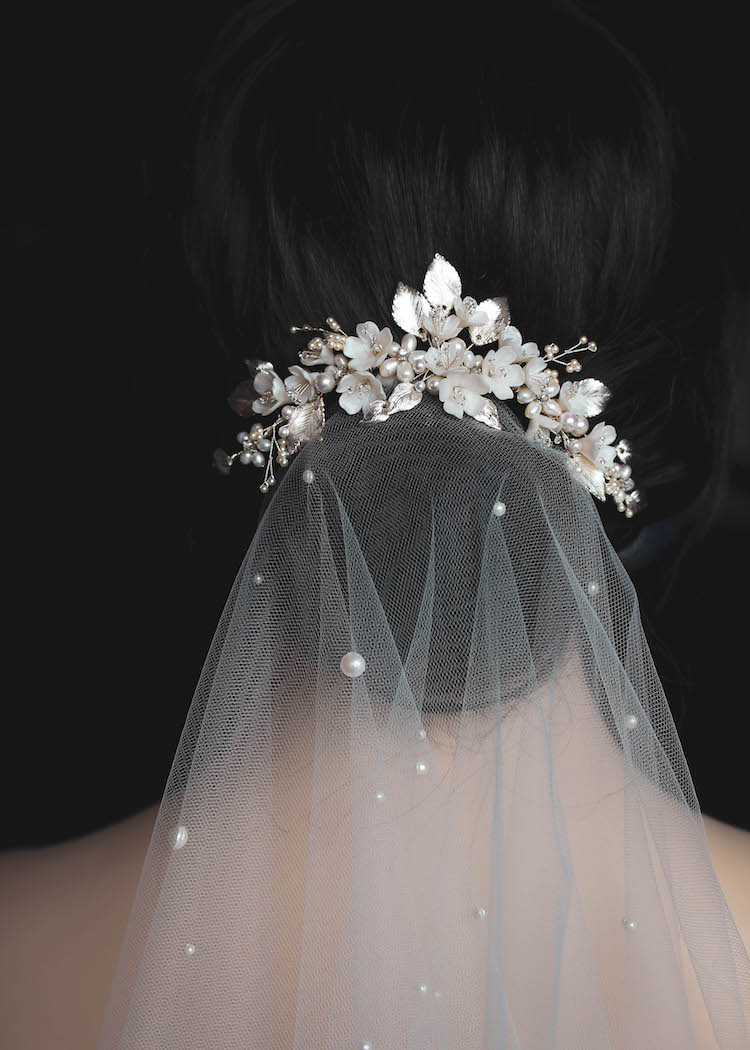 Shop this look: LAURETTE hair pins + THEODORE veil, HARLOW wedding headpiece, EVENING bridal headpiece, APPLE BLOSSOM hair pins
3. A hair piece to the side will feel relaxed
For a look that's more relaxed, position a hair piece or pins to the side of your updo. This asymmetrical look feels at home with bohemian inspired hairstyles with loose tendrils around the face.
If you like the idea of smaller pins and a minimalist aesthetic, simple pearls scattered along your chignon can create an equally beautiful finish.
Shop this look: MAYA hair pins, LADY GREY wedding headpiece, OYSTER pearl hair pins, CHERRY BLOSSOM hair pieces
4. A crown will frame the face and provide balance to the chignon
Depending on your face shape and the size of your chignon, a crown will frame your face and provide balance to your overall bridal look. This is a beautiful way to style high necklines, long sleeves or covered backs as it will draw attention forwards.
Shop this look: FLEUR crown, FLORES crown + CASCADE floral earrings, BLANCHETT crown + GEORGE crystal earrings, ROSEBURY crown
Bridal headpieces and veils
Just because you love a bridal headpiece, it doesn't mean you can't wear it with a veil.
We adore this a chignon for its versatility which allows you to easily style it with a veil. For a touch of the traditional, choose a mid to long wedding veil, with or without a blusher layer. Simply position your veil comb to the top of your chignon and then position your headpiece into place.
We also love the idea of a mantilla or pearl veil styled around an updo.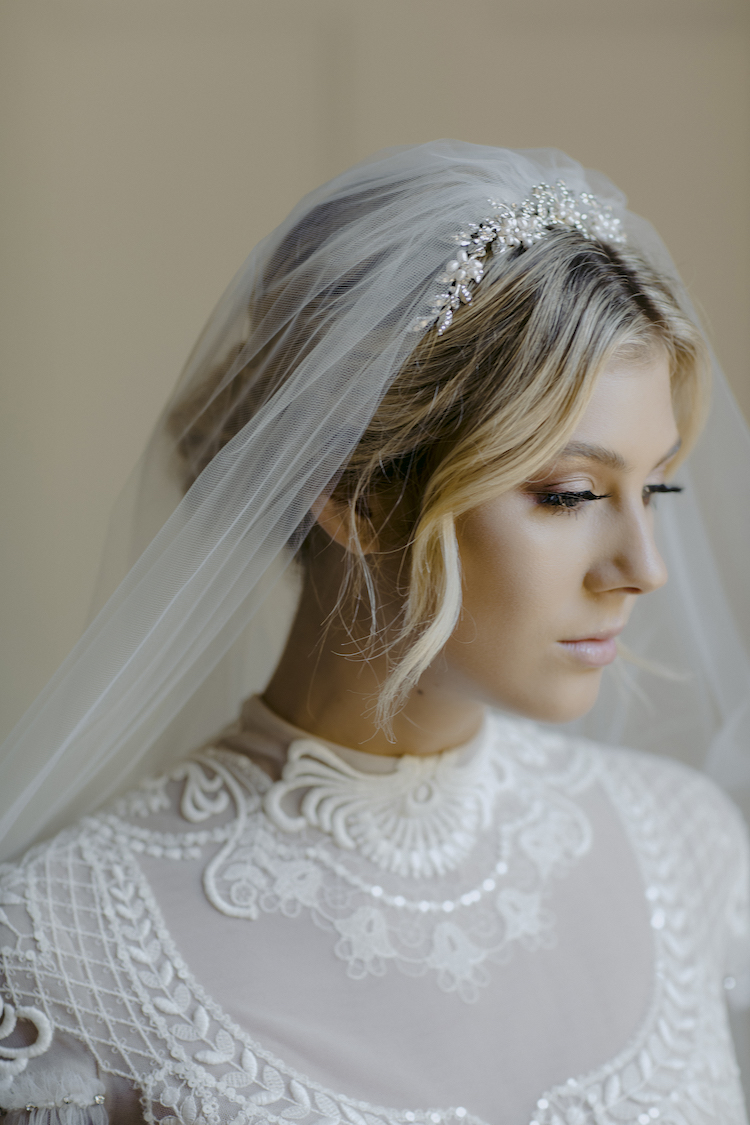 Shop this look: ENCHANTED headpiece + AMORA veil, BOUQUET headpiece + ROSELLA veil,  CATALINA flora veil, AUDREY veil
Related posts