07 Mar

Hair & Inspiration
Top 5 wedding hair trends for 2019
Wedding hair trends for 2019 are all about serious #hairgoals. Think hairstyles fit for royalty, and not in a conservative and super polished way. Royal no longer means traditional in 2019. Royal feels effortless, feminine and classically chic. It's fair to say the Markle effect has been just as powerful as the Middleton effect when it comes to wedding hair trends. Be prepared for a beautiful blend of both worlds in 2019 with these top 5 wedding hair trends.
1. Effortless updos
Most would associate the effortless updo with the Duchess of Sussex. Perfectly undone hair, a middle part with hair pulled back effortlessly, and soft tendrils framing the face. The Duchess of Cambridge's style is a little more polished but not overly fussy. Elegant chignons, glamorous pony tails and chic twisted updos that leave us all feeling envious of her exquisite shiny hair.
There's no denying the influence of these two stylish women on brides worldwide. The spectrum of effortless updos is wide ranging and appeals to a wide range of bridal looks.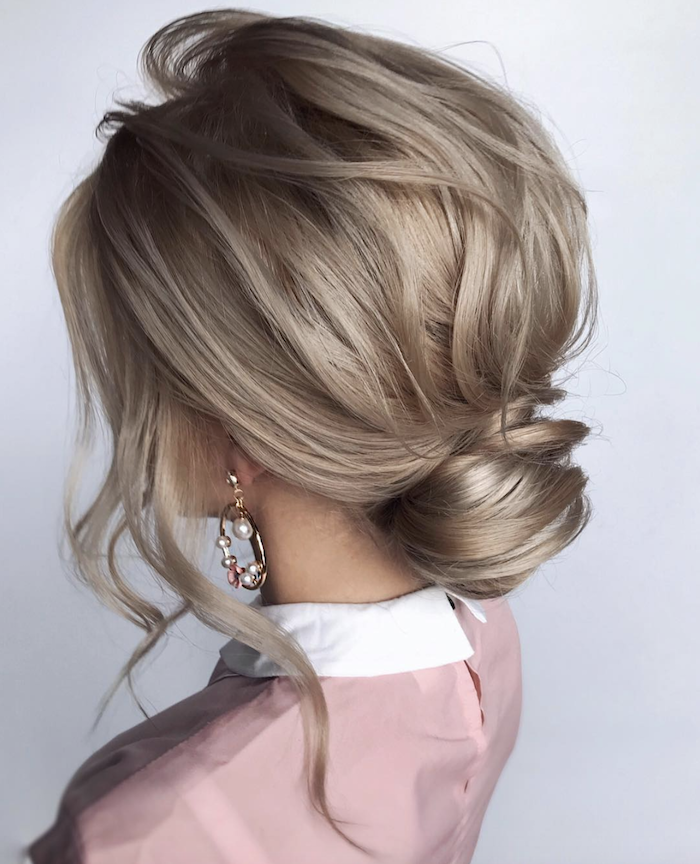 Photo credits: 1. via Pop Sugar | 2. via @hair_vera | 3. via Fab Mood | 4. via People | 5. via @jodycallanhair | 6. via @dodiejayhair
How to accessorise an effortless updo
For classic bridal styling, we love to finish the hair with a veil and a detailed comb or a crown. For a look fit for a Queen, we love to finish this hairstyle with the VERSAILLES, SOMERSET or MARION headpieces.
For a more romantic look with boho luxe appeal, style an effortless updo with bridal hair flowers or a backwards facing headpiece or hair vine. Recent shows from Rodarte, Reem Acra and Marchesa saw blossoms brought back to life in flower crowns, loosely scattered hair flowers to extravagant floral arrangements nestled into the hair. Whatever your preference, a veil and headpiece are the perfect accompaniment and will have you ready to walk down the aisle to marry your own Prince or Princess Charming.
2. Romantic soft waves
We'll see many brides wearing this all time classic look in 2019. There's endless variations of this look starting from polished low set Hollywood waves to textured and voluminous messy waves with bohemian appeal. A variation of the polished look sees the hair pulled back behind both ears. Or form a side part, flick one side 0ver and finish with a detailed side comb.
This look works for medium or longer hairstyles and can include textured lobs, long loose messy waves or chic Hollywood waves for classic bridal styling.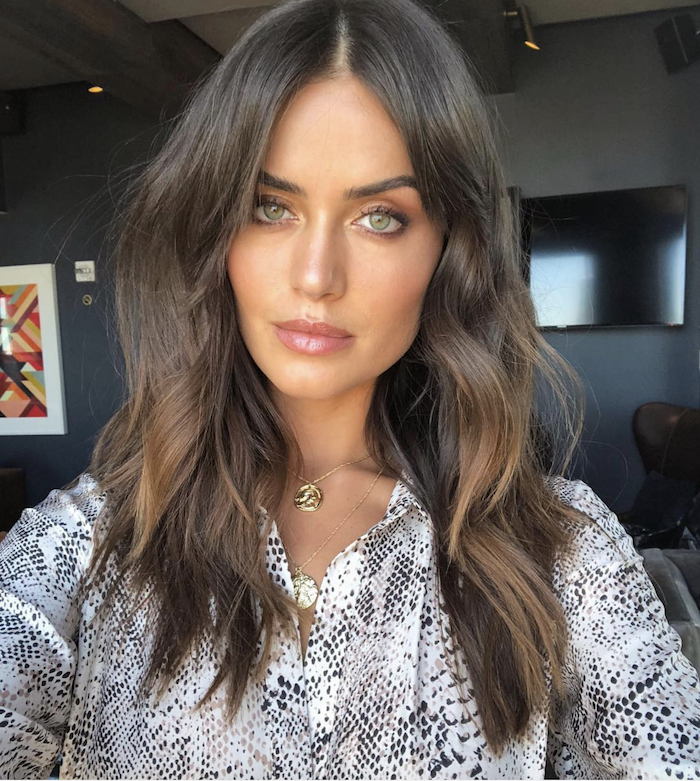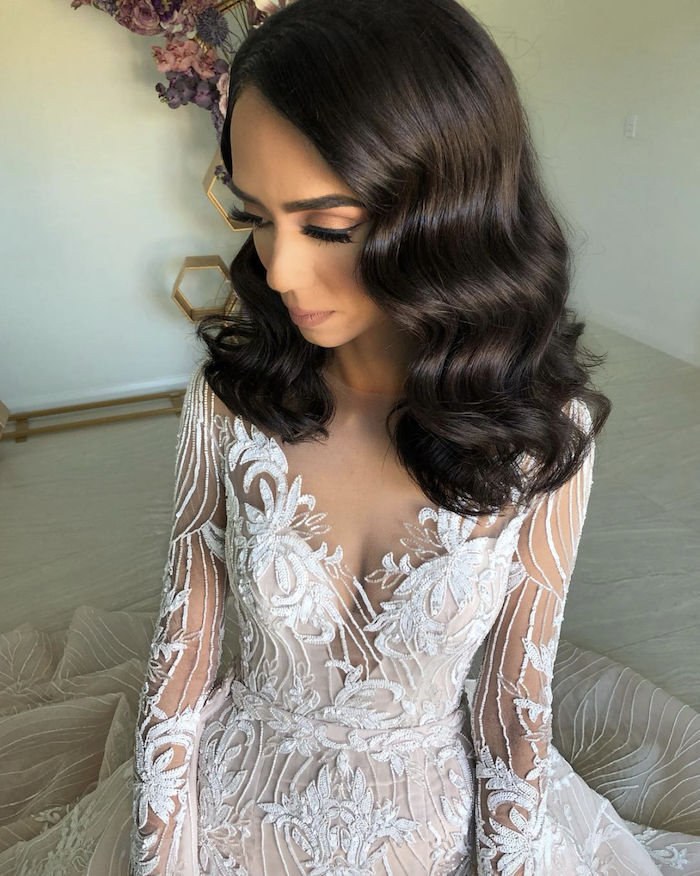 Photo credits: 1. via @maetaylor_makeupartist for Jane Hill Bridal | 2. via @dodiejayhair | 3. via @dodiejayhair | 4. via Pinterest | 5. via @_hairbygabrielle | 6. via Pinterest | 7. via @dodiejayhair | 8. via @chelseahaircutters | 9. via Allure | 10. via @dodiejayhair | 11. via Pinterest
How to accessorise romantic soft waves
The classic choice for low set soft waves is a side comb but a wedding crown or statement earrings can be a beautiful finishing touch. Choose one statement piece for a minimalist look. We love the look of the FLEUR, AGNES, BLANCHETT or ROSEBURY crowns.
3. Textured and twisted hairstyles
Everyone loves a braided hairstyle and there will always be a place in our hearts for this look. 2019 sees the braid updated to a textured and twisted look which is equal parts boho chic and glamorous. If you're looking for something a little more detailed than an effortless updo, a subtle twisted detail at the sides or across the top of the bun can transform your look instantly.
Texture created from twists are just as beautiful in updos and half up hairstyles alike.
Photo credits: 1. via @hair_vera | 2. via @tonyastylist| 3.  via@tonyastylist | 4. via @ksenya_makeup | 5. via Pinterest | 6. via Daily Mail | 7. via Isabella Jane Hair Styling | 8. via Daily Mail | 9. via @belaya_lyudmila | 10. via Pop Sugar
How to accessorise twisted wedding hairstyles
Contrast the effortless twists with a statement headpiece, hair vine or smaller hair pins scattered to one side.  Accessorising this look is about accentuating the flow of the hairstyle – a vine that flows along the twist will feel romantic and feminine, such as the BOTANICA or VERSE hair pieces. For something a little simpler, scattered hair flowers look just as chic such as the WHISPER hair pins or MEADOW set.
4. Romantic pony tails
Take your pick from high messy pony tails to low pony tails with texture and volume. Perhaps a more polished pony is closer to your style? Whatever your preference, 2019 sees countless variations of this popular style from 2018.  A bridal updo or chignon isn't for everyone and the beauty of a pony tail is it keeps the hair off your face in the most chic and effortless way. As an added bonus, it also elongates the silhouette and frames a range of wedding gowns beautifully.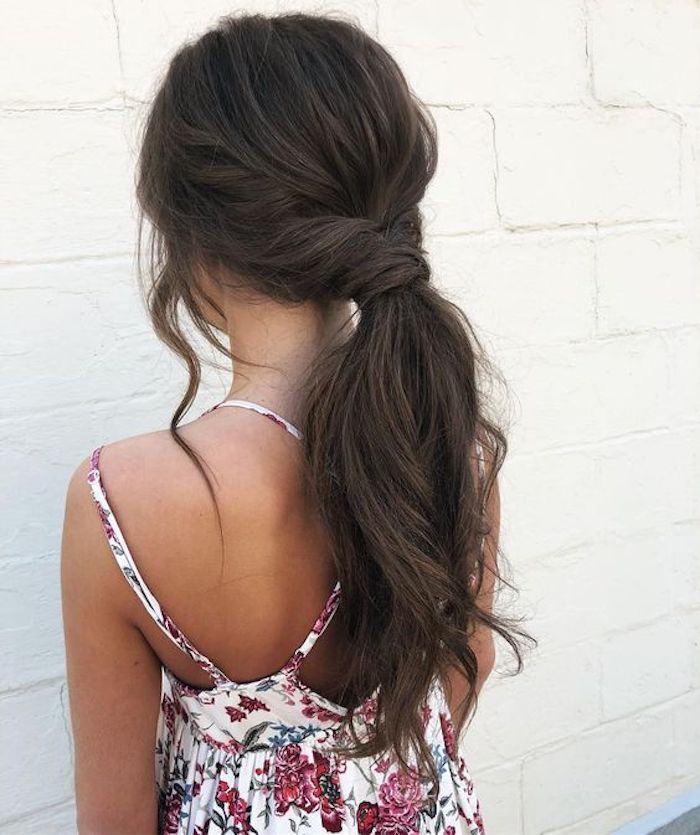 Photo credits: 1. via @_hairbygabrielle | 2. via Pinterest | 3. via Pinterest| 4. via Instyle UK | 5. via Daily Mail | 6. via The White Files | 7. via Pinterest
How to accessorise pony tails
Styling a bridal pony tail is all about letting the pony take centre stage. We designed the BORDEAUX veil with the pony tail in mind – a fingertip veil that was reimagined to frame the pony tail. Just because you're wearing a pony tail doesn't mean you can't wear a chic and modern veil.  For a little sparkle, accessorise with pins to the side. The STELLAR hair pins can be secured to the side or wrap the GEMINI headpiece around the base of the pony tail for a look that's boho chic and unique.
5. Low bun with centre part
Classic and chic, the low bun with centre part is often seen in runway shows and on the red carpet. Meaghan Markle has nailed this look and we love her for it.  For some brides, adding a little texture will make this look feel more relaxed, romantic, and sophisticated without the fuss.
Photo credits: 1. via Pinterest | 2. via Harper and Harley | 3. via Pinterest | 4. via Pinterest | 5. via Pinterest | 6. via Pop Sugar
How to accessorise a low bridal bun
This clean and chic look needs very little when it comes to accessories. All you need is a pair of small studs such as the ELIZA crystal earrings or the BAILEY pearl earrings; a set of simple pearl hair pins to add detail, or a minimalist wedding veil on a small comb like the AUDREY veil.